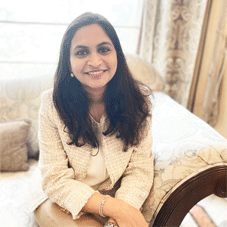 To cater to the varied requirements of their clients, Thor Solutions has created a diversified service portfolio that includes website design and development, mobile application development, content strategy and digital marketing, graphic design and brand development. The company is headed by industry stalwart Niyati Mittal who has got immense industry expertise and business acumen. Her passion to break new business frontiers with Thor Solutions has been a cornerstone behind the success of the organization.
In an exclusive interview with CEO INSIGHTS, Niyati talks in detail about her professional journey and Thor Solutions.
1. Can you tell us more about your educational and professional background and how has this experience helped you to run Thor Solutions in a better way?
I come from a business family but I wanted to study a lot and build a strong professional career. I was the first girl child in my family to do computer engineering and after that, I started working with SAP for five years. Thor solutions was started by my husband out of his curiosity to develop websites. After marriage, I joined the business and with our combined efforts, both of us have
been able to take the company to new heights. I started taking various marketing efforts, I started venturing into new verticals and introduced social media marketing strategies.
I also made sure that the small companies and startups that come to us get a wholesome package of services so that they don't have to get the assistance of multiple companies. For that, I studied digital marketing, user interface, branding, and user experience designing. It has been two years since I joined the company and after that, we have opened an office in Paris and we have also been able to add clients from all over the world into our clientele.
We have been studying what the customers are looking for in the market as well as the gaps in the industry and we are coming up with new products to address the pain points of our customers
2. As the CEO of Thor solutions, how has been your journey so far?
The journey has been very challenging but at the same time exciting. Owing to the fact that, you are running a business organization and you have to think from multiple perspectives, you need to have a holistic picture.
This was something very new to me because when I was an employee, I just had to think about my own personal performance and growth. As a CEO, I make sure that I am making the right decisions, I am constantly updated with the latest trends in the industry and ensure that the employees are motivated to offer the best for the company.
3. How are you lever-aging the latest technologies to offer the best solutions?
We try to attend a lot of international conferences and I follow a lot of forums which helps us to keep ourselves updated with the latest
trends in the industry. We are also updated with the latest technologies including AI(Artificial Intelligence) and ML (Machine Learning) and we research a lot as well. We also try and train our team on the latest technologies so that our clients are getting the best possible results.

We also make sure that we pay a lot of attention to the details and both me and my husband who is the MD of Thor Solutions make sure that we monitor each and every product before it is delivered to the customer. We also ensure that we listen to the pain points of the clients and offer the needed changes even after we deliver the products.

4. Can you tell us about some of the milestones that you achieved that give you personal satisfaction?
My drive for perfection in everything I do started with receiving the best fresher award (a very renowned award at SAP). Winning the Best Innovator Award and training the entire India division on a new technology called SAP UI5 gave me the confidence to know that the next natural step is to run my own company. Thor Solutions went from a team of five people to ten and now with two new verticals such Digital Marketing & Graphics, we have been able to open our first International office at Nice, France and soon, we have plans of opening offices in London & New York.

5. How has been the growth of your company since its inception and what are the future of the firm?
We have been studying what the customers are looking for in the market as well as the gaps in the industry and we are coming up with new products to address the pain points of our customers. We also make sure that the services that we provide are at a very competitive price so that we can offer the best value for money services to our customers.

Niyati Mittal, CEO, Thor Solutions
Armed with an M.Tech in Information Technology from BITS Pilani and 6 years of experience with SAP Labs, Germany, Niyati aims to make Thor Solutions the golden standard in providing Digital Solutions worldwide.