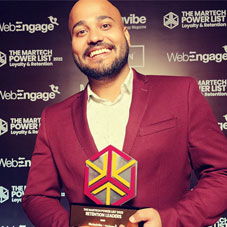 In today's era of social media evolution, major brands across the world are massively dependent on various innovative social media marketing strategies to drive product sales and that's where social media creators and influencers come in. The influencers offer an authentic voice, capturing every aspect of the product through videos, which is as an alternative to word of mouth, works wonders in driving product sales. However, these influencers and creators hardly get paid properly for all the efforts they put into creating content & driving sales for the product. A new-age business leader with a decade-long experience building various online brands from scratch, Samrat noticed the gap in the industry. To empower content creators and influencers, he came up with the Dubai-based Next generation social commerce platform, Socialee. Launched in 2023, the brand has already been a rage and is experiencing rapid growth under his visionary tutelage.
In an exclusive interview with CEO Insights, Samrat discusses his overall professional journey, the underlying idea behind starting Socialee and its current position in the market, and much more.
Could you give a brief about your professional journey so far?
I have an overall experience of almost a decade in e-commerce across four continents. After my MBA from IIM Calcutta, I started my career with Rocket Internet, a Germany-based VC and incubator. Initially, I worked with Fabfurnish and Jabong in India before moving on to Daraz Services, Bangladesh as one of the founders & MD at the firm. Later Daraz was sold to Alibaba and I moved to Jumia Nigeria, which was listed on the stock exchange in 2019. After almost five years at Rocket Internet, I joined Tokopedia, the biggest e-commerce platform in Indonesia, and led their FinTech business. Later, I worked with Shopee, setting up Shopee malls and Shopee premiums for the firm before joining Pattern, an American startup, and
moved to Dubai to set up the Middle East, Africa, and India business of the firm.
Later, I joined a Dubai-based conglomerate named GMG and led the e-commerce & omnichannel P&L at the firm. The idea to found Socialee came up from the sole intention of building a platform for the nano creators and influencers to create content while monetizing it from Day-1. I have been working on Socialee since December 2022. Finally, we launched the brand in UAE last month.
For any organization to succeed, its corporate growth strategy needs to have consumers at the center
What inspired you to establish Socialee? Define Socialee as an organization and its position in the market.
Throughout my career, I have closely observed the importance of creators and influencers for any marketing strategy, especially in consumer businesses. Based on my experience, the nano creators or people with around 7000-20000 social media followers usually drive the best result or ROI. However, they neither get compensated properly nor have avenues to monetize their content. That's when I got the idea of starting Socialee to build a content-driven platform while helping the creators monetize their influence.
Socialee is a Next-generation social commerce platform, kicking off with beauty, where creators create content, reviewing a specific product or explaining its usage and ingredients before posting it on the app in the form of shoppable videos. They get paid based on engagement and sales generated through their content. Till now, we have already onboarded more than 14000 influencers on the platform across the UAE & KSA.
What are the factors you check when developing an effective corporate growth strategy for the company? Tell us about your leadership approach and the guidelines or methodologies you follow as a leader.
I believe in a consumer-driven corporate growth strategy. You first need to understand your customers or the ideal consumer profile for your venture before focusing on solving their pain points. Once you are sure of the consumer pain points, the next task is to double
down on solving those problems for them. To achieve that, you need to interact and listen to them, understand their needs, and grow with them. I think that any corporate growth strategy needs to have consumers at the center.

Coming to the leadership approach, you should always hire people better than you while guiding them in the right direction or goal. Hire people who are excellent in their specific domain, listen to them, and learn from them. As a leader, I believe in allowing them to do what they think is right, which also helps them learn from their mistakes and grow.

What is the future destination you are headed towards? What is your anticipation about the market going forward?
In the long run, through Socialee, we want to create a platform where creators and influencers can turn into entrepreneurs. In case a creator wants to create their brand, we will provide them a platform for launching their products in the market while helping them design, manufacture, and distribute the brand, which is both the end goal of Socialee as well as my personal goal.

In terms of trends, what I have closely observed and also have built Socialee on top of, is Commerce 3.0, in other words, Video Commerce. With massive democratization of sales happening, the perfect people to sell a specific product are those who use it. Today, people's purchasing decisions are largely based on word of mouth. Through Socialee, we are trying to build an honest and authentic platform where people sell the products themselves.

Samrat Sengupta, Founder & CEO, Socialee
An accomplished business leader and entrepreneur with an extensive experience of over a decade building online businesses from scratch in four continents across the world, Samrat started his career at Rocket Internet and has been a part of the growth story of numerous reputed organizations across the world. Currently, he works as the Founder & CEO at Dubai based Next-generation social commerce platform, Socialee. A digital native with a knack for disruptive technologies, Samrat has done his MBA from IIM Calcutta

•Hobbies: Making music, Motorcycling
•Favorite Cuisine: Thai
•Favorite Books: The Hitchhiker's Guide to the Galaxy by Douglas Adams
•Favorite Travel Destination: Bali