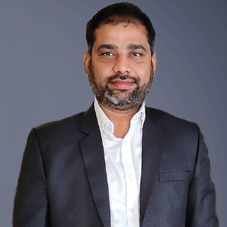 ATITHI DEVO BHAVO (guest is God) – the philosophy is an intrinsic part of Indian Culture. With hospitality being a code of conduct for our heritage, making people 'feel at home' is deeply rooted in our hospitality business as well. Aligned to this, Zubin Mehta once quoted, "Indian hotels are doing well globally because they understand hospitality." The wise words are so true in the case of Aarin Hospitality, which is backed by the immense proficiency of Samvel Sathyan, who has understood the ins and outs of hospitality in his 15+ years of industrial mastery. He began his journey as a Front Office Executive at Taj Hotels in 2004. After several years of association with many star hotels, he set the foundation of Aarin in the year 2010.
The Start Story
Who would not crave to live in heavenly places and experience elegance and royalty? World-class amenities, a recreational environment, and rooms of spectacular opulence are indeed everybody's dream. However, luxury is not open to all. This was observed by Samvel during his early career stint. With hard work and perseverance, he evolved into an entrepreneur intending to offer affordable luxury. All that was in the maven's mind while planting the first brick of Aarin was - offering a luxurious stay to all.
Today, the Aarin Group renders specialized solutions for the hospitality industry along with a range of hotels and apartments that offers visitors a luxurious stay. The basic idea behind Aarin is to connect quality with affordability. "Our business strategy, which we formed based on our core ideology is to show our guests that quality can be achieved at a competitive rate. Apartel in Tada is the epitome of our philosophy and business," mentions Samvel Sathyan, Founder & Chief Executive Officer at Aarin, Chennai.
A Leadership that Inspires
"I began my professional journey from an entry-level job. Since then, I aspired to start a group of hotels that provides a luxurious yet affordable stay for patrons. To see my dreams flourish is one of the happiest moments and proud achievements of my career," exclaims Samvel cheerfully.
He embraces the saying "SUCCESS isn't just about what you accomplish in your life, it's about what one INSPIRE others to do". He also truly believes in the wise words "People
will forget what you said, forget what you did, but people Will never forget how you made them feel." Not just as a statement of motivation, but also applies these sayings to both professional and personal life.
His inherent belief is that people will always gravitate towards those who make them feel good. He has also moulded his professional goal based on this. "At Aarin, the ultimate aim is to impress patrons by delivering top-notch services. I'm quite proud of the way we engage our stakeholders with our concept of furnishing people an affordable luxury. We made our proposition quite straightforward without confusion or complications, which enabled us to gain the trust and confidence of our stakeholders," he informs proudly.
He further adds, "I and my team are devising plans to expand Aarin Hotels in every city across India. Soon, you'll see Aarin Group of companies capturing the leading position in the industry. One key strategy that we have implemented in our business routine is creating a disaster management plan. We have a strong team of professionals, who excel at managing challenging situations such as the COVID onset and make the best out of adverse scenarios. We always see the opportunity in a gloomy situation and never give up,".
Aarin, is on par with some of India's top-rated hospitality companies, and such phenomenal success is credited to samvel's innovative business strategies and clear & long-term visions
Investor releations At Aarin, our vision is to provide the best-in-class hotel management advisory to independent hotels and resorts to maximize their return on investments. Our team of skilled professionals ensures that hospitality solutions are tailored as per the investors' requirements in asset management, operations, sales & marketing, financial reporting, and hotel-quality evaluations.
Whether it is a new property or a hotel that needs rebranding, we help you to make an informed choice on your brand selection, project management and hotel commissioning. We have the expertise to review existing operations and suggest new ways to optimize costs and drive operational efficiencies to improve the top-line revenue.
The CARE Strategy
Aarin follows the Clean, Assess, Rate, and Entry strategy to ensure quality & hygiene. The hotels and apartment premises are ensured to be cleaned by the cleaning team, after which the managerial team assess the premises, and rate the
cleaning measures out of 10. The ratings and the related remarks are entered into the system for audit.

Farsighted Vision for Growth
As a leader, Samvel strives to set forth an example to his employees and make them own the company. "My responsibilities as a CEO involves expanding the scope of the business, visualizing new concepts, and enabling the Aarin group of Hotels to grow beyond borders. My short-term goal is to promote the upcoming projects from Aarin and my long-term goal is to take our brand to International clients and aiming / v around 6000 + talents / 6000 Keys / 75 properties by 2030. Ideally, we want to make Aarin a brand that our patrons and the client's trust. I feel it is the highest honour to have people to trust your brand, that's my personal goal," he speaks while sharing the roadmap of the company.

Samvel Sathyan, Founder & Chief Executive Officer, Aarin
Wise Words To Budding Entrepreneurs:
My advice to young entrepreneurs is to never lose hope. The problem that you see as a mega challenge will be like a small puddle of water, a few years from now. Trust your skills and give your best. You can achieve your dreams. In times of hopelessness, remember this quote by Thomas Edison, "Failure can lead to success as long we learn from it. Failure is one of the keys to success because it teaches us more".

The Usp
The brand Aarin offers exclusive, tailored hospitality advisory services such as Asset management, Operations, Sales & Marketing, Financial reporting, and Hotel-quality evaluations that enable clients to stay ahead in the industry. It has also ventured into Relocation support, Life space, and Immigration services.

Aarin Group Of Hotels Encompasses:
Aarin Hotels: An upscale luxury Hotel.
The brand delivers a consistent offering of warmth and comfort. Enjoy a friendly greeting when you step into the hotel, sophisticated rooms, and welcoming employees ensure a lovely home away from home experience.

Apartel: Managing high-class serviced apartments.
The brand typically consist of serviced apartments including studios, one and two-bedroom apartments. Our apartments are the perfect alternative to a hotel room with fully-equipped kitchens and laundry facilities. The one and two-bedroom apartments are ideal for long-stay corporates.

Region: An affordable luxury segment.
collection of affordable luxury hotels, guests can experience the unique, state-of-the-art facilities and contemporary style of modern technology at Region Hotels. They offer the splendour of an unrivalled compendium of hospitality and elegance.