Mehul Sharma: A Pioneering Business Leader Formulating One-Off Business Strategies For Sustained Growth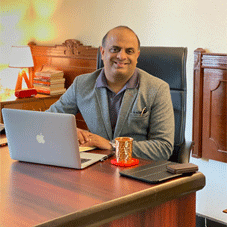 The covid19 pandemic outbreak and the resulting lockdown have adversely impacted almost all the industry verticals but one business segment that has faced the brunt of the economic impact caused by the pandemic is the tourism and hospitality industry. Even while a multitude of businesses operating in the stratum struggled to stay afloat, owing to strategic planning and innovative business policies, Signum Hotels and Resorts was able to ride the wave and come out of the pandemic even stronger. The company is headed by industry stalwart Mehul Sharma who has been aprimary catalyst behind the success of Signum Hotels and Resorts.
In an exclusive interview with CEO INSIGHTS, Mehul shares more information about his professional journey and the evolution of Signum Hotels and Resorts.
Can you tell us more about your professional journey and the inception story of Signum Hotels and Resorts?
I have had the opportunity to work with multiple reputed organizations in the industry including being a part of the Taj Hotel Group. I have worked in various leadership positions from a very young age onwards and I have been able to take on multiple important projects for the organization. I was one of the youngest Director of Sales in Taj and the best sales person for three years at the company. After a long time of working in the industry, I had the idea of starting my own business venture and in 2019 that I established Signum Hotels and Resorts.
Signum is a Latin word and it means bringing value and all the hotels that dawn our name are unique in nature. In our first year itself, we were able to take 14 hotels in India and an apartment in London. We are revamping our operations now and are expanding into overseas
destinations such as the US, Canada, Sri Lanka and Dubai. Apart from just profit, what I envisioned when I was starting Signum Hotels and Resorts was to create an Indian brand that is present and recognized across the world.
What were the initial challenges that you faced in the industry and how were you able to overcome those?
There were many challenges and I invested all the money into creating and growing my business and still I managed to run it with no debts at all. Then, getting the right properties and creating the right team was also a challenge for us but after I was able to get the right personnel, it was pretty much smooth sailing after that before the pandemic hit. With the help and hard work from our team, we were also able to deal with the pandemic and its impact efficiently.
Even if you fail multiple times, keep pushing and the ability to keep on going is what separates the best from the rest
We also have a very lean organizational structure and we want to be very agile and nimble in nature. We spend a lot of time, money and effort in our people and technology. Each of our ventures is profitable in nature and at the corporate level, we have a healthy GOP of 45 percent. The primary reason behind this is the fact that we focused on keeping our costs low and letting our people grow. We train our employees and allow them to excel in the areas that they are interested in.
What makes Signum Hotels and Resorts unique among its competitors and what role do you play in helping the company grow?
We use a lot of technology and we optimize our resources to a tee. We also strive to bring the local culture of each property that our hotels are situated in when it comes to the cuisines and the entire experience in general. We have our USP but each of our properties has its own unique character to it and that helps us to stand out from the rest of the competitors in the industry.
I play different roles in the company and I make sure that I am involved in all the different facets of the business. I even sometimes take on
jobs that are of the junior-most level but this has helped me to get a holistic view of our operations from head to toe.

How do you keep yourself updated with the latest industry trends?
I read a lot and I also have access to lots of reports regarding the growth trends of the industry in general. I am also very active on various social media platforms like LinkedIn and I am also a member of certain peer groups and I engage in panel discussions. Our team also makes sure that they keep themselves updated and I also do a lot of interaction with my fellow hotel colleagues which is also helping me to be abreast with the new trends and changes happening in the industry.

How has your journey been so far and what are the various milestones that bestowed youutmost satisfaction? Also, what are the future plans of the company?
I achieved leadership roles at a very early age and I was earning six-digit salaries when I was 26. I believe that money doesn't define an entrepreneur and I always try to help my colleagues and that gives me great amounts of personal satisfaction.

As far as our future is concerned, our short-term goal is to deal with the adverse impacts caused by the pandemic and we hope that the government is going to provide more support to the tourism and hospitality industry. In the long-run, we are aiming to expand across the globe and we want to grow in countries to develop ourselves into a global brand. Apart from all this, we also want to create top-notch hospitality professionals that will elevate the standards of the industry.

What advice would you give to the young entrepreneurs of India?
My biggest advice would be to never give up and believe in your ideas and yourself. Even if you fail multiple times, keep pushing and the ability to keep on going is what separates the best from the rest.

Mehul Sharma, Founder, Signum Hotels and Resorts
Like a true business leader, Mehul has been able to lead the company from the front and set examples for the rest to follow in terms of hard work and determination. His business acumen has also helped him to formulate innovative future plans for the company.