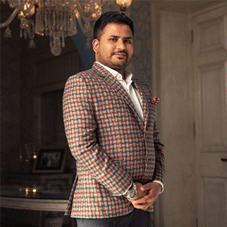 2020. It really is its own author. As the Coronavirus pandemic gave the globe a rake it became apparent that no industry was exempt from the thump. Conclusively, hospitality industry is one that was certainly not immune to the adverse effects of the pandemic last year. Yet, there are many inspiring leaders who have been maneuvering the industry by leveraging new technological avenues to reduce operational cost and improve guest experiences, while also relishing benefits from the new revenue sources. A looming name in the contemporary hospitality industry, is Himanshu Lodha, Founder-Director of AH International (AH). He is a stalwart ally of the Indian hospitality industry who is not just motoring the industry thrive with AH International's unique deliverables but also advancing the country's name amidst the hospitality legion, globally.
Acquiring venerable knowledge in the field, Himanshu incepted AH in 2012 with a simple intent to provide creative OS&E solutions for India's maturing hospitality industry. Bearing positive attitude, this last mile runner accomplishes every task passionately which is why the company witnessed tremendous growth in its early years, acquiring clients from international & national hotels chains across Asia working together with over 40 reputed global partners.
The venerable personality Himanashu Lodha is in the perfect position to exhibit his approach to others. Get to know about him from the man himself in an exclusive interview conducted by CEO Insights.
Tell us the major facets & achievements of your leadership journey.
I am an alumnus of IE Business School, Madrid where I pursued a Master's degree in International Marketing and an International Exchange MBA Program at CKGSB-Cheung Kong Graduate School of Business, China. I started working way before getting into Business School, which aided me in adjoining the experiences personally & commercially with business responsibilities and the understanding of small to large-scale businesses & their model of operation.
It has undoubtedly been an incredible journey for me & the entire team at AH, starting nine years ago amidst the hospitality sector with an aim to revolutionize, bringing about an innovative change, thereby disrupting the traditional old-fashioned & inefficient model of OS&E accretion in India. Fast-forward to 2021, our zestful approach of conceptive dynamic growth & sensitive
technological innovation has made the company take giant strides from a relatively small team to a progressive cadre of brilliant minds & ingenious coterie, establishing a presence in 15+ countries globally, with upto 50+ renowned brands, and a lucrative annual turnover of more than $7.5 million.

While creating ingenious solutions that provides owners a huge amount of flexibility in crafting memorable brand experiences built upon personal relationships and attention to detail, AH poises itself as a foremost preference amongst hoteliers, entrepreneurs, owners, partners, and hotel operators. I believe that the true essence of any place is its soul, that is why I'm always withdrawing inspiration from every iconic project, challenge or destination.

What were the initial challenges at AH International that taught you some crucial lessons of company operations?
Developing and growing the business at a fast pace while creating a scalable organizational structure and building a reliable team has been one of the biggest challenges, not just for me, but for everyone at the company. That been said, we've been able to achieve a great deal of success in a short period of time as we are blessed with a fantastic team of like-minded disruptors & hotel rebels, who understand the value proposition as an OS&E aggregator and continuously push the envelope of innovation driven by value addition. Beyond the internal challenges, the current global situation is by far the biggest challenge that we - and indeed our industry - have to deal with, however we always find a way through hard and uncertain times by maintaining an optimistic yet diligent mindset.

What different roles have you been under-taking at AH?
As the Founder & Director, my key responsibility is to create a strategic mind-set from a business perspective and turn talent steerage into an instrument of business transformation & technological innovation that advances our strategy, develops resourceful leaders and coalesces in culture. Hence, I play an intriguing role in handling the functionalities of the company across different segments such as sales, marketing, brands & bindings, making major corporate decisions, acting as the main point of communication between the board of directors (the board) and corporate operations. Vinay G Lodha, the Co-Founder & Director, AH also backs my role with his strong foundation in the field of Business Management.

In your professional journey so far, which are the milestones that bestowed your utmost satisfaction - both as an individual and as a Director?
Our people are the DNA of our business. What start-ed with a one-man army has today grown to over 60+ employees - a strong, agile and dynamic team that shares one vision and can do what it takes to dwell on it. Every accomplishment gained over here while acting for the company's goodwill, personally has been an intimate yet professional breakthrough in my career. It gives me a great sense of fulfillment, being able to do the things I'm
genuinely passionate about and the intrinsic propensity to give back to society.
Delineating the uniqueness of AH, brief about the strategies you are devising to make a much stronger position in the Hospitality industry?
AH is an establishment poised upon the concept of dynamic growth & pressing innovation, offering 360 degree hospitality solutions to every client in a personalized manner. The company is driven by the passion of youth, tempered by experience and commitment to delivering comprehensive & elegant answers for any situation. AH's essential ingredients are vision, clarity and time. In a competitive environment a luxury brand must be clearly defined with a well-communicated customer and guest experience.
Vinay Lodha, Co-Founder & Director
However, it's time that really develops a brand by building trust, relationships & reputation. Our primary objectives now is entering more geography, and extending our net-work of owners & partner proximity around the world. Aiding a personal touch and offering a tailor-made solution for the world's most demanding hospitality sector while integrating seamlessly into our customers' processes we aspire to organize almost any product in the desired quantity & design for our guests & customers.
What are the future plans?
With fifteen new projects in the pipeline, 2021 is a super exciting year for us. In addition to the Maldives, Sri Lanka, Bangladesh and Nepal we're excited to have signed our first project in Dominica, where we are debuting our contemporary FF&E and OS&E brand with the opening of the property in 2022, a unique 'bleisure' destination. Furthermore, to support our rapid growth we'll be opening doors to bright talent at all levels. For us, that means embracing the younger generation and engaging locals in each market.
Himanshu Lodha, Founder-Director, AH International
An alumnus of IE Business School, Madrid, and a Master's degree holder in International Marketing and Inter-national Exchange MBA Program from CKGSB-Cheung Kong Graduate School of Business, China, Himanshu is a revering personality who is diligently overhauling the space offering holistic solutions within the hospitality industry, backed by technology, quite efficiently.
Vinay Lodha, Co-Founder & Director, AH International
A BBA in Finance from Jai Hind University, Vinay is a passionate finance & business management expert. He holds prior experience in working as a Financial Analyst for Future First – Israel and is currently acting as the numbers expert at AH International.