Gaurav Arora: Leveraging The Possibilities Within The Luxury Hospitality Industry To Ensure Amazing Experiences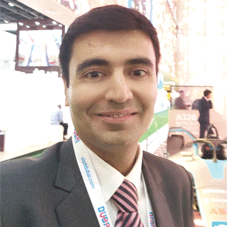 Administered and managed by leaders with immense profoundness to leverage the raging possibilities within, the hospitality industry is surging as one of the vibrant industries with significant potentials. Witnessing the surging market demands, Gaurav Arora is determined to contribute significantly to the Indian hospitality industry through his unique initiative Enhance Hospitality by yielding better outcomes. The India market representative for global luxury Hotels and tourism bureaus, Enhance Hospitality is moulding the market with new-age hospitality skills under the guidance of Gaurav.
Implementing integral principles such as trust, care and taking ownership among the employees, Gaurav emphasizes five core values comprising of Integrity. Impact, Humility, Collaboration, and Channelized efforts to ingrain the concept of working together as a team in their DNA. Through his guiding principle – 'Take care of the team and the team will take care of the business', Gaurav is navigating Enhance Hospitality, enabling it to emerge as an eminent identity for numerous hotel and destination partners in the Indian travel market.
Engaging in an exclusive interaction with CEO Insights, Gaurav Arora highlights his journey as one of the distinguished leaders of the hospitality domain.
1. Kindly throw some light on your professional background and experience that directs the company's progress and helps in moulding strategic business modules for Enhance Hospitality.
Owing to my total experience of more than 17 years, I have dedicated more than a decade in global sales and marketing offices of different international hotel companies which helped me in setting up Enhance Hospitality. By helping global luxury hotels and
destinations to tap into the Indian travel market, our representation services at Enhance Hospitality focus on sales and marketing of our global luxury hotel and tourism partners. Some of our elite partners include LUX* Resorts in the Maldives; Sunway Hotels & Re-sorts which operates a portfolio of 12 hotels in Malaysia, Cambodia and Vietnam and represents over 3300 guestrooms, suites and villas at its owned and managed proper-ties; and Villa Copenhagen (part of Nordic Hotels & Resorts) in Denmark, which is an iconic luxury hotel that opened in July 2020.

2. Tell us more about your role & responsibilities within the company. What are your long- and short-term goals you have devised for the organization?
My role at Enhance Hospitality is to make sure that the brand lives up to its name. As growth is our fundamental driver, we visualize growth for all stakeholders at Enhance Hospitality, be it our teams, customers or hotel & tourism partners. As a sales and marketing rep-resentation company for our global luxury clients, our objective is to increase business for them, year on year. The Indian travel and tourism market has been growing.

So, our objective is not only to in-crease business for our hotel partners and destination partners but also to make sure that we partner with some of the most stunning global hotels and destinations for the Indian travel market. We have a great opportunity to bring amazing global hotel and destination experiences into the Indian travel market and make it available to our travel trade & wedding industry partners, and then eventually to our Indian travelers.

3. Tell us about your achievements at Enhance Hospitality and the business transformation you led via those achievements?
When the journey of Enhance Hospitality started in 2018, just to get new hotel partners and tourism destinations to believe in us, was the first big step. But we have been extremely blessed because not only did we get some of the best-known brands across the globe; but we also got an opportunity to grow their business in the Indian market. The biggest challenge for the hospitality & travel industry has been COVID, and in the last year, the entire way of sales and marketing for global luxury hotels and tourism destinations has changed for us. We
have essentially become a digital sales and marketing company for most of our clients right now.

And going forward, it is going to be a hybrid model for us, which means our physical presence combined with the digital presence will be accelerating substantially. Whether it is social media or e-tradeshows; we are reaching out to our customers in the most digital way by learning a lot about creativity, especially in the digital context. This digital imprint will be a big driving force for Enhance Hospitality because, in the post COVID era, the way we create influence for the Indian traveler in the digital context is only going to increase.

4. What is your unique proposition in hospitality that differentiates you from your competitors? Explain your USP.
Coming from a luxury hotel sales background, at Enhance Hospitality, servicing & understanding luxury hotels, destinations and travel trade partners is a big part of our working culture. That is a very unique advantage while connecting with stakeholders as we firmly believe that our experience in luxury hotels and destinations has been an asset for our hotel and tourism partners.

Another USP for Enhance Hospitality is that we have a young, energetic team who are very digital savvy and have a knack for luxury hospitality. With India having one of the youngest populations in the world, it makes sense as they are well equipped to understand the requirements of the travel trade fraternity in an increasingly digital context.

Gaurav Arora, Founder & CEO, Enhance Hospitality.
With a passion for marketing global luxury hotels & international travel destinations, Gaurav has worked for various multinational hotel companies. Apart from being the Director of Business Development - India for Shangri-La Hotels and Resorts, Gaurav's past journey included working for great hotel companies like Leela, Marriott & Hilton hotels. Having worked for different global hotel chains in the sales and marketing domain, Gaurav decided to set up his own venture - Enhance Hospitality in 2018. Contributing to the society, Gaurav loves teaching in the business management & entrepreneurship domain, which keeps him connected to business schools and aspiring young entrepreneur.