Devbrat Bhardwaj: Tackling Business Challenges Through Innovative And Result- Oriented Business Strategies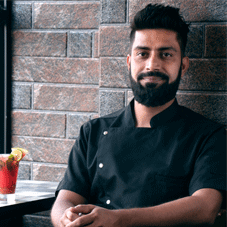 Starting from humble beginnings, industry stalwart Devbrat Bhardwaj has been able to build a successful business organization in One Sprig Hospitality Consultants from scratch by leveraging his industry experience and business acumen. With him at the helm, One Sprig Hospitality Consultants has been able to clock in impressive growth numbers and as of now, the company has their presence in Karnataka, North & Central India, Tamil Nadu & Kerala and has completed more than 40 projects, across the length and breadth of the country. Which includes, Fine Dining Restaurants, Bars, GastroPubs, Cafés, QSR, Catering & Banquets as well as Cloud Kitchens.
In an exclusive interview with CEO INSIGHTS, Devbrat talks more about his professional journey and the unique operations of One Sprig Hospitality.
Kindly throw some light on your professional background that helps you to mould strategic business modules to enhance your company's operations?
I am a core Hospitality Professional by training. My alma mater, Institute of Hotel Management – Chennai is where I began my journey as a student of Hospitality and Hotel administration. After completion of my graduation, I joined Apeejay Surrendra Group's The Park, Luxury Boutique Hotel as a Management Trainee in Culinary Division. There I honed my skills as a Chef as well as a Hotelier then got the opportunity to work under the best of Culinary and Hospitality professionals. There I also got advanced theoretical inputs along with Shop Floor experience across Mumbai and Chennai Properties of The Park Hotels.
Post completion of the training program I began with the management of overall culinary operations of Six 'O' One, one of the busiest and the best restaurant in Chennai. Subsequently, my role was expanded to other outlets in the hotel. This gave me an exposure to various Cuisines and Concepts. After Park, I moved to work in Standalone Restaurants, which is a different world altogether. One common thread I experienced while spending time in the industry that makes a Hospitality Business succeed across various formats were understanding customers and trends, great service, uncompromising quality & consistency, and innovation.
The delivery of all these critical ingredients is possible with
immense passion and drive to always create exceptional value for our clients. This is what we strive to do, and we make it look simple for our clients and this fits well in our strategy. As consultants, we use our experience to make it look easy yet innovative and inspirational. This helps increase our reach and connect with aspirational entrepreneurs as well as seasoned and experienced clients.
Tell us about the inception story of One Sprig and what motivated you towards the establishment of the consultancy firm?
During my journey with standalone restaurants, I used to wholeheartedly share my inputs with my peers to improve their overall operations or for new ventures. This was well accepted and was showing encouraging results and it was transforming into a successful business model. This is what inspired me to put together a Service Concept i.e. One Sprig where my own experiences & knowledge along with the inputs from a team of subject matter experts for all facets of the business can be shared with the Hospitality Business Owners or aspiring Restaurateurs. Plus, the innate scope in this venture to work with an assortment of unique concepts and opportunities to unleash my creativity keeps the excitement going.
Every achievement at One Sprig is more of a team effort, however, one of the key things on top of my mind is the ability we have developed as a team to provide process-oriented business solutions to our clients
Explain your USP and what separates you from the rest of the competition?
I believe that our USP is our team and our presence across multiple geographical regions in the country. We are a bunch of enthusiastic individuals with considerable experience of five star and top restaurants under our belt. We combine a good mix of youth and experience across various cuisines of expertise. Chef Pritam Das based out of Bangalore is our Culinary Consultant and the Co-Founder. He loves to innovate with local ingredients and his food speaks volumes of his talent.
Chef Chanchal Datta, ex-Corporate Chef of Masia, Sutra- Gurgaon has over 14 years of experience is our Chief Culinary Advisor and Head of Operations for North and Central India based out of Kolkata. He is extremely creative and with overseas experience with Michelin Star Chef Grant Achatz, he brings a fresh perspective to One Sprig. Our Head of Operations for Kerala is Chef Subin Williams. He is a well-known Chef Youtuber and also our
Culinary Consultant. The latest entrant to our team is Chef Baskar Ramdass. An IHM Chennai Alumni, he has over three decades of experience as a Chef and Hotelier.

Tell us about your personal achievements at One Sprig Hospitality and the business transformation you led via those achievements? Also, please mention some of the awards and recognition you have received in your journey till date?
Every achievement at One Sprig is more of a team effort, however, one of the key things on top of my mind is the ability we have developed as a team to provide process-oriented business solutions to our clients. One of our clients was struggling with the quality manpower for his Indian Restaurants; this was also the roadblock in the expansion of his business hampering the growth of the company.

We introduced several standardizations in the overall process and utilized modern cooking equipment to minimize reliance on the manpower. This enabled the company to add four more restaurants to the existing portfolio of two restaurants and all of them are doing well and now have a solid roadmap to expand further. We have also been awarded by various forums on numerous occasions including:
• Restaurant Consultant of the Year 2021- FCIC
• Best Restaurant Consultant of the Year (2019) – Restaurant India
• Best Restaurant Consultant South India (2019) – Business Mint Nation Wide Awards
• Consultant of the Month Dec 2018 – Consultant Review Magazine
• Best Restaurant Consultant & Business Mentor of Year (2018) – Restaurant India

However, the satisfaction of our clients from their prosperous and successful business will always remain our topmost achievement.

What advice would you like to give to the young entrepreneurs in India and what would tell them to expect in their journey?
This is one of the most exciting and challenging phases to become an entrepreneur. My simple advice to anyone starting now would be to stay positive and focused on the job. Think of creative solutions to the problems and build your business. Having great people to support in your journey will make it easier and it would be more pleasing to share the fruit of your success.

Devbrat Bhardwaj, Founder, One Sprig Hospitality Consultants
One of the youngest pioneers in the industry that has been able to carve out a niche in the segment through innovative business strategies and customer-centric services. With him leading the company, One Sprig Hospitality Consultant has also been doing well in various other domain including F&B Business Management and the creative space of Food Styling & Photography to become a one-stop-solution provider in the stratum.