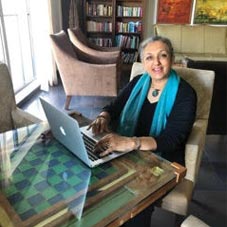 It is always a pleasant feeling when you bring out a positive change in people and coach them towards betterment. Especially, women tend to easily foresee the elements that an individual has to modify in their life. Savita Upponi is one such inspiring consultant, who coaches leaders and their teams to unleash their potential and an enable them to achieve sustained superior results.
CEO Insights interviewed Savita Upponi (Founder &Director), the key person behind the establishment of Samvit Leadership Consulting.
Tell us about the facets and milestones achieved during your entrepreneurial journey.
Working with large organizations to embed a coaching culture, starting from the top levels, has definitely been a milestone in my journey. Unearthing true pain areas of the clients, customizing programs to fit their unique needs, executing them and providing a structured post program coaching support is process that has held us in good stead. What really brought value to the table was the post program coaching support that helped participants to internalize the learning and actually hone their skills in real time. It also improved their accountability to the change they desired in themselves and others.
It is always very fulfilling to hear their stories, how they were transformed into being their better selves and how that was adding more meaning and fulfilment to not only their work lives but also their personal lives. This is true ROI. To give an example, a senior leader shared how his relationship with his wife had become more meaningful when he honed the skill of listening to the unsaid. Working with people's daily struggles and supporting them, brings meaning and fulfillment in my life. Another milestone was venturing in the area of mindfulness.
A course in Vipassana meditation a few years ago and then being a practitioner and reaping benefits triggered a need to take it to the corporate world where I see a tremendous need. Attending Search Inside Yourself, a mindfulness course offered by Google set me firmly on this path. I now share this
practice with many organizations in many avatars like workshops "Mindful Leader", "Mind Mantra" and also offer it as a Wellness Program.
What were the major challenges that you encountered during your professional journey and how did you manage to overcome them?
Challenges are part of any journey and I have learnt powerfully and grown stronger because of them. One of the challenges that I often faced was inspiring participants to take complete ownership for their learning and the goals they wanted to achieve. Getting them to internalize the learning and stay motivated to sustain it over time. Post intervention coaching support is key for change especially when people have to work hard at unlearning, which happens over a period of time. Insights and aha moments are in the moment, which have to be captured and worked upon over time to bring about the desired change.
Samvit Leadership Consulting partners with organizations in the areas of learning solutions and transformational coaching, making meaningful difference in people's lives by enabling them to be the best versions of themselves
Kindly elaborate on the various Consultancy solutions and offerings your company is rolling out to its clients? Highlight its USP?
I personally lead all the learning and coaching interventions, aligning and collaborating with other experts when required, to deliver end to end interventions for clients. Our Consultancy solutions are in two broad areas: "Nourishing Self"- Personal Mastery and "Nurturing Leadership"- Lead with Excellence, at all levels within an organization. We do not have any off the shelf solutions. Everything is customized to suit the current reality of the need analysis and the changing needs spurred by the environment. We may start with a particular need and as change from the environment shifts things for the clients, we align the offerings to fit that change. Secondly, we do what it takes to create the wow factor for our clients, going way beyond our lines of duty to ensure completeness for our clients in every way. And that gives me fulfilment because, what I see is the wholesomeness created by the ripple effect from the interventions, which goes way beyond mere client satisfaction.
Tell us about the overall journey of Samvit Leadership Consulting. How has it nurtured itself over the years?
When I started Samvit Leadership Consulting 8 years ago, like any other entrepreneurial venture, there were some teething problems. The word Samvit has roots in Sanskrit and means knowledge, consciousness. My work is to support people to leverage this and be the best versions of themselves. Having worked with Fortune 100 and 500 companies globally over the last 25 odd years, I have been extremely fortunate for positive word of mouth, which has ensured meaningful work coming my way from day one, for which I am forever in thankfulness and gratitude.

While partnering with my clients, I draw strength from living my values of Integrity, Contribution, Love, Joy and Growth. Making a meaningful difference to people's lives is very important to me.

One of the success stories I love to share is how we partnered to transform the culture of a traditional home grown large organization. We integrated a coaching culture where there was a perceptible shift in leadership styles from directional to facilitative, from "tell" approach to a more "ask" approach.

What is the future roadmap of Samvit Leadership Consulting?
Going forward, I want to work in two areas. One is to partner with organizations to create a coaching culture, to build the possibilities where the leaders and managers can believe in the potential of their people and support them to unleash it. Second is in the space of mindfulness where the leaders can look to build on their foundations of emotional intelligence, and heighten their awareness and focus their attention in ways which will allow them to take their effectiveness to the next level, touching every element of their role to drive superior, consistent results.

Savita Upponi, Founder & Director, SAMVIT LEADERSHIP
Savita Upponi is a Transformational Coach, MBA with specialization in marketing and a Professional Certified Coach (PCC) from International Coach Federation (ICF). Savita has prestigious certifications to her credit such as Workplace from Big Five Profiling, USA, Coach Certification from Erickson Coaching International, Coach Certification from Results Coaching Systems (Neuro leadership Group) and many more. She has, in the past, worked with Franklin Covey and Neuro Leadership Group as a master Facilitator and Transformational Coach. Currently, she is the Founder and Director of Samvit Leadership Consulting and is based in Pune.

Office: Pune