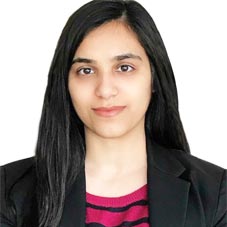 Given the predicaments of current dynamic state of the business in this technologically advanced era, most organizations find themselves posed with operational, functional or technical challenges. While, individuals struggle for seeking jobs, due to lack of job opportunities, offers being revoked, limited job research knowledge, professional skills, and more. Henceforth, all they need is a consultant or a guide who can invest time to know their personal capabilities, understand their business models and help them make impactful decisions. Luckily, there's a slew of awareness, and one such pilot in the consulting arena is Sana Hazari. An investment banker turned impact entrepreneur, Sana Hazari, Founder, SH Consultants (a group company of The Social Corporate Group) is an extraordinaire advisor & consultant imbued with the psyche & attitude of a 'Legit guide'. Recognizing the dearth in efficient management of business operations, strategies, projections, career selections, and more, Sana has diligently shepherd SH Consultants in assisting businesses'& individuals' convert their toughest disappointments into success stories. Having deep industrial insights, Sana is an individual who possesses unrivalled expertise in consulting industry.
In a candid conversation with CEO Insights, she provides us with a glimpse of the exceptional mind that creates lasting impact for businesses and individuals.
Cast some light on your background as well as the biggest inspiration to establish The Social Corporate (TSC) and SH Consultants.
I am a Bachelors in Economics from Lady Shri Ram College, Delhi University and over the years, have pursued professional certifications & specializations from MIT, Wharton Business School, University of Michigan, CFA Institute, University of California, IBM & Google to continuously upskill myself across deep-tech, impact & marketing tracks.
I always had a penchant for finance, hence, post college, I joined BMR Advisors (now merged with KPMG India) in the Mergers & Acquisitions Division. Working there for four years, I inherited extensive transaction advisory skill-set, mobilizing cross-border M&A deals and startup fundraising with VC Funds globally, but yearned to create value at a larger scale. Over the last few years, my curiosity and passion heightened towards upskilling the youth and mobilizing their efforts towards problem-solving and technology disruption to drive societal impact. Upon engaging with multiple Impact organizations, I learned that the industry in India is highly unstructured, and faces major
challenges in terms of inefficient operational management & lack of professional knowhow across verticals (technology, marketing, impact assessment documentation, and others). In 2017, I decided to launch a boutique impact consulting firm – SH Consultants (part of The Social Corporate Group), and a Social–Tech AI-enabled digital platform, connecting 200+ impact organizations across India & Africa, with 10,000+ individuals globally.
SH Consultants is a lean structured, professional consulting firm that aims to provide impact organizations and SMEs end-to-end advisory, to assist them drive deeper impact through digital innovation. Our ultimate objective is to become a one-stop solution for all social enterprises and empower them to improve on aspects of product-innovation, marketing and operations, thereby leading to impactful value creation at a mass scale.
Our primary aim has always been to assists organizations grow more efficient, profitable and sustainable, through holistic consulting
What were the challenges that you encountered during your entrepreneurial journey and how did you overcome them?
Getting into the pursuit of an entrepreneur was never easy. Deploying my early career experiences, while understanding the industry nuances, addressing business challenges, and helping clients make conclusive, profitable & steady business decisions, all while constantly upskilling myself, proved to be a very daunting task. But, seamlessly leveraging the best services, through our network of professional associates in the various sectors across India, I kept evolving. Today, I consider my achievements to be the value created through our impact consulting projects.
Kindly brief us about SH Consultants sand its spectrum of services.
Our primary aim has always been to assist organizations grow more efficient, profitable and sustainable, through holistic consulting. SH Consultants helps businesses attain sustainable business models by providing them Impact Advisory, Digital Strategy & Execution, Product Innovation & Growth Consulting (to social enterprises, NGOs, SMEs, Impact Funds). All these services work independently and are categorized based on their target business segments and the issues they address.
Are you engaged in any sort of mentorship programs outside your organization? And, how do you update yourself with the latest industry trends and technologies?
TSC Group runs a social initiative – "Inclusive Leadership Programme" through which we mentor more than 60 young minds annually, through internship and fellowship programmes. The selected individuals are not just given training across various function areas, but they are given the opportunity to
work with us on large scale impact projects, thus providing them a holistic experience across verticals including strategy consulting, digital strategy and product management.

I recently had the opportunity to give back to the youth of India, through mentorship opportunities as well. During 2020, I was invited as a speaker by Deen Dayal Upadhyaya College and Acharya Narendra Dev College, Delhi University, to discuss the future of the Social Impact Sector and Women Entrepreneurship. I also took a Master-class on Impact Entrepreneurship hosted by Global Governance Initiative, to inspire aspiring young entrepreneurs travel from an idea to a launch phase. I am also a part of Network Capital, which is a career intelligence community constituted of over 1,00,000 distinguished experts globally (from 100+ countries), who help build meaningful careers.

We aspire to make a difference, bridging the extended gaps in corporate and impact world. Thus, to stay updated about the industry trends & technologies, in addition to media news channels, I follow blogs of tech influencers, and digital media platforms such as VCCircle, YourStory, StartupNews.fyi, Impact Investing Council, and more.

Family plays an important role in every person's life. How has your family supported you in your career so far? Also, how do you manage to balance between your personal & professional life?
The perception and expectations from a career in the minds of children, are most likely shaped during the school years. Right guidance and support from family plays a major role in it.

Likely, entrepreneurship can be a very challenging journey, especially mentally. However, I am fortunate to have received such tenacious support from family, teammates and people around me, who persistently encouraged me, bolstering my efforts thoroughly along my social entrepreneurial journey.

Being an entrepreneur, the lines between personal and professional life are blurry. However, keeping myself contained and self-motivated, prioritizing the important tasks over others, I work my way through life, having a set routine (to upskill myself, relax, fitness regime) and fixed daily working hours. This way I have time for myself, family & friends, and my hobbies.

Sana Hazari, Founder & CEO, SH Consultants
Sana is a recognized consultant & motivational entrepreneur who leverages her over seven years of experience (in growth consultancy, digital strategy and investment banking) to help businesses identify their shortcomings and bridge those gaps. For her exemplary work and contribution to the Impact sector, she has also received Certificate of Appreciation in 2019, by the Chairperson of National Council for Teacher Education, and was also the winner of Indian Achiever Award 2020.

Office: New Delhi
Interests: Salsa Dance form, Languages (Spanish and French), Travelling, and Reading mystery novels.