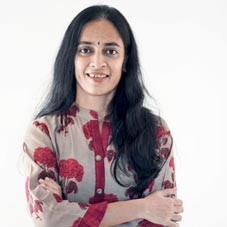 Academically successful and professionally qualified women from traditional South Indian families are generally conditioned and groomed to choose employment over entrepreneurship, but Rajee chose the road less travelled.
Rajee Rajesh is an enterprising financial entrepreneur, an All-India CA topper who qualified out of Price Waterhouse Coopers. The director of one of the leading financial services enterprise in Chennai, BanconusFinServ, Rajee is a multi-dimensional personality with interests ranging from trekking to the Himalayas, doing walks to learn the history of Chennai, a movie buff and being empathetic towards social causes like education. She believes in being both physically and financially fit and her charisma is truly magnetic. She is creating waves where 'Money Matters' and believes in being truly authentic to her style.
Banconus, a boutique firm offering financial services and solutions to individuals and corporates, was born in 2010 when Rajeechose to corporatize her professional practice in investments and tax advisory. She had started her practice in wealth management post her fulltime employment followed by a five year sabbatical from corporate life.
From then to now, Banconus has moved from one milestone to another focusing on excellence, expertise and ethics, under the able leadership of Rajee Rajesh. Rajee is today recognized as one of the respected financial consultants in India. A natural learner, she has equipped herself with knowledge and testimonials. A Chartered Accountant cum Cost Accountant, she is also a Financial Planner certified by the Financial Planning Standards Board of India. Her expertise includes taxation, mutual funds, investment planning and retirement solutions.
CEO Insights interviewed Rajee Rajesh, the Founding Director of BanconusFinServ– the catalyst to the highly successful and dynamic establishment.
What inspired you to incept Banconus, and how has the journey been so far?
BanconusFinservmy Financial Planning Course from the Financial Planning Standards of India in 2007, there were only close to 100 certified people in the country. I wanted to be different and found a gap between earning and managing wealth. I started my journey as a self-employed professional in 2005, out of a pressing need to put my education to good use, but at the same time do justice to my more important role as a mother of two young children. With only a handful
of clients, who imposed faith on me only because they were friends and well-wishers, I set out to build a business. Today, ourclients range from octogenarians to youngsters in their early 20s and our role has been to teach them the art of money management in a very simplified skillful way that they could understand. My vision was to build and position Banconus as a service provider who brings the best of sophistication, process, research and technology, but at the same time offers customization and close engagement in understanding client needs. An approachable and trusted best friend forever!

We committed ourselves to putting clients' needs first and that paid off. Even when the financial markets went through a very challenging period from September 2017 to September 2020, we struck gold as we grew from 100 to 150 crores, only through referrals. I am truly proud of that.

What have been the major challenges you encountered during your professional journey and how did you manage to overcome them?
The initial challenge was to find a place in the financial world despite the qualifications and despite being academically brilliant. Business was never a choice in our families, yet I managed to find my feet and plunge into it joyfully. Being a woman and juggling between work and home, and trying to do justice to both has always been a challenge, though I have been lucky enough to have had the support of both my family and my team members.

My business too had its ups and downs due to various factors, yet we have grown and sustained these challenges in a very positive way. The pandemic by itself has thrown a lot of challenges to all of us today. All that matters is how we adapt ourselves to the change and move forward focusing on the ultimate goal in mind.

Tell us more about the 'Money Matters' enterprise that you have initiated.
Money Matters is the financial educative of Banconus. The purpose is to make individuals understand their connect with money and make them financially literate. This is a very niche area. The motto of this program is to help individuals comprehend their financial fitness, give them practical tips for developing better financial health.

I have done corporate programmes customized to empolyees of corporates like BHEL, Apollo Hospitals, Livia Polymers, ChargeBee Technologies, UpDater Services (UDS) and many others who are our happy clients.

I am a visiting faculty on financial planning and wealth management at management schools and universities including BIM and NIT. It's always a delight to instill best practices in personal wealth management among young minds.

Being the educator, trainer and coach, I constantly teach Life lessons on money, a complex subject is made simple and interesting to understand and easy to follow. My YouTube videos, articles and blogs are focused to create an awareness and initiate everyone to become financially literate.
I conducted 'Shakthi' an online Sunday School for Women on personal wealth management with the sole aim to educate, enrich and empower them. Women are a committed lot who can unlearn faster and are naturally responsible. Post the pandemic, many women have realized the need to become financially secure. Senior citizens look forward to learning to manage their wealth effectively. I plan to take 'Money Matters' to everyone possible.

Do tell us about the milestones you have achieved.
Crossing the 100-crore milestone is one. The excitement was priceless and this happened in 2017. This is no mean achievement, especially when you have begun your journey as a small startup. We were awarded the 'Fastest Growing Financial Advisory Firm in South India' at the Wealth Forum Annual Awards in 2019 as we hit 150 crores in AUM.

There have been qualitative milestones as well. Two high points come to mind: One when I started signing up clients in all geographies like Mumbai, Bangalore and across the globe. The second was o when one of my close friends from my CA days completed an international stint across MNCs and foreign banks returned to India and chose to join me as a partner in 2016.

Apart from your professional life, tell us about your other interests.
Right from a young age, I have always been inquisitive and ready to explore new things and be creative. Being a people's person, I lead a very active social life. I am the founding member of 'The Aura', a knowledge-sharing platform exclusively for women. An avid traveller and trekker, I am a regular participant of the group Chennai PastForward that organizes heritage walks and tours.

My most noteworthy trekking experiences was the 19 day trek to Great Lakes, the base camp of Kanchenjunga, in 2015, around the same time as the earthquake in Nepal, organized by Mystic Trails. I am an active member of the Chennai-based Movie Appreciation Club Cinema Rendezvous.I am also the member of the educational committee of Sri Ramakrishna Vidhyalaya Matriculation School – a 20 year old Trust committed to providing education to rural children in an economically disadvantaged area.

Do you have any advice/suggestions on your mind for budding women entrepreneurs in your segment?
As an entrepreneur, the strength of women is to adapt. Today in entrepreneurship, innovation is the key. More than Building to Last, women have to Build to Adapt. And my favourite quote has always been, "No matter what, Get UP, Dress UP, Show UP".

Rajee Rajesh, Director, Banconus
The success of Banconus is a journey of a bright financial entrepreneur who trekked her way up steadily, moving forward and it has been one of an upward spiral. Like the good old family doctor, Rajee is the family financial advisor who helps clients introspect their financial fitness, offers practical tips to better financial health, thus enabling them establish a happy relationship with money.