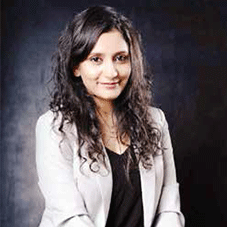 Sangeetha has been at the helm of several corporate leadership portfolios across business verticals for 14 years before founding Thinkinfinity.. She is extremely focused on providing strategic solutions, fast-tracking execution and amplifying results. Passionate about staying abreast with emerging technologies and trends, Sangeetha is known for her determination and commitment in her circle.
Embarking on an entrepreneurial journey is akin to parenting. Irrespective of how much advice one receives, reads or prepares, the reality is unveiled only when one actually embarks on the journey. Walking successfully on both the paths of motherhood and entrepreneurship is Sangeetha Balasubramaniam, Founder & CEO, Thinkinfinity Technology & Consulting, a provider of technology solutions and effective people practices.
A hands-on mother to two boys, Sangeetha has nurtured her firm to become the toast of the town, with a strong clientele and several awards in its kitty. A computer engineer with a Master's degree in management, Sangeetha is a true technocrat at heart and brings to the table 14 years of experience in the IT industry. Having shattered the glass ceiling while having her feet firmly planted on ground, she is a beacon of hope for aspiring entrepreneurs. CEO Insights caught-up with Sangeetha to know the critical ingredients that make for a successful startup.
How did Thinkinfinity come into being? Tell us about the services that the company specializes in?
Over a span of 14 years, I have had the opportunity to lead various corporate leadership portfolios across different business verticals, IT being the primary. In all these years, I nurtured a dream to build a technology and HR company that would focus on providing cutting edge, strategic and innovative solutions. I quit my high paying job in order to chase my dreams and thus founded Thinkinfinity in May 2016. Propelled by my vision to connect people, process and technology, Thinkinfinity helps clients succeed in their business with innovative technology solutions and effective people practices.
We help organizations to maximize digital innovation with emerging technologies, develop cutting edge products/tools to improve the customer experience, gain effectiveness by getting the most from IT outsourcing, incorporate agile practices for faster product development and there by create value for business and transform IT organizations while reducing its complexity and risk.
Thinkinfinity provides pinnacle offerings in the space of people function by helping organizations to align their people strategy with business strategy through our unique HR solutions, provide leadership & strategic consulting, and go-to-market strategy.
An entrepreneur's journey is replete with challenges, more so when it's a female founder. What is your opinion about the same?
Irrespective of one's gender, being an entrepreneur is a challenge; however, the journey becomes much tougher for women entrepreneurs, especially in a patriarchal society like India. In today's world, women are often under-paid, passed for promotions and faced with every day prejudice. But I strongly believe that we are already empowered and just need to grab opportunities rather than complaining about the society or blaming family balance.
At this inflection point, we need to mentor and guide them to be able to make choices that aren't necessarily traditional
In my 14 years of corporate experience from starting out as a business consultant to my last role as Vice President, it took enormous resilience to overcome stereotypes, cultivating confidence to leave the sticky floor, accelerate my contribution through additional responsibilities and learn new skills to melt the frozen middle management layers to break into the executive suite.
Another prevalent chain of thought is that marriage means the end of a woman's career and babies & business should not be mixed. But contemporary women are breaking this stereotype; several women are looking to fit their marriage into their career trajectories, and not the other way round. At this inflection point, we need to mentor and guide them to be able to make choices that aren't necessarily traditional. I also strongly believe that having a child shouldn't kill your career; I raised my two boys without a single break in my career. It was possible because of shared responsibility with my spouse and in-laws and creating an optimum support system to take care of other life chores.
How should entrepreneurs approach growth strategies such as scaling-up and financing?
Scale-up, a relatively new concept doing rounds in tech business circles, helps differentiate scalable and sustainable businesses from the rest. While it can present new growth opportunities, access to new markets, team expansion and augmentation of core strengths, entrepreneurs must first ensure that their business is standing on a solid foundation and is ready to be scaled-up. Premature scaling could be fatal, therefore entrepreneurs should loosely inspect factors such as product or service, customers, team and funding before taking the leap.

In terms of funding, Thinkinfinity has taken the route of being bootstrapped. This approach allows for more freedom in decision-making and scope to follow my instincts freely. However, I am not completely averse to raising funds externally. Everyone can at some point use investments as a way to move forward, but they must take the when, how and with whom into consideration before raising funds.

Success and failure are an integral part of an entrepreneur's journey. How do you view Thinkinfinity's success?
To me, success or failure doesn't matter the most; rather I would look at realizing the moment, move forward quickly with what next and getting back on track by focusing on next opportunities. One should not get stagnant with either success or failure, both are journeys of constant learning & moving-on faster. I remind myself almost everyday that overnight success takes many years, and resilience & calculated risk taking is vital for any entrepreneurial success. In business, failure is almost inevitable especially for startups, and the most important thing to deal with it is the 'never give-up' attitude aligned with the right business strategy, funding and team. I'm always prepared with a mindset that it's ok to fail sometimes, but fail fast, take responsibility, analyze, learn from it, and move forward much more stronger.

At Thinkinfinity, every little milestone is celebrated with full gusto that helps to maintain a positive and warm work environment that gives employees a sense of purpose, make them feel valued, and eventually boost employee morale. One such recent instance was the launch of DIGICOP app for the citizens of Tamil Nadu, which is a social initiative, and we are the technology partner for Tamil Nadu Police. We have received various prestigious awards such as the 'Best Technology and Consulting Start-up' by India Leadership Awards 2018, 'Best Human Resource Partner of the Year 2019' by Entrepreneur India co-hosted by Zee Business and Economic Times, and Rising Entrepreneur of the Year 2019 by Your Story.