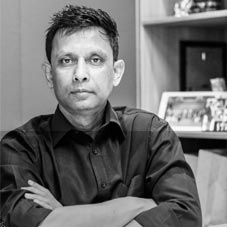 Titan, the household name is part and parcel of our lifestyle. From the watches that stay with us all day long to jewellery that fulfill special moments, the brand has become our trusted partner. The trustworthy brand has pooled superhumans in its core management team for delivering the best to its customers and making a profitable business. Among such great minds, SaumenBhaumik- CEO of Titan Eyeplus, is recognized as one of the top leaders in the Retail & eCommerce sector.
Saumen Bhaumik is the perfect example of a humble leader whose insights are inspirational. There is a lot to learn on how he adeptly moulds Titan to the best with innovation & uniqueness. With over 30 years of diversified experience across a range of industry verticals that Titan adheres to, he is embracing the brand's goals and playing a pivotal role in making crucial business decisions. He is an exceptional personality in ensuring each one of his employee's contributions truly matter to the growth of the organization. Acknowledging him as a versatile leader, CEO Insights had a chance to engaging an exclusive interview with him to know more about his contributions. The interaction showcases his endeavours with multiple managerial appellations in the company and his journey of being the mastermind behind the Titan's Tanishq & Eyeplus.
Enumerate your educational and professional background before becoming the CEO of Titan Eyeplus.
I completed BE in EEE (Electrical & Electronics Engineering) from NIT, Trichy. I joined Titan straight from campus in the summer of 1989. The journey began as an engineer in the manufacturing block of the erstwhile Titan watches. I worked my way up and was part of setting up multiple plants including India's first integrated jewellery manufacturing plant in mid 90s. I treasure the experience and the exposure I got while working in various roles across our Watches, Jewellery verticals.
Illustrate on your evolution within Titan.
Thanks to my bosses Like Jacob Kurian (Ex COO of Tanishq), L R Natarajan (Ex EVP of Titan), Harish Bhat (Brand Custodian - Tata Sons), Bhaskar Bhat (last MD of Titan, current Director – Tata Sons), C K Venkatraman (current MD of Titan) I was fortunate enough to move across many functions and roles across businesses.
• From Projects & Engineering Services I moved to lead Integrated Supply-Chain Management (manufacturing, outsourcing, logistics).
• In 2005, I was given to lead retail for Tanishq. During the 7 years I was Retail Head, the turnover galloped to 10x, from ~INR 700 Cr to nearly ~INR 7000 Cr in 2011-12.
• Betn 2012 -2016 I was the Geography Head of North handling all our businesses.
• In 2016 I returned from Delhi to Bangalore as the Chief Sales and Retail Officer of our Watches & Wearable business. Next 3 years saw a complete turnaround of the Watch business both in terms of top and bottomline. Among many other things we spent considerable energy in establishing a solid partnership with Amazon and Flipkart to explode our ecommerce share and also established our multibrand chain HELIOS.
• In Jan 2020, I was appointed as the CEO of the Titan's EyeCare division. Soon after that Covid struck and the whole world went into a tailspin! In these unprecedented times we remained committed to our time tested philosophy of multi stakeholder wellbeing. That worked. Both as a company and as Eyecare division we weathered the storm quite well as you would have seen in our financials.
Saumen joined titan in 1989 and has 30 long years of experience across multiple businesses, functions, and locations. He led the turnaround of sales in the watches, accessories, jewellery, and now associated with the eyecare division
List a few of your exceptional strategic decisions made for the growth of the company.
I was quite involved in the following which had deep impact in our businesses:
• Taking the principle of Toyota Production System (TPS) to our Tanishq Retail network. We called it LEAN RETAILING way back in 2005. There were many benefits like productivity improvement, waste reduction and so on. But the single largest sustainable benefit was heightened people engagement thro Kaizen drive. That everyone was gifted enough to contribute, that everyone can improve whatever be the area of his/her work, that less can accomplish more, people experienced these as they practiced LEAN and it had a transformational impact. And everything was cantered around giving the best value to customers. We made huge progress on our mission of: "What Toyota is to Car (manufacturing), Tanishq is to Jewellery (Retailing)"
• Tanishq Golden Harvest Scheme was the other thing I was very passionate about which has become a silent and yet the most powerful customer acquisition tool. For customers it is a smart, secure and convenient way to acquire the finest Tanishq jewellery at the best price. For us it is assured business for the next year. Clearly a WIN – WIN. To have the comfort of having nearly 25% of a 20,000 cr business today locked-in a year before is certainly an enviable position to be in. That's what Golden Harvest did to Tanishq among other things!
• Real-estate being expensive, we brought multiple retail formats together within the same property instead of having separate ones. These Combo Stores made instant sense – in one side it reduced rental significantly for a format and on the other it also enabled significant cross & up selling opportunity and with lesser manpower. Today you would see many such integrated stores combining World of Titan
with Helios or with Titan Eyeplus. Customers liked it, franchisees loved it, made absolute economic sense for us. Again a WIN-WIN. This experiment we did during my Delhi stint as Geo-Head.

What makes Eyeplus close to the heart of customers?
We are clearly distinguished for two factors, firstly, our Expertise in eye care. The Zero-error eye testing and best-in-class offerings make customers choose us. They whole-heartedly appreciate our expertise in the category. Secondly, the Empathy, the genuine care our highly trained (under Sankara Netralaya) Optometrist and Eyecare Consultants show, customer loves this gesture. How else would you have 3,50,000 plus customer rate us in Google review with a score of 4.9/5?

What are your transformation strategies for Titan Eyeplus?
We are trying to offer a world-class optical retail experience by keeping product innovation at the forefront. Given the current reality we are not looking too far ahead. At one level we are taking one month at a time, stay nimble, listen to customers and come up with what's appropriate and fast. Some of our recent developments are ClearSight coating for ultra clear vision, Anti Fog lenses, NEO progressive lenses which adapt to one's digital lifestyle, antiviral frames and so on.

Our strategy is simple and time tested – as long as we serve our customers well, we are in the game. When we do it better than everyone else, we lead. That's our chosen path.

Elaborate on your leadership style for creating the next line of leaders.
I believe if a group of people in an organisation truly come together, almost anything is achievable. Need for an apolitical organisation, need for real synergy can't be overstated if we were to be really successful for a long time. I try my part to eliminate if not minimise compartments and silos within to bring in that synergy. When that happens we sense an effortlessness in whatever we do, however difficult the mission or task is. That certainly enables fairness and transparency as much as innovation & ownership. And there is also celebration for job well done. That too can't wait!

As I mentioned earlier I was blessed to have worked with some phenomenal personalities. In my own way I try sharing with our people lessons that I learnt more in an informal way. I have found orchestrated job rotation is the best way to prepare your best talents for the next level of jobs, we try to incorporate that as a part of people's development plan.

Saumen Bhaumik Chief Executive Officer- Titan Eyeplus, Titan Company Limited.
Interesting Facts on the Personal Front
• Earlier loved to play Badminton and Football

• He completed his Senior Diploma in playing Tabla during his high school life.

• Favourite authors: Frederick Forsyth and Rabindranath Tagore.

• Influential Books: The Fountainhead by Ayn Rand, Alchemist by Paulo Coelho, The 7 Habits by Stephen R Covey, The Secret by Rhonda Byrne, Laws of The Spirit World by Khorshed Bhavnagari, Shesher Kabita by Rabindranath Tagore.