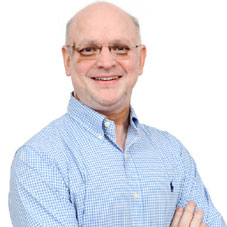 "Your best work involves timing. lf someone wrote the best hip hop song of all time in the Middle Ages, he had bad timing"said by Scott Adams, an American artist and Cartoonist, aesthetically describes the importance of timing in everything. When experience combines with timing, it often writes success stories in business. Having kick started his professional career in 1994, Saurin Shah, Founder & CEO, Rich Ams Global Sourcing Ltd, gathered priceless experience under his belt amidst globalization all the while cherished his entrepreneurial dreams and waited for the right time to pounce in the market. That's precisely why despite the humble beginning of his career as a Junior Production Coordinator, Saurin's entrepre neurial venture Rich Ams today is one of the fastest growing garment companies in the Philippines. CEO Insights recently got in touch with Saurin and he was happy to walk through his journey as well as the latest endeavors of Rich Ams. So, let's hear it from Saurin.
A Junior Production Coordinator based out of Mumbai in 1994 to a Garments Industry Leader in the Philippines. How has been the journey so far?
It all began with me getting more opportunities to work in the Merchandising department in the company where I started my career. I slowly & gradually had more involvement in Development & Marketing and by 1999, I had a great amount of global exposure and experience in Sales and Marketing. In the same year, I got a chance to work in the Philippines as Head of the Department in a Garment Export company in Manila. My job profile included everything from development to dispatch/ shipment of goods. This gave me a 360-degree view of all the aspects of business including sales, marketing, costing, sourcing, exports documentation and shipments.
We were dealing with various products like woven, knits & denims.
I always wanted to build a business of my own, which could sustain and scale. Clothing being a basic necessity, I was very much convinced that if managed well, this business will initially sustain and then scale. After 16 years in the garment industry, I started Rich Ams Global Sourcing, aligning it with my thought process, principles,and dreams. Today, in this fast paced world, we believe in finding answers to all the questions/ challenges that we as well as ourcustomers face on a daily basis.
Creating a genuine and well balanced organi zation and building my multidimensional and a very versatile team have been a couple of greatest satisfactions
What is the guiding force that helps you to constantly leverage your expertise & experience irrespective of ups and downs?
As we all know, ups and downs are part & parcel of life. I firmly believe and have experienced that all the challenges that we face in our daily lives make us stronger and smarter people. I have always approached problems as a great opportunity to prove my skills and to learn and upgrade myself for the next level in business.
Define Rich Ams Global Sourcing as an organization. Also, what are your target segments?
We are primarily a sourcing company. We understand the needs of our clients in the US and Europe and provide sourcing solutions. In fact, we go beyond sourcing products to actively involve in designing, merchandising quality control & logistics. Our target segments are discount stores, importers and companies looking for strategic partnership.
What according to you are the best practices when it comes to design and product development?
As such, there is no secret when it comes to best practices in business. There were, are and will always be four major aspects to best practices:(i) Innovation, (ii) Competitive price(iii)Quality, and (iv)
Seamless Services. When we source a product(s) we always try to strike the best possible balance in all these aspects.

In your professional journey so far, which are the milestones that have bestowed you with utmost satisfaction ­both as an individual and as an entrepreneur?
Creating a genuine and well balanced organization and building my multi dimensional and a very versatile team have been a couple of greatest satisfactions. They are very professional in all the dealings and at the same time, they are emotionally attached to the company with utmost belonging.

From what we gather from our clients' experience working with us, we feel that we are truly a customer centric company. Most of the companies have a separate customer care/customer service department, but in our case, each and every team member is conditioned as a customer care/customer service department. This runs from a junior team member to the top level team member. So we stay close to the solutions.

With respect to the company's future roadmap, what are the opportunities that you look forward to?
With all the global challenges, we see an opportunity of expanding our horizons into many new products, services and new areas of sourcing. We practice to be a first mover, and then a fast mover. It would bring in new clients on board and upgrade the satisfaction levels among our existing clients. More challenges are bringing more opportunities & this will motivate us to find path breaking solutions.

Saurin Shah, Founder & CEO, Rich Ams Global Sourcing
A thought leader in the Garments industry with close to three decades of experience, Saurin had a humble beginning of his career as a junior production coordinator in 1994. Today, he is at the helm of one of the fastest growing garment companies in the Philippines.

Hobbies: Reading and Sports.
Favorite Cuisine: Home made Gujarati food.
Favorite Book: Dhirajlal Hirachand Ambani: Rags to Riches and Start with WHY by Simon Sinek.
Favorite Travel Destination: Boston and London.