SciVoc Healthcare Consulting: One Of The Fastest Growing Consultancy Focused On Delivering Customized "End-To-End" Medical Communications And Digital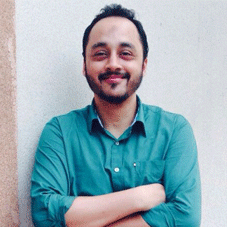 To instill a meaningful change across the medical writing ecosystem in India, MD. Najeeb Ashraf (Najeeb) gave up on inviting and high-profile job options to pursue his dreams as an entrepreneur. His perseverance to initiate a podium to support ethical and focused medical writing practices in India came true with the inception of SciVoc Healthcare Consulting. Within a few years, SciVoc (The Voice of Science) has been instrumental in making an impact globally through its work.
A promising start-up offering customized "end-to-end" medical communications, medico-marketing, and digital services globally, SciVoc aims to develop and build one of the robust medical writing teams focused on quality excellence capable of impacting patient's lives. Apart from adding value to the medical writing space through SciVoc, Najeeb is also the sponsor and founding member of MIRORR – MedComms India PRofessional NetwORking GRoup, the first professional medi-cal communications networking group in India. MIRROR is a unique not-for-profit coalition of scientific communicators driven by a shared motivation to enable and empower India's scientific share of voice in the research community.
Engaging in an exclusive interaction with CEO Insights, MD. Najeeb Ashraf highlights the emergence of SciVoc and how supporting and impacting patient's lives forms the core of everything they do.
1.What was the idea behind the inception of SciVoc Healthcare Consulting?
Medical writing is a highly evolving and rapidly growing field, and there is a dearth of ex-pert and professional writers. There was a need to develop the medical writing ecosystem in India to the extent that it could fill these lacunae in a few years, help grow the economy and develop medical communicators akin to a global level. Working in the corporate domain for over 14 years, I identified these apparent cracks for the medical writing ecosystem in India. Keen to find a solution and having faith in my ability, I witnessed an opportunity to make a difference.
My main objective of incorporating SciVoc was to impact patients' lives through our ethical, focused, and transparent medical writing practices and create a world-class, best pool of writers, making SciVoc known for quality and excellence in writing. We also pride ourselves as one of India's first medical writing start-up companies with a virtual setup giving our writers complete flexibility to work from the comfort of their homes. Medical communications are an evolving sector in India.
We aim to set up an example of a company where the focus is on value-based, high-quality solutions, learning and development, and inculcating astute scientific understanding to impact patient's lives. I aspire to develop an ecosystem wherein the writers are well-informed and aware, and well-groomed (both technical and soft skills) to meet the rising demands of the healthcare and pharma industry. And having support from in-house experts like Lakshmi Hariharan, Scientific Lead for SciVoc, helps us achieve the quality levels that we aspire for each deliverable and bringing out the best outcome for the client.
2. How do you contribute towards making your company different from its competitors in the medical writing space? Highlight upon the USP of SciVoc.
Frankly, SciVoc is not competing with anyone in the market but aspires solely on taking medical communications standards to the next level through our focused approach to quality. SciVoc believes that anyone doing high-quality work will survive in the market. Further-more, we look to support such companies and are open to the idea
of collaborating with like-minded firms, as needed. I need to do the best quality job for which SciVoc will automatically be recognized to making a difference. I can confidently say that we are not in the race to win titles. I believe in ethical marketing and the values that we bring through it. The work that we do looks to impact patient's lives. I wish for SciVoc to be recognized as an ethical medical writing group trying to enhance and raise the quality bar of medical writing services. The journey is long, and we are not in a hurry.
I aspire to develop an ecosystem in India wherein the medical writers are well-informed, well-trained, and well-groomed to meet the rising demands of the evolving healthcare industry. Focus on value-based solutions impacting patient's lives drives us to deliver impactful and high-quality services
3. How do you plan to mold your company accordingly to deal with the emerging challenges of medical writing agencies & utilize the opportunities that come along?
The global medical writing market is expected to grow by a CAGR of 10% (based on Grandview Re-search data) from 2018 to 2026, and there is a severe dearth of quality medical writers in the market today. Being a trained medical communications professional myself, it is easy to understand the customers' demands, needs, and requirements. With the advent of COVID-19, newer challenges have surfaced that need to be dealt with. Impacting patients' lives form the core of everything we do. Our approach is to partner with clients and offer value-based, high-quality solutions transparently and ethically. We also take the opportunity to guide the customers with exemplary publication practices and patterns, as applicable. We, therefore, look to solutionize and make the experience worthwhile for the customers.
We have a decent client base in the market, and we support many strategic writing projects for eminent names in the Pharma and Vaccines division. Customers are extremely satisfied owing to our comprehensive working strategies and quality of work. Our focused and individualized approach with the clients ensures meaningful and pragmatic solutions. Seeing our work impacting patient's lives is a tremendous motivation for everyone in the group.
4. How has been the growth of SciVoc since its inception, and what is the future roadmap for the company?
We have been growing exponentially, and this year we want to double the impact by offering solutions to a diverse set of clients. This year we are looking at more strategic growth encompassing increased service offerings. Setting up our global headquarters in Canada, we are looking to establish a strategic partnership with a UK-based firm. In the future, I can foresee some major innovations happening in our company to improvise medical writing support and services. The future is both intriguing and challenging at the same time.
5. Share a brief detail about your educational and professional background. How have they helped you while navigating your firm towards success?
After completing my masters' degree in Biotechnology, I earned my MBA from the ICFAI University, Tripura. I am also a Certified Medical Publications Professional (CMPP), a certification offered by the International Society for Medical Publication Professionals (ISMPP). The credential certifies expertise as a medical publication professional, proficiency in good publication practices, commitment to ethical and transparent data dissemination standards, and leader-ship in upholding and fostering integrity and excellence in medical publication. Thus, I am well versed with the medical writing nuances and completely aware of the recent innovations happening in the industry.
Being a voracious reader, I also have a passion for non-fiction and business magazines through which I keep myself updated about the industry. I have always strived towards continuous learning as it enables me to be a better human being every day. I strive to achieve bigger and better challenges and seek solutions as a means of creative satisfaction. This ideology compelled me to put aside the high salaried jobs and venture into something ambiguous and complicated.

As a founder pursuing success, I needed a strong self-belief, so continuous learning and networking with like-minded business professionals was meaningful. However, I will also agree that an entrepreneur's success doesn't just depend on education but also on an individual's soft skills and attitude. Coupled with my inquisitive attitude, it is more of real-life experiences and my quest to find a solution to the problems that led me to do what I'm doing today.

6. What is the major challenge you are witnessing across the domain of Medical Writing? What were your motivators to tide through this challenge?
Functioning in the medical communications domain for the last 15 years donning different roles and responsibilities, I can say that the market is evolving exponentially. Many medical writing companies are being incepted every year, and there is a growing de-mand for medical writing owing to cut-edge research across various domains. However, the increase in medical writers has not been the same as the increasing demand globally, including in India. Since I wanted to find a solution to this challenge, it compelled me to come out of my comfort zone and take up a more significant challenge. Success was never an easy option, and I have failed several times. These failures turned into valuable lessons guiding me to do the best by keeping SciVoc's objective in mind. I was confident and determined about achieving my goal from the initial days of the entrepreneurial journey, so I never had a contingency plan. If I had my plan B ready, my effort would have been much lesser than what I apply today. The faith in my ability, fire to find a solution to the problem, and ability to positively impact patient's lives were the biggest motivators for me to pursue my path despite challenges.

7. How do you keep yourself up to date with the latest trends in the healthcare sector, which might help you steer your organization forward?
In the life of a medical writer and an entrepreneur, the learnings never stop. As medical writing professionals, one needs to constantly update themselves with the latest innovations, technologies, research, and diseases. I keep my learning ticking through professional forums, business and entrepreneur groups, opinions of healthcare leaders, influencers, scientists, researchers, and medical affairs professionals. Thus, essentially, the people that you are spending time with and the information that you're seeking from them matter a lot.

I also refer to top-tier scientific journals and selected scientific blogs to update myself on the recent developments on a specific topic. Topics of scientific research, rare diseases, novel technologies, medical devices, business strategies, norms, and regulations excite me.

Md. Najeeb Ashraf, Founder & CEO
A professional with over 14 years of working experience, Najeeb has a robust background as an expert medical communications professional. To date, he has held several leadership roles in various pharma companies and agencies. Being a Certified Medical Publication Professional (CMPP; offered by ISMPP), Najeeb specializes in medical communications, publication planning, development and execution, and data dissemination throughout the drug development cycle. He also has expertise in training plan development and client services. A voracious reader, he also takes a keen interest in entrepreneurship, people management, business strategy and development, leadership, and soft skills. Najeeb is also passionate about spreading awareness regarding type 1 diabetes and is keen on impacting patient's lives through his work and initiatives.