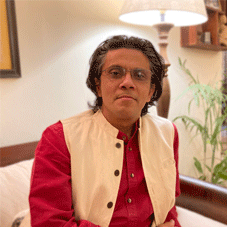 If India is to achieve its target to double its Gross Enrollment Ratio from 25% to 50% over the next decade, it may experience a significant rise in private higher education institutions offering, hopefully good quality of education albeit at higher fees. Top public institutions have raised their fees upto 900% in the last 10-15 years. Estimates indicate that the outstanding education loans will increase from Rs 1.12 lakh crore to Rs 9 lakh crore in the next 10 to 15 years.
Globally, the cost of education loans has been surging mounting pressures on students. In 2022, education debt in the USA was USD 1.75 trillion and exceeded the combined value of credit card and auto loans granted during the period, while in the UK, the figure stood at USD 140 billion in March 2020. The time is ripe for an innovative disruption in the space. Aman Singh and Sasidhar Sista saw this problem unfold first hand while interacting with thousands of students and parents as part of the founding team of Ashoka University, implementing the institute's new paradigm of high quality but relatively very expensive liberal arts education.
Globally, students' struggle and sometimes get burdened by heavy loans for poor quality programs. This inspired the duo to try and solve this problem with innovative use of data science and technology in a way that guarantees transparency and enables innovation in financing of higher education By bringing students and financial institutions on a single platform, they aspired to help lower the cost of education and make sure that no student gives up on quality education because of a lack of funds.
A team of 50 close knit team members are in a mission mode to help their students get the right education at the right cost. They have enabled thousands of students to fulfill their dreams of higher education and also carved a niche in the sector of higher education finance. The thriving economic and commercial scenario of Hyderabad has also helped GradRight to get a head-start in the market.
In an exclusive interview with CEO INSIGHTS, Aman talks more about how GradRight is disrupting the higher education space using technology and data science.
Enlighten us on your various Students loan bidding options available on your Grad-right platform and their features with key emphasis on flagship offering?
GradRight's flagship offering is FundRight - the World's first education loan bidding platform. Grad-Right changes the way students finance their education by bringing together students, banks, counsellors, and universities on a single platform. It has 12+ Lenders including public and private sector banks, NBFCs and International Lenders competing with their best terms. These lenders cover 90% of
the financial market. Lenders compete for students with their best terms, in a transparent and competitive manner based on the students' academic and financial profile. This helps the students secure the best possible loans in a timely manner, from the comfort of their homes, and never miss out on enrolling after securing admissions. FundRight offers significant cost and time savings for the students who can save upto INR 23 Lakhs on their loan and close the entire loan process in a matter of 3 - 4 days, which normally takes more than 30 - 45 days.
will change higher education financing in the world. We are proud to start this movement in India
FundRight also helps lenders roll-out customised loan offers to students at scale. Till date, more than 60,000 customised loan offers have been created on the platform. Our student loan bidding platform offers collateral and non-collateral loans for students at interest rates ranging from 7% to 14%. The platform offers a safe, transparent and completely online loan process for students which is especially beneficial given the current pan-demic situation. The complex process of loan documentation is also simplified and easy to complete. Also, an expert financial advisor is assigned to each student to take care of all their queries.
The GradRight People Partnership team ensures that the students are guided not only in terms of finances but are also mentored to choose their right college and program.
FundRight is aptly coupled with SelectRight, a financial data-driven college selection tool that helps students see the big picture of the total cost, returns, payback period and 'fundability' of each programme. This helps in saving a lot of time and effort for banks and students given that students now approach banks only after choosing and getting selected for a 'fundable' programme.
Can you talk more about the uniqueness of your services?
GradRight's FundRight is the World's only platform that brings together education financing institutions to compete and offer the best loan to students, in a transparent manner. For the first time in India, students have the power to choose the preferred lend-er, submit all their documents online, interact with bank officials and get approval without the need to meet anyone or go anywhere in person. This saves an enormous amount of time and resources for banks, students and their parents. It is also an unbiased and automated platform where GradRight collects commissions from the lender that successfully lends as per the student's choice and requirements keeping their data secure.
Another one of our offerings is Select Right and it is the first good attempt in India to generate unbiased, rational, data-science driven choices of programs that are most 'bank-fundable' and suit-able for every student as per their unique academic and financial background. It saves an enormous amount of time in research and organization of data for students.
The twin-platforms help students navigate the complexities of the education loan process completely online and with a lot of ease, a huge
advantage for them especially during the current pandemic situation.

Can you mention some of the major mile-stones that Gradright has achieved over the years?
While we have just begun on our journey to transform global higher education, here are some break-throughs we have been able to accomplish a) In Feb 2021, GradRight was ranked 1st and rated as the most innovative higher education financing company in the Fintech Innovation Challenge hosted by HSBC and the Ministry of Electronics and IT. The win was awarded for the global nature of the problem we are trying to solve and for taking the right step of creating a transparent, student-centric ecosystem that enhances global mobility of students.

b) In May 2021, we crossed INR 2100 Crores worth of education loan requests on our platform, c) Currently, we have 6500+ student sign-ups on our online platform, d) We have also made strategic partnerships with 7 Indian universities, 5 Partnerships with Europe's leading B-schools including KEDGE, SKEMA, IVEY Business School, HEC Paris, and Schulich School Of Business, 23 B2B partners including educational counsellors - Jamboree and Many a Education with access to 50,000 students preparing for overseas education and e) in May 2021, GradRighthas been shortlisted as one of the finalists for The Global PIEoneer Awards 2021 held by The PIE, the awards recognize both individuals and organizations who are pushing professional standards, evolving their engagement, or redefining the international student experience. With distinguished panel members including Janaka Pushpanathan, South India Director of British Council, Dr. BasakAkdemir, Chief Executive of MLA Global College and others, this recognition further helped cement our resolve to make higher education financially accessible for all.

Along with these milestones, another key aspect for the growth of any startup is securing the right fund to propel growth. To this end, we have been able to raise a million dollars from a close group of friends and are preparing for Series A funding rounds.

What kind of innovations are you currently working on now?
In the coming months, GradRight aims to create scalable impact through its funding platform for both lenders and students. To achieve this goal, we will build new financing products driven by data in collaboration with banking institutions, expand the capabilities of our platform to help the students make the "right" choice in their college and program along with helping them find the most fundable programs based on their profile and finally, introduce a new credit rating system which takes into consideration the academic merit of students ensuring better underwriting and better loan products from banks for students.

Aman Singh, Co-Founder, GradRight
An alum of IIT-Delhi and ISB, Hyderabad, Aman carries a rich experience of 18 years in the Education space. As the Founding Project Director of Ashoka University from 2007-2015, he anchored its establishment as a pioneer of libera arts education In India. He has made significant contributions to the set-up of other innovative universities like Krea, Atria and Plaksha university. He is an ardent practitioner of Yoga and he's a life-long disciple of the Bihar School of Yoga, Munger.