Standing out from the rest in the crowded Indian startup segment is a tough task and the Covid-19 outbreak has made things worse for startups. Even amidst this far from an ideal economic scenario, one company that has been able to not only build a positive reputation in the industry but also carve out a niche in the segment is ElitePXL Media. Owing to the quality of their services and the transparency of their operations, the company has been able to clock in impressive growth numbers at a time when many businesses were struggling to stay afloat in the market. The company's tagline of "Design. Build. Accelerate." is further showcased in the company's operations and its commitment to offer the best value for money services to their clients. ElitePXL Media was founded by the versatile trio of Ghazanfer Mehdi Syed, Aftab Mehdi & Minaam Nusrathilater to be joined by Mu-nawar Unissa Fatima and Azeem Nizami. Together as a single force, they have been able to create a successful business model for ElitePXL Media that is growing from strength to strength every day. They have their office based in Kondapur, Hyderabad & Melbourne.

In an exclusive interview with CEO INSIGHTS, Ghazanfer Mehdi Syed who is also the CEO of ElitePXL Media talks more about his professional journey and the unique operations of ElitePXL Media.

Can you elaborate more on your educational and professional background?
After completing my 12th in 2016, I wanted to do some-thing that was going to enhance my life. Though I joined an engineering college, I was not content with choosing engineering as my career choice since I never wanted to become an Engineer. So, I quit my college in the second semester of my first year at college and started working full-time in the IT and digital recruitment industry. I had the fortunate chance to have an intro-duction to the digital media world when I completed a short Graphic Designing Course & then became fascinated with the finance world leading me to take on a full-time course enrolment with ACCA and B.Sc (Hons) in Applied Accounting with Oxford Brookes University.

In 2018, I moved to Dubai wondering if I would ever come back to India and happened to get employed by a good friend of my father's. In my position with Al Wahib, Sharjah, I wore multiple hats from being an Office Administrator, Assistant to the Senior Accountant, Web Developer, Business Development Executive to being a retail sales executive. I also worked as a marketing specialist, and it is from then onwards that I thought about creating a marketing firm that would set the bar and make an example for providing top-notch service to its customers. Being in Dubai, UAE gave me the best learning experience of my life where I had the luck of meeting people from all around the world. I took an inspiration from the standards of the UAE and wanted to bring such international standards to India.

I came back to India at the end of 2018 and got back into the recruitment industry. It is around the
same time that I started working as a freelancing marketing specialist which had me in a position advising my clients and having a first-hand approach of scaling their businesses by implementing the said strategies. After going through a personal instability period in 2019 - 2020 which had me face some of the roughest & horror phases of my life, I got the inspiration to work on a plan to build a digital agency and fortunately enough, I was able to find my business partners who shared my vision.
After an initial sit-down, meet & greet followed by a few over the night sitting on a bonfire-lit terrace with sheesha and snacks, the trio of us, me & my partners (Aftab Mehdi & MinaamNusrathi) were able to come up with a plan that allowed us to launch our company in days going through tiny details and ensuring that we get enough value for everything we do. Munawar Unissa Fatima followed suit and joined us soon followed by Azeem Nizami, a Google Ads Expert based in Melbourne who manages the operations of our Melbourne's team.
An entrepreneur should also be persistent and determined to guide his company towards success regardless of the challenges that they face
That is how ElitePXL Media came into being and after our establishment, we have been able to achieve a lot and we were excited since we have been able to do something productive when the world was at a standstill. It has been a bumpy ride since then, but it was totally worth it!
What are the various roles that you take up at the company and how are you able to develop successful business strategies? Also, can you talk more about the services that you offer and its uniqueness?
Being the Founder & Chief Executive Officer, I'm required to wear multiple hats at the same time. I am involved in the operations daily, investigating specifics and proposing ideas, solutions to the creative team, marketing team, Software Development team, client project development, HR and Finance too. There have been days where we had to ship to our client in a short span of time & since there was no one around, I had to personally be the delivery guy ensuring that I drop it at the courier company ready to be shipped.
When it comes to our offerings, we have created a diversified service portfolio that includes branding, UI/UX and web design, digital marketing, search engine optimization, social media marketing, search engine marketing, content creation, and package and merchandise design to cater the varied requirements of our clients. All these services are extremely customizable, and they are offered at an incredibly competitive price. We are also able to channel the client's existing resources and build a marketing strategy that offers the best possible results for them.
What kind of a leader are you and what is your leadership style?
Aspire high to Inspire people around you. I strongly believe that leaders are not self-made, and the teams makes their leaders. So, if you need to be a leader, then you should have the confidence and trust of your team. The best way to motivate your team and lead them is to work from the forefront. That is to take ownership of everything that goes on, to ensure that work is done, no matter the odds.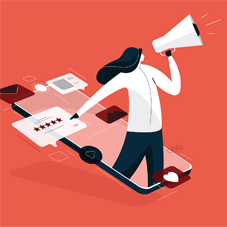 Every worker happens to be a leader and I would like to make an example of my partner, Aftab Mehdi who being a Founder & the Chief Product Officer has at multiple times set the bar high for being a responsible & learning leader in the matters he is responsible for. My leadership style is of that of an Alpha in a wolf-pack, working with my team & taking the hits where necessary. This helps me to set examples for them which is also crucial to build a meaningful relation-ship with your team.
In your professional journey so far, what gave you utmost satisfaction?
I am pursuing an accountancy qualification from ACCA UK, studying at InspiRoar Academy, Hyderabad and doing well in this program while running our company 24/7.My highly productive partner Mr. Aftab Mehdi is also an engineering graduate student from the MJ College of Engineering and Technology, Hyderabad. Despite our educational commitments and the fact that I was also juggling a full 8-hour employment with another company, we were able to acquire around 20 clients within a short span of time. The reason I say that this is an achievement is because majority of these clients have come to us through references given by our existing clients, and this acts as a testament to the quality of our services and operations.
According to you, what are the essential qualities that an entrepreneur needs to be successful today?
I believe that if one cannot be consistent and patient then entrepreneurship is not for them. An entrepreneur should also be persistent and determined to guide his company towards success regardless of the challenges that they face. Being confident is also essential to be a successful entrepreneur today.
Ghazanfer Mehdi Syed, Founder & CEO, ElitePXL Media
As the Founder &CEO of the company, Ghazanfer has been able to formulate and implement unique business strategies that have helped the company to strive for sustained success in the industry. Going forward, he along with his team is also coming up with new and innovative plans to take ElitePXL Media to the next level.