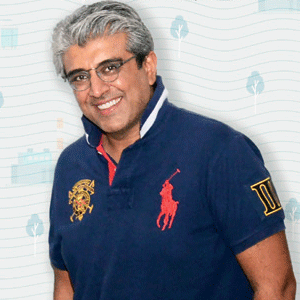 Across Mumbai, owning a real estate property in The Imperial is indubitably a matter of pride for the owners as it is one of the most sought after addresses. The magnificence of The Imperial, one of India's tallest twin tower residential skyscraper complexes, has been exemplary ever since its birth. Thanks to SD Corp (a joint venture of Shapoorji Pallonji and the Dilip Thacker Group), the real estate maven behind this landmark project and many others in India imparting a legacy of more than 153 years. Time and again, SD Corp has been engraving its brand philosophy of executing landmark projects not just in terms of innovative project design & technology, but also in giving customers extreme value-added benefits. Moreover, as a JV of Shapoorji Pallonji and Dilip Thacker Group, the company has always delivered nothing less than the best in the real estate market of India with unparalleled trust, quality and ethics.
The CEO of SD Corp, Amit Thacker holds the vision of expanding the group's residential, commercial and retail business in Mumbai, and making it the most preferred brand among stakeholders, through seamless innovation and product development. While conversing with CEO Insights, Amit has articulated about the excellence of his company along with its real estate projects par versatility. Here are the excerpts!
How has your company's journey been so far? Also, where do you think the real estate industry is sailing toward?
Our journey so far has been truly remarkable in India's real estate market. We soared high as a luxurious brand not just through The Imperial, but also our recent integrated township project in Kandivali, western suburb of Mumbai.
Despite the market trying to settle down due to GST, RERA and other initiatives in the last three years, it has picked up pace in sales. Especially after the declaration of Union Budget 2019 and election, the overall market has been growing
well and is fore casted to continue the same.
What demarcates SD Corp from the burgeoning competition in the real estate market of India?
Today, as the customer demands are increasing rapidly, it is essential for any real estate firm to seamlessly innovate in project design. This is what we exactly pursue at SD Corp. We standout in innovating novel project designs while also maintaining premium quality. For instance, The Imperial is eminent for not just being the tallest tower in Mumbai, but also for its iconic design. Besides design, choosing the right parcel with the right physical & social infrastructure matters the most. Hence, we ensure to spend a lot of time in understanding our customers' requirements and perspectives with regards to the parcel. Post this comes the construction part, which is usually outsourced to third party contractors by most of our peers in the market. But we are proud to have Shapoorji Pallonji Group as our biggest backbone that executes all the back end activities construction and engineering for us, thus placing us a notch above our competitors.
Innovation is our DNA and it reflects in every element of our developments
The last but most imperative aspect, which most real estate developers tend to miss out on, is the after sales services. Unlike them, we have been dealing with this aspect most meticulously by creating memorable staying experiences for all our communities. In fact, people in these communities are extremely elated to be a part of SD Corp and even greatly vouch for our projects to other people.
SD Corp is well known in the real estate segment for changing lives and changing landscapes. Walk us through the magnificence of your projects.
Based on the market's demand which is driven majorly by end users, we are constantly developing a spectrum of projects across segments such as value housing, affordable housing and luxury housing. We offer The Imperial, towering above the ordinary with a luxury club house and state-of-the-art recreational, sporting and F&B experiences. Besides, we have The Imperial Edge, which is set to
redefine luxury living, and also Sarova, one of the largest unified mass development projects in Mumbai equipped with urban amenities. Moreover, our recent integrated township projects in Kandivali standout as the epitome of contemporary living for its sheer thoughtfulness and integrated living.

Brief us about SD Corp's stance in innovations. Also, how have you crafted its future roadmap?

Innovation is our DNA, and it reflects in every element of our developments. We endlessly strive to push the envelope, whether it's in the design, development, construction, amenities or purely the experiences throughout our development. We not only make our projects grand, beautiful and livable, but also make them vibrant through innovative interventions and human connections. Innovations at SD Corp are carried out not only in terms of project design, but the way we sell & market, so that our customers can savour reduced costs.

In this ever evolving digital era, we currently take pride in generating almost 70 percent of digital leads for our projects. Also, we are focusing on increasing our brand's digital presence, especially in sales & marketing and also customer relationship. Our other plan is to incorporate co-living and student housing across our projects, while also plunging into commercial & retail projects.

Altogether, our vision is to ensure that SD Corp stands as the first choice for anyone who thinks of buying a property in Mumbai. Supporting this vision is our fleet of landmark and residential projects, which are not mere projects but acclaimed brands with features par excellence in the real estate sector. We also envision to achieve revenue of Rs.5,000 crore in the next two years.

Key Management:

Amit Thacker, MD SD CORP.
Hailing from the real estate industry with over two decades of experience, Amit aims to mould SD Corp into a dominant player across the Luxury Real Estate market of Mumbai.

Location: Mumbai

Projects:
•The Imperial
•The Imperial Edge
•The Lumière
•Alpine
•Epsilon
•Astron