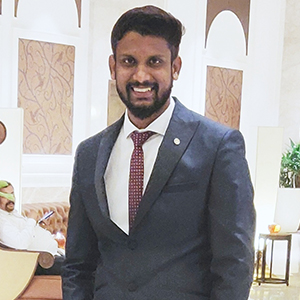 With studies forecasting that 13 million people would opt for co-working spaces by 2020, the Indian Co-working Industry is awash with a wide range of players from small-time builders to corporate giants. But only a very few among them can compete with Senate Space a Chennai-based co-working space provider, when it comes to the best price-quality ratio. Shabeer N (Managing Director) named the company Senate Space in 2017 to symbolize that the clients would be given higher authority and enjoy the privilege of the senators with its impeccable services.
Having gone through a rough entrepreneurial journey fraught with backbreaking challenges, Shabeer vests keen importance on ensuring that his clients aren't burdened with an exorbitant rent amount and charges just Rs.6,000 for a seat per month. Thus, the company nurtures the growth of the clients as well as its own, standing true to its tagline Are You Growing? We are Renting-Out Pots. Shabeer, in an exclusive conservation with CEO Insights reminisces his journey and delineates the offerings of Senate Space.
You have had an interesting entrepreneurial journey. Can you please tell us about the highs & lows you have encountered during this period?
I stepped into the entrepreneurial world in 2013 as the south Indian channel partner for an online classifieds company. My entrepreneurial journey came to an abrupt halt in 2016, when we lost the partnership with company's attempt to control its net loss. Resultantly, we ended up with a big empty office, as the employee count plunged from 489 to nine. We dabbled in ten different projects for seven months, but I was determined
to start a project where our fate doesn't depend on anyone else.
To manage the building rent during this time, I suggested my friends to use my extra space for just Rs.2,000 for a seat per month, since my business was kickstarted in 2013 at my friend's business center. The increasing demand from customers for the co-working part of our business thrusted me to generate more leads in this arena. But running short of money, we couldn't afford anything other than free online advertisements. Simultaneously, I was studying the facilities, ambience and customer challenges in other co-working spaces to retain the gradually expanding customer base.
It doesn't matter whether the clients stay with us on a daily basis or annual basis, but we should be their first choice when they need a co-working space
I registered the company in January 2018. With customer's deposit, we reconstructed everything from furniture, cabins, false ceiling and floors to lighting in March, not just to attract customers, but also make every square foot ecofriendly. By October, we were completely filled-up and cleared-off all the debts. Today, we stand tall as a loan free company with 28 clients, including TATA SmartFoodz, Mudhra, Brand Street and Bits Secure IT Infrastructure.
Kindly throw some light on your company's location and the amenities offered across these workspaces.
We chose Anna Nagar because it's at the heart of Chennai and directly connected with four metro stations. Home to many VIPs, Anna Nagar has 40ft, 60ft & 100ft wide streets, which not only makes the parking easier, but also the traffic lighter. We have a gorgeous open roof garden pantry with hygienic food. Instead of a vending machine, we offer fresh home-made coffee/tea, which is a favorite of many clients. Moreover, by associating with Rebel Cafeteria, we provide e-Cafeteria option to clients, wherein they can avail food online, priced from Rs.59 – Rs.199.
Whether the client needs a small cabin or a big private office, we tailor-make it to fit their requirements. When a U.S.-based company wanted a private working space with bean bags, warm lights and vibrant walls, we made it happen in 20 days and sent them a photo. They have been our clients for four months now. Besides a private meeting room, we also offer a conference room that has a large table in a pool table format, a 7x4 feet long glass white board (lights-up like a LED TV when using a projector) and a LED TV. We have securities and locks & keys for each cabin.

Explain about the customer support that you provide in order to ensure that they enjoy a hassle-free experience.
It doesn't matter whether the clients stay with us on a daily basis or annual basis, but we should be their first choice when they need a co-working space. To accomplish this, we bond with our clients on an emotional level, whether it's supporting them to redecorate the space or catering to their needs within minimal turnaround time. We have blue-collar people in-house from housekeeping & maintenance to carpenters & plumbers. This helps us to control the time & cost of redecoration, which we gladly pass-on to our clients.

We don't just concentrate on making money, but are trying to build a brand that is known for its impeccable customer service. I know we are on the right path, because we have had only two complaints since our inception. To ensure that there is no communication gap, I take care of customer reviews/complaints directly.

What is the future roadmap you have charted out for Senate Space?
We intend to expand to two more locations within Chennai by August a 3,000 sq. ft. space in Anna Nagar and a 2,000 sq. ft. office in St. Thomas Mount (1 km away from Chennai Airport). We aim to have 500 seats by 2022 and establish our presence in Madurai and Coimbatore in future.

Key Management:
Shabeer N,Founder & Managing Director

Location:
Chennai