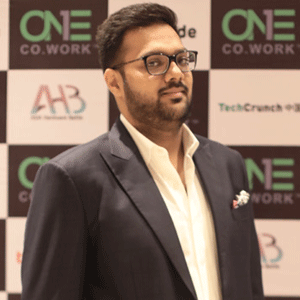 Undoubtedly, it's the delivery of pleasant customer experience that fuels the engine of any organization. This holds especially true for the co-working spaces, considering that most people seek them to build connections. Friendly hospitable staff, quick & customer centric services, and vibrant ambience are the hallmarks of a sough-after co-working organization. Proving this once and for all is One Co.Work, India's only hospitality inspired co-working space. Providing dependable, work oriented, tech enabled, motivating and fun spaces spread across six locations, the company enables its customers opting for membership to work PAN India with no hassle.
Keen on understanding how business works, Himanshu Bindal(Founder & CEO) joined his family business (Valley Iron and Steel) at the tender age of 17. Starting from the basics(cash flows, inventories, vendors and sales),he got increasingly familiar with the industry and processes. Gradually, he started to chalk-out strategies, understanding markets, and study the competitors. Taking this experience forward, Himanshu did the same study, analysis and planning in his co-working venture One Co.Work. Having an indepth knowledge of costing, client management, employee management, competition and market, he smoothly handles different departments. In an exclusive conversation with CEO Insights, Himanshu divulges the secret ingredients that catapulted One Co.Work towards the industry's zenith.
Kindly tell us about the unique element that sets One Co.Work apart from the competition.
Whatever we do, it's all customer centric. We look forward to community engagement. All the events that we do and the celebrations we plan are based on our members' likes. Every step taken
is only after considering our co-workers and their benefits. Also, our employees are our ambassadors, our first client, and we do our utmost to keep them happy.
How has your One Co.Work's journey been so far, and what challenges did you encounter during this journey?
When One Co.Work was incepted in 2015, co-working was an incredible idea for freelancers and startups. But now, even MNCs and corporate giants are opting for it. We have seen the advancement and progressed along with a diverse clientele from freelancers to MNCs. For the funded co-working startups, selling a seat in a lesser amount was never a problem but we being bootstrapped have to see our charges. This is the major challenge we faced all this while. Nonetheless, just like any other business, there were highs and lows; but here we are, fruiting!
We study the market and its demand for co-working space and set up within a commercial hub close to huge residential area and get accessible to as many possible clients
What are the various strategies that you follow to create a creative ambience for the customers?
We study the market and its demand for co-working space and set-up within a commercial hub close to huge residential area and get access to as many possible clients. Vesting immense emphasis on fulfilling consumer need, we have deployed sleeping pods, PS4, gaming zones and recreation room at the premises, and organize fun activities & events at our offices. Attractions like 'swing' meeting rooms, indoor plants, beautiful furniture, vibrant walls and modern décor always add to the ambience. Furthermore, we do assess the place as per 'vastu' for productivity and positivity.
Please throw some light on the services & pricing models you offer to ensure a hassle-free customer experience.
With our concierge service, the co-workers don't find any trouble in finding new places, ordering food and other odd shores. Our full time housekeeping and IT support
ensures that there is always somebody to assist. Every centre has a community manager who takes cares of the members with the services, fittings fixings and operations. We welcome suggestions, and handling grievance is our top most priority.

There is a visible diversity in co-workers, yet one thing remains the same our sense of hospitality. We offer different plans & pricing models to meet different needs. You can sit from CP Centre if you have membership for Gurgaon centre, for instance. We have one day,13 days, 15 days, monthly, till annual plans for everyone who wish to work in a flexible space.

Can you please tell us about your team? How do you keep them updated with the latest trends?
Our great assets include Rakesh Khurana, CFO (40 years of experience in banking sector), Bipin Taneja Chief Growth Officer(11 years of hospitality industry experience, along with expertise in startup ecosystem and team building & expansion), and Abhishek Sharma Business Head of Southern India(leverages his great knowledge of the co-working industry to orchestrate our standard operating procedures and sales strategies). Together, we make a very potent team. We are fortunate to have these gems with us, along with other superstars who are always on their toes.

We have deployed the best sales CRM and client management system to make the work easier for our professionals, who are always on the go. We have also deployed a social media platform inhouse for discussion, updates and information sharing amongst our co-workers, which makes life and sales easy, thus enabling us reaching our future goals!

Please throw some light on your future roadmap.
While doing the April fool's video, we realized that 'Row-Working' actually has a lot of scope. The idea of exploring water bodies for a co-working space is an exceptional approach that we aspire to explore. Its execution would be a mark in the co-working industry. We'll soon be coming-up in Goa, Kolkata, Hyderabad, Chandigarh and Pune, while expanding more in the existing cities.

Key Management:
Himanshu Bindal, Founder & CEO
Locations:Delhi, Gurugram, Bangalore, Chennai and Mumbai