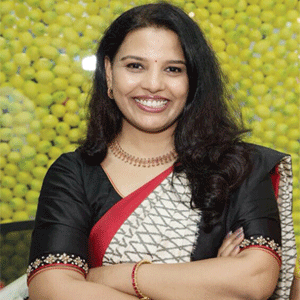 Tremendous credits to her strong conviction and an inclination to think different, the company has grown from a modest 200 seats in Hyderabad to own 2,400 seats in three cities within just a year, reflecting her vision to think big and evolve as per the changing business atmosphere. This fast growth and its pioneering service range showcase Sundari's versatility and adaptability to learn and execute to perfection. In an exclusive conversation with CEO Insights, Sundari delineates iSprout's unique offerings and strategies. Here are the excerpts:
Tell us about the unique element that propels iSprout ahead of the competition.
iSprout is a home for inspiring workspaces created to match the needs of ever growing business enterprises. Whether it's a nameless freelancer or a giant MNC, our services are clientfriendly and prompt with a support team catering to every client and their every need. We function with a professional team with our client needs as a core. Our strength lies in determining the market and spaces that work for our client's growth & success and in turn bring success for us too. In a nutshell, iSprout focuses on catering the best of solutions to clients, while
simultaneously remaining viable as a company.
Kindly throw some light on your company's workspaces, and the amenities & services offered across these spaces.
With respect to the design, functionality and incorporating technology advancements, our strength remains in our expert team, in-depth research and customer centered approach. We plan-out tastefully designed workspaces and fully serviced office areas to meet our clients' entrepreneurial goals. Our private office spaces, co-working spaces, single desks, conference rooms and virtual offices aim to provide for varied size of businesses, offering flexibility in function & design within workable budgets. The co-working spaces and single desks run with a common theme of the overall space, whereas private offices & manager cabins can be custom designed to reflect the brand & taste.
iSprout is a home for inspiring workspaces created to match the needs of ever-growing business enterprises
Aiming to create an environment that creates a good worklife balance, we offer unique amenities like common food & leisure areas, gaming zone, gym and creative breakout areas. Our friendly & professional front desk team handles and keeps our clients updated with mails/calls & couriers. Our fully functional office spaces complemented with office units facilitate smooth workflow, whereas our backend servers & security systems relentlessly safeguard our clients' valuable data & assets. Additionally, our professional inhouse business support team is open to mentor and provide end-to-end solutions that help enhance our clients' overall business efficiency.
How do you choose the perfect location for your workspaces and build a creative ambience for your clients?
We offer well serviced and vibrantly designed office spaces in prime locations. Attractive amenities, friendly work environment along with a trained support staff makes our spaces worthy to be in. By meticulously studying the
requirements of IT/ITeS clients & millennials, and keeping a tab on latest co-working space trends, iSprout strategically chooses locations & buildings like IT corridors, where transportation and food outlets are centrally located. Our concepts & designs are derived from not only an understanding of the market, but also the customers, their tastes and preferences. We work through to bring-in color, cheer and good vibes to any work environment by exploring interiors and décor items found across the world.

Kindly tell us about the strategies that have helped you to ensure a successful journey.
Searching right locations, planning on workable ideas and building a receptive team has been an effort that paid-off in our journey. Furthermore, our strong inhouse team of dynamic designers with a passion to create functional yet visually appealing spaces, are spearheaded by our partner Phanidhar Paturi. His vision brings unique style and approach to every corner where work and play find each other. Our solutions hence are innovative, well-thought, futuristic and highly ergonomic in nature. We constantly aspire to reinvent ourselves to bring the best to the table. Our server rooms, networking systems, booking and management facilities are on par with the latest trends and innovations.

Please throw some light on your future roadmap.
Having already established a remarkable presence in Hyderabad, iSprout has spread its wings in Vijayawada and Chennai. We plan to expand in Bangalore, Pune and Mumbai by the end of the year with a seat capacity of 5,000 work stations.

Key Management
Sundari Patibandla, CEO
Sundari is a Chartered Account by profession, a proven entrepreneur, mentor and a multifaceted personality with a portfolio spanning more than a decade in delivering diverse advisory & audit services to various customer categories worldwide. She has played a prominent role in the growth of SPC & Associates and also serves as an independent women Director in the Board of Danlaw Technologies India.

Locations:Hyderabad (Headquarter), Vijayawada and Chennai