Shamira Dias: An Innovative Leader Setting New Benchmarks In The IT Services Industry Through Digital Transformation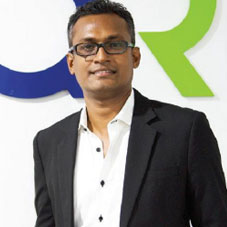 There's a saying,"Whatever you're going to do, do it the best way". It's axiomatic, there will be challenges and the true mettle of leadership best reflects during the tough times. During the Coronavirus pandemic, it was challenging for many industry leaders to come to the precision of doing things the right way, over coming the disruption brought down by it across the segments, but the IT leaders quite uprightly did it acting quick wittedly and helping industries stabilize by bringing things in order through digital transformation. Shamira Dias, CEO at TIQRI, SriLanka is also one such acknowledgeable leader in this horde who largely contributed in this by leveraging end-to-end digital transformation services like engineering services,cloud solutions, mobility solutions, UX/UI, and automation kind of services.
"Today, the technology is in flux, affecting the entire existing business models across industries"
Appreciating his tremendous leadership quality,CEO Insights engages an insightful conversation with Shamira. Kindly run your eyes through the snippets of the same to know more about his success strategies and inspirational journey.
Brief us about your educational & professional background.
I hold a MBA in General management from the University of Sri Jayewardenapura (PIM) and a Bsc. specialized in Computer Science from the University of Colombo. Also, at present, I am pursuing my DBA (Doctorate in Business Administration) from the Asia e University.
I have 20+ years of work experience under my belt, in areas of Software Delivery Management, Agile Delivery Management, and Agile Coaching to name a few. I have been running TIQRI, a million dollar global company that has six offices across the world in Oslo,Stockholm,Sydney, Singapore, Vietnam & Colombo in the capacity of CEO for over three years. It is a 13+ years old company that helps customers to digitally transform their companies. We have customers across many countries like, US, Middle East, Ireland, Norway, Sweden, Singapore & Australia. TIQRI is the brainchild of Finn Worm Petersen, he is also the present chairman of TIQRI. His guidance has been a great support.
Tell us about the journey so far at TIQRI. What are the major challenges faced by you in your professional journey so far and how did overcome those to evolve as a business leader?
I was an initial member of TIQRI which started in the year 2008. I was with TIQRI until the year 2015 and rejoined as its CEO in 2018.
In the later part of 2018,TIQRIexperienced a revenue downfall, however we managed to overcome this situation within 5-6 months by focusing on data-driven business.
Having effective communication with our valuable customers & employees, we took decisions and implemented them. We also managed to predict the future and act accordingly In early 2020, with the prevalence of pandemic, TIQRI also experienced a revenue downfall, but we managed to come back within couple of months. TIQRI proactively saw the pandemic coming and was prepared to work from home. TIQRI also had a good growth during 2020 and 2021 H1.
A major difference between a leader and a follower come down to two factors- decision making and implementing that decision
I would say, as a CEO and an individual both to be able to lead this great million-dollar company, overcoming such great challenges are milestones for me. Having Finn, Kim, Sven, Eranda, Kavan, Shifan, Thushara and the TIQRI E2E Engineering group on my team has been a blessing, and they have helped in numerous ways to bring TIQRI to where it is today
Tell us about TIQRI and its uniqueness?
Software solutions have renovated from being business accelerators to business survival kits in today's VUCA1 world. For change agents such as TIQRI, this change has been a way of life since inception. Headquartered in Norway with its main business office in Colombo, Sri Lanka, TIQRI operates branches in Singapore, Vietnam and Australia. TIQRI's ultimate mission, is to play an integral role in our customers digital transformation journey providing technical leadership, driving innovation, and helping them along the effective development processes to achieve their goals. We call it `Extended Software Engineering'. This also includes providing a platform for our Software Engineers to grow and nurture their careers while becoming leaders in the IT industry.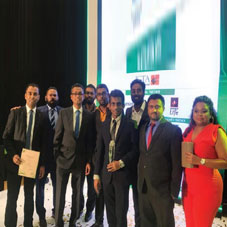 Focused on an offshore software development model, TIQRI provides a range of technology solutions services covering Cloud Based Development & Maintenance, Mobile & Wearables, Artificial Intelligence & Internet of Things, Enterprise Software Development, Business Intelligence & Analytics, User Experience Design, and Quality Assurance & Automation to a wide array of countries in the Scandinavian Region as well as UK, USA, Middle East and South East Asia. We are an ISO: 27001 company that secures our customers IPS. We are also the Microsoft Gold and IBM partners. We use Microsoft tools heavily in our day-to-day operations and in decision making through dash boarding.
Tell us about the innovations currently happening in TIQRI? What is the growth scope for TIQRI in the Sri Lankan market?
TIQRI has been continuously lauded for its innovative streak, focusing mainly on AR, AI & Robotics. Its digital twin product Exee has won two awards at the E-Swabhimani Gala Awards 2019 as well as the NBQ-SA Bronze award. This drive towards innovation is fueled & powered by the TIQRI Innovation Lab, which is TIQRI's homegrown innovation incubator equipped with state-of-the-art technology & tools to enable employees' creative freedom. Dev Day is another endeavor by TIQRI, now in its 8th consecutive year, where the organization plays hosting partner to the annual conference dedicated to software developers where local & foreign speakers share the latest trends and inspire engaging conversations. With top notch speakers gracing its past panels, in the likes of NASA rocket scientist Dr. Anita Sengupta & Alexander Kjerulf­ Founder and Chief Happiness Officer of Woohoo, Dev Day has been gathering momentum along the years. Last year, the physical conference was replicated on a digital platform as Dev Week, where keynote speaker Partner Program Manager of Microsoft Developer Division Scott Hanselman and a host of presenters took to the virtual stage and inspired over 500 software developers who participated globally.

Today, the technology is in flux, affecting the entire existing business models across industries. Sri Lanka's IT, KPO/BPO industry has a history starting around 1990s, and I believe IT industry is here to stay and over hauling everything for the best. I also believe that if Sri Lanka strives forward with creativity & innovation, we will be at the forefront of these new developments.

How does your vast experience help you to chalk-out the business operations at the company? Also, as the CEO, what different roles have you been undertaking at TIQRI?
I have worked in several companies throughout my career with a variety of large, medium to small sized process-oriented and agile/lean companies. Working in larger & process oriented companies helped me to transform the business by introducing many new processes in the HR & IT delivery, and to scale the business by organizing the structures/teams to handle the growth and secure the business by implementing security & standards.

As the CEO at TIQRI, I report to the board of TIQRI, and act as a member. I come from a very strong technical & software delivery background, and though I mainly work with vison and strategy when there is need or an issue in a project, I step in to help the teams. As I mentioned earlier when we have downfalls in the company, I do not hesitate to take decisions and implement them.

Advice for other international leaders who aspire to shift their area of operation to Sri Lanka:
A major difference between a leader and a follower come down to two factors decision making and implementing that decision. Many take decisions but fail to implement because of several indecisive reasons, hence if you want to be a leader/transformer just do it, making your vision a reality.

Shamira Dias,CEO, TIQRI
B.Sc.and MBA in General Management, he is a proactive leader revolutionizing the IT services industry through digitalization.