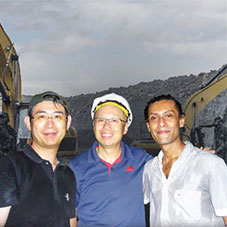 It is amazing the way life guides us and leads us to our destiny. Sheriozha Anthony Wijekoon, on finishing his graduation at Brunel University, became the Co-Founder, Director & CEO of RS Mines. Little did he know that he was about to embark in an industry leading company halfway across the world in Sri Lanka. Winding back one and a half decades, the young Kent County Under 21 Snooker Champion received a call from his father, Ranjith Wijekoon. Ranjith was visiting his homeland Sri Lanka at the time.The rest of the story is an inspiring anecdote. The father son duo built one of the industry leading company in crystalline vein graphite mining and was one of the first to pioneer graphitic value-added products.
Under the aegis of Sheriozha, RS Mines today is working on numerous ground-breaking projects, including the integration of its natural, high carbon & highly crystalline vein graphite products into the manufacture of multilayer graphene via a home grown green, wet chemical method. The company is looking forward to disrupting a wide range of industries ranging from the energy storage industry to pharmaceuticals and graphene sensors.
Father to five incredible children and husband to an amazing wife, Sheriozha has led RS Mines since 2007. In addition, Sheriozha assists in his wife's company, Maia Cheese as a Director. CEO Insights recently got to talk with Sheriozha and it led to an interesting conversation, wherein he walks us through his journey with the company and its latest endeavours in the industry.
A Colfe's School alumnus, you are a Bachelor of Science in Engineering from Brunel University, London. Did you foresee that this is where you would be back then?
While studying, if you had told me that I would be working in the mining industry and would possess over 14 years of experience within the industry, I would have simply laughed this off! It is quite amazing how life has a different purpose for each one of us. It all began with my father returning from the UK to our homeland Sri Lanka. He contacted me just after my graduation and asked me to research Sri Lankan Graphite, after being introduced to the special mineral by a local Geologist. After my research, it occurred to me how important this mineral is to the development and enhancement of everyday products that we see around us ­ from pencils to energy storage. My father requested me to come to Sri Lanka and assist him with opening and running the company. As I was a city person, it was my first real experience of life in the wilderness. Indeed, it vastly changed my perspective of life.
How would you describe your growth as an entrepreneur through RS Mines? As a CEO, how do you set your goals and achieve them?
The growth of RS Mines has been inspiring over the years, and my growth as a professional and an entrepreneur has been an extension of this growth. When I first set out understanding the protocols for mining licenses, operations, and sales development, it was somewhat like learning a foreign language. 14 years down the line, it has become second nature to me. My focus is based on the short term and long-term goals of RS Mines, developing and scaling our mining property known as The Queen's Mine, while securing sales agreements with well-known companies and supplying material to the Universities and R&D facilities around the world. Fortunately, the material we use is the best graphite material that can be found across the globe, hence I do not have to really `sell' the material, as it sells itself. Understanding what is next is vital for the success of any company, and I have been fortunate and blessed to assemble a team which is talented, extremely knowledge able, and subject-matter experts. Without them, there would be no RS Mines.
Having a clear vision for the company allows for seamless progression. In the short term, my focus is on scaling the Queen's Mine property whilst securing and supplying clients across the world.
In the long run, we are gearing RS Mines for an Initial Public Offering (IPO) and progressively completing the necessary requirements to make the listing a reality. Whilst tackling these tasks, challenges will always arise, and it is purely persistence and having a problem solving mentality that allows us to quickly overcome, move on, and expand.
The greatest challenge I confronted funnily enough has been understanding and perfecting how to run a mining company
What is the most crucial leadership skill that you have learned from the business? How do you generate great value to your organisation?
My father passed away almost two years ago, and ever since, I have solely been moving RS Mines forward step by step. He is dearly missed as a father, friend, and colleague. However, I always remember his wisdom. Along the way, mistakes will occur, but a good leader must have the capacity to outline the solutions, evaluate them and execute the best option. "Always look at the good in people" my father would say, and this is absolutely true. By doing so, you focus on what people are good at and accordingly guide them to focus on their strengths. This ultimately grows an extraordinarily strong team and in turn a robust company capable of great achievements.
What are the challenges you faced during your leadership journey and what lessons have you learnt that gave you success in the later phase of your business?
The greatest challenge I confronted funnily enough has been understanding and perfecting how to run a mining company. Co-founding RS Mines with my father was the start to a journey which still continues today. The countless hours of research into mining practices, uses of crystalline vein graphite, and analysing the tasks & finding who is the best to execute those tasks, have made me the industry expert I am today. After 14 years, I can say that meeting, analysing, and knowing who is the right person for the right role is vital for the success of a company. The wrong person in a role only hinders progression, leading to a delay in achieving your goals. You have to be strict to correct the position.
Failure is part of the process with leadership. How did you learn to overcome setbacks and what are the strategies/methods you put forward to align your organisation with your vision and mission?
A true leader never fails. The most important aspects of the company are the vision and mission. As you and your team grow, it is a clear indicator that your vision and mission are inline, achievable, and correct. Other wise, you would not have a productive team around you. Of course, there are mistakes and delays along the way, but having a problem-solving mentality is vital to overcoming setbacks and having persistence will ultimately help you realise your vision. When it comes to my colleagues, I always insist that things are double, and triple checked. There is as much peer review as possible to reduce errors. This also opens-up insights into aspects which were not thought of before.
RS Mines was incorporated in Sri Lanka in 2007 with the initial goal of exploring high purity natural crystalline vein graphite across Sri Lanka. How do you stay on top of the industry after 14 years?
RS Mines' leverage comes from the material it mines. As I mentioned earlier, the material we mine `sells' itself. When the clients and R&D firms initially test the material, they are astounded by the high performing qualities that the mineral possesses. This opens-up a new phase of performance which all the industries yearn for and they have nothing but praise for this material. One of the areas we are actively working on is the development of graphite composite materials for EV battery anodes.We recently established a joint venture with Sheffield University, The Faraday Institute, Innonoq, and IIT BHU, which will integrate our Crystalline Vein Graphite into a solid state EV cell designed for manufacturers utilising 3D printing. It is early days; however, we believe that we will be able to produce some ground breaking results which will revolutionise the industry.
How do you balance being a family person with the stress of being a businessman? From email to meetings and being with the family, how do you organise your day?
With the impact of COVID around the world, the workplace has turned more into a home-office, which
works well for me, as I can spend much more time with my five children. Of course, the noise level in the house does sometimes break the sound barrier and Zoom meetings with them barging-in can be slightly chaotic but I have found that people have adjusted and kids crashing-in on meetings actually is well received and brings a smile to everyone on the call.

My wife Maia is my rock. She whole heartedly listens to my ideas and provides feedback on them. Together, we maintain and look after the family while running our companies. Conversations and emails turn into meetings, and meetings turn into outlines for work. I manage to find a balance in accomplishing my day-to-day tasks such as checking-in with our mine manager and ensuring that orders are sent out on time, and while many use their diary for scheduling appointments, I run through the following day tasks and meetings in my mind just before bed. It vastly improves memory and also makes meetings much more effective.

In your professional journey so far, which are the milestones that bestowed you with utmost satisfaction­ both as an individual and as a CEO?
Looking back over the 14 years since starting RS Mines with my father, there have been many fantastic memories. Firstly, meeting my wife and bringing our children into this world, raising them, educating them and being part of their memories ­ it really is life changing.

"The countless hours of research into mining practices, uses of crystalline vein graphite, and analysing the tasks & finding who is the best to execute those tasks, have made me the industry expert I am today"

There have been many great memories with regards to my work. The first has to be the helicopter VTEM scan, which pictured The Queen's Mine anomaly, illustrating the footprint of the mine. Secondly, the joy which was felt by the mining team when we intersected our first Crystalline Graphite Vein. And following on from this was giving a tour of the mine to Toyota Technological Institute, Japan, and meeting Sumio Iijima, the Japanese physicist and inventor of the Carbon Nanotube.

Hitting 100,000 tons+ from the first round of drilling, which we recently accomplished is also another major milestone. The value of the graphite reaches well past the $250 million mark, and reinforces that The Queen's Mine is a mammoth in terms of its place in the graphite mining arena.

Do you also participate in any mentorship programs or give keynote speeches in conferences & seminars to share your industry insights with your fellow peers?
Conferences and seminars have really changed to more of an online medium with the disruption that covid has caused. I regularly give presentations to the Geological Survey and Mines Bureau (GSMB) of Sri Lanka, and with the assistance of some of the top mining experts, we are looking to establish a training program free of cost to improve mine reporting standards at the GSMB. I have previously featured in various news articles and have given talks in relation to RS Mines and The Queen's Mine and also in relation to graphene and new cutting-edge technologies. One noteworthy mention was our feature at the Graphene Exhibition, which was held at the Museum of Science and Industry in Manchester and also at the Science Museums in London and Hong Kong.

What habits help you to be effective with your productivity? Tell us about your Success Mantra.
Regular meditation, eating healthy,drinking plenty of water, spending time with my family, and laughing on a day-to-day basis are vital for keeping a healthy mind, body and soul. With these aspects in an excellent state, you are ready to tackle all the things that life and work throw at you.

QUICK FACTS
Favourite Hobby:Snooker!Sheriozha cherishes winning the Kent County Under 21 Championship and also being the Captain of the Kent County Under 21 Team which he led to win the inter county Championship ­ a title which Kent County had not won for over 50 years
Favourite Cuisine:­Chinese ­Duck in Plum Sauce.
Favourite Books:'Zen Mind, Beginner's Mind' by Shunryu Suzuki, 'Only the Paranoid Survive' by Andrew S. Grove, and 'Cutting through Spiritual Materialism' by Chögyam Trungpa