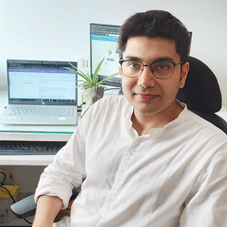 Marketing is the spine of every business. A befitting online promotion strategy can help an enterprise experience ground-breaking success and a stable presence in a competitive environment. With that said, Gurugram based Expedify has been helping in digital transformation of hundreds of brands for the past 5 years.
The company helps brands and marketers get their digital presence right and set them up for online success with their battle-tested process called S.E.T UP (Strategy, Experiences, Technology and Performance). Spearheaded by industry veterans with dozens of years in MNCs and creating start-ups, it ensures that all marketing efforts are always in sync with strategy and sharply targeted. With years of experience in creating stunning digital experiences from websites to videos and executing full-funnel digital plans for dozens of global brands, the expert team has worked out all the permutations and combinations when it comes to online marketing so that brand marketers don't have to. Among the mavens of Expedify, CEO Insights had an exclusive opportunity to have an insightful conversation with Shashank Sharma, Co-Founder. Kindly peruse the following excerpts to know more about the company and his journey as one of the recognized leaders.
Tell us the major facets & achievements of your professional journey.
The one facet that dominates my journey so far is "Variety". I started in a very traditional marketing setup when digital marketing was still little more than a buzzword. I spent13 years in FMCG and Alcobev industry leaders like Dabur, Pernod Ricard, and Nestle, and I managed brands and categories across healthcare, food, dairy, Scotch whisky, and beverages category – "dawa-daaru-doodh" in short. Thankfully, brands I looked after had an urban skew and so I got exposed to best practices in digital marketing early on. With a strategic brand understanding and
hands-on experience in digital, I was conscious of this increasing gap where the larger digital marketing community could rarely sync the online efforts with brand strategy. And that led to Expedify. It was started by my partners Aditya and Moon more than 5 years ago before I joined as co-founder. At Expedify, we help brands accelerate their business digitally. Within a short span, we have been able to transform the digital presence of 100 plus brands. I am quite proud of the team we have been able to build for this purpose. We are more than 30 of us now and each one of us is unique in our area of expertise which is critical to tame the digital beast which keeps evolving rapidly every day!
Brief us on your educational and professional background before Expedify.
I am an MBA from IIFT, Delhi (2006-08). Before that, I had done B.Tech from VIT, Vellore. While working as a brand manager in Dabur, I started exploring Marketing data science on my own. With an urge to master this domain, I went back to my Alma Mater IIFT and enrolled in a Ph.D. degree where I researched the use of AI and data science to decode user behaviour in digital space for predicting the success of marketing activities. I recently completed my thesis and published five papers in a globally esteemed data science and marketing journal. This in-depth understanding has helped me carve a niche for Expedify in the digital marketing space where there are thousands of digital agencies but very few that utilize analytics and data science. It doesn't take much to appreciate that marketing without data means throwing darts blindly and praying for success.
At Expedify, we have enabled several start-ups scale during the pandemic, which helped them employ more people when many had to face the axe due to business compulsions
What different roles have you been undertaking at Expedify? How has your journey been at this organization so far?
It's way more exciting and a lot more difficult than anything I have ever done before. At a large organization, you stick to your role and KPIs. But running your ship is another ball game. I think at some point or the other my partners and I have played all possible roles within an
organization. As we become a much more mature organization, I have been able to compartmentalize several hygiene activities into robust processes. For eg., Finance and HR are two functions where I have got the right team and tools in place now and that does not take up my quality time as much as it did earlier.

Also, with project management tools to enable remote working, day-to-day executions of projects have become quite seamless. So my role over time has gradually crystallized into what I love most – staying on top of how marketing technology and data science are evolving and ensuring we provide the best strategic roadmap to our clients. Our content and performance team is quite robust now and is being led by industry veterans so I depend on them for delivering on strategy once the course is set.

As a marketing leader, describe your best scaling strategies and how you combined various marketing functions to deliver on the goals. Have you ever had to overhaul your strategy in light of new business conditions? How did you do it? What was the result?
We got a lot of projects through our networks early on- and thankfully we still do. Helpful as that certainly is, it is difficult to scale with that approach. That was the motive behind developing Expedify.io as a platform and not just a portfolio website. A platform where businesses in need of digital services could quickly discover prices and get the project started immediately.

Putting this out in international markets through our digital marketing efforts required the whole team to come together and treat ourselves as clients. I had to learn web development just so that I could better understand the platform my team was developing and that paid dividends. Knowing what we could achieve meant we could push the envelope in areas that we felt made most strategic sense. The MVP itself was a huge success and we are now actively working on launching a much more feature-rich version in the next quarter.

Shashank Sharma, Co-Founder, Strategy and Tech, Expedify
Shashank has over 12 years of experience in leading FMCG majors like Nestle, Dabur and Pernod Ricard in brand and category management roles.

As a digital entrepreneur, he works with brands to get their digital strategy right and helps them evolve their tech infra to accelerate their online business.