Shantanu Swaraj: Striving To Create A Successful Transition From Freelancer To Digital Marketing Company Leader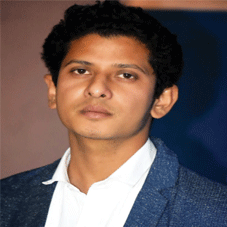 The usage of digital is accelerating, thanks to the epidemic. Digital marketing's pro-portion of the market has climbed from 20 percent in 2019 to 28 percent in 2020. By the end of 2022, the Indian Marketing industry is predicted to have risen to 34 percent. Tier-II and Tier III cities have made the greatest contribution to the expansion of the digital advertising business. In these cities, the epidemic increased the demand for e-commerce purchases. During the pandemic, consumers chose to purchase from online shops that offered flexible delivery times while remaining cautious about their safety and health.
Shantanu is a growth hacker who helps businesses create brand awareness and identity, develop their customer base, attract future customers, retain existing customers, and market their brand through cost-effective approaches. He has a large customer base and helps businesses acquire attention in top-tier publications after working as a marketer for other enterprises. CEO Insights interviewed Shantanu Swaraj (Founder & CEO) of Influencivepress Digital Media, wherein he enlightened us about the challenges he overcame while establishing the company.
Give us a brief detail about your professional background before Influencivepress Digital Media, and also, tell us about your skill sets and strengths.
I am now the Founder and CEO of Influencivepress Digital Media (OPC) Private Limited, a firm based in Bangalore, India, fulfilling a lifetime dream of owning my own business. Initially, I worked as a blogger. However, after failing to attain any form of success with my blogs, I resolved to become well-versed in the field of Digital Marketing.
After learning about the demand for Search Engine Optimization (SEO), I resolved to study everything I could about it from web-sites like YouTube and Quora. Small businesses profit from SEO since it places them at the top of search engine result pages, giving them an advantage over other new brands on the market. It also aids small firms in gaining market recognition alongside larger businesses, putting them ahead of the competition.
What are the major challenges you faced during your leadership journey and what lessons you learnt which gave you success in the later phase of the business?
As a freelancer, I have worked in the fields of content creation and digital marketing. During my time as a freelancer, I improved my skills and saved enough money to start my firm, which I had previously been unable to do due to a lack of funds. Today, I head an organization that serves the needs of small and emerging enterprises, assisting them in creating content and marketing them through search engine optimization and other innovative, varied marketing methods.
After failing to achieve any kind of success with my blogs, I determined to learn everything I could about digital marketing, which led to the formation of my company
What different roles have you been undertaking at Influencivepress Digital Media? How has your journey been at this organization so far?
I'm a growth hacker who uses low-cost tactics to assist a company in establishing brand recognition and identification, growing their client base, attracting new customers, retaining existing customers and promoting their brand. After working as a marketer for other companies, I now have my own clientele and assist firms in obtaining publicity in high-profile magazines.
Web development, web design, web branding, social media marketing, SEO, influencer marketing, content
writing, coding, and other abilities are among my specialities. I'm a fan of Prime Minister Narendra Modi's Self-Reliant India campaign, and I have dedicated myself to assisting indigenous companies and enterprises. I help develop trust and reliability around a brand and promote their engagement with the public. I collaborate with the Influencivepress Digital Media team's brilliant minds, who assist in realizing the company's vision.

Looking at the current pandemic and its long-lasting impact, how are you preparing your company to deal with it? What changes are you adopting for serving better?
We had around 30 to 40 clients even during the lock-down, and we are connected with many small businesses, so we see it as a potential opportunity. We have also attracted some international clients that pay us regularly. After the pandemic, I believe that more people will go digital, which is a great chance for us to grow our company, and we are looking forward to it.

In your professional journey so far, which are the milestones that bestowed you utmost satisfaction - both as an individual and as a CEO?
Though I failed when I first started my professional career, I recognized that we still had some clients working with us and decided to start this company after learning digital marketing abilities. Our company was also recognized as part of the Startup India initiative, and we were subsequently registered as an MSME. We assist local businesses in establishing an online presence; if they like, we can develop a website for them, and we provide these services at a low rate because they are tiny enterprises. In my professional journey so far, I have worked with more than 30 brands and 200 publications.

Shantanu Swaraj, Founder & CEO, Influencivepress Digital Media
In 2016, Shantanu began his professional career as a blogger. After failing to generate the desired revenue from blogging, Shantanu honed his talents and acquired sufficient information about digital marketing through self-learning. Shantanu founded his own company, Influencivepress Digital Media, in 2018, and now works with 30 brands and 200 publications.
Location: Bangalore