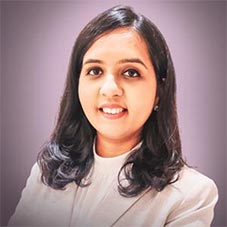 In this exalting technological era, some people feel the need to try a number of different career paths just to dope out the one they find most resonant. Having said that, Siddhi Shah, knew quite early, since her junior college days, exactly what career stream she would opt for. Given her sheer love for accounts & finance, and coming from a business-oriented family background, she had a penchant for picking Business Administration rather than any other stream, the vote swung in one clear direction.
Being a keen learner with ability to work in a structured manner, effective critical thinking, problem solving skills and strong finance & inter-personal skills, today, she is a successful professional owning a Chief Accounting Officer position at Wyattprism Communications, a young & dynamic stakeholder communication agency with a presence across Mumbai, Delhi & Kolkata developing Annual Reports with crisp content based on incisive research with aesthetic and original design.
In a candid conversation with CEO Insights, Siddhi takes us through her professional journey and bits of her personal life. Read further to know more about her cascading journey.
Could you highlight on your educational and professional background that helped you steer your journey to where you are today.
I hail from Kolkata. Primarily, coming from a business-oriented family, I always wanted to join the family business. Given my love and passion for numbers, my tryst with Accounts & Finance began when I was a teenager. I pursued Bache-lor of Business Administration in Finance from St. Xavier's College, Kolkata in 2009.
I did my internship as an Investment Analyst at APC Trading & Investment, a NBFC company, then joined a full-time job in the treasury department (as the youngest member) at Tractors India Limited, a major supplier of Caterpillar Construction, Mining and Power Solutions, followed by A P Corporation, Importers of Ball & Roller Bearings (family business). In my three family generations, I was the first & only woman to have joined the family business, bestowed with smallest to high-stake business handling responsibilities along with my father and uncle.
Starting my professional journey from there, I landed at Wyattprism Communications in Mumbai post my marriage. Joining as an Accounts Manager four years back in 2017 and receiving YoY promotion, I bagged the position of Chief Accounting Officer and have even added a new facet to my career this year - Strategy Head. WyattPrism is among India's top
stakeholder communication agencies and have extensive experience & expertise in developing Annual Reports that stand-out. Hence, along with managing accounts and finance, I need to devise strategies respective of the growth desired at Wyattprism. Given that I am a people-oriented person, I also look at establishing majority of HR policies & practices in the company. To enhance my portfolio, I have also done certification in stock market trading. Henceforth, my growth journey has been multi-folds.
CAOs role has largely diversified over the last decade, from overseeing all accounting functions to ensuring that reporting & bookkeeping is accurate and in compliance with federal regulations laid out by the Securities & Exchange Commission. How would you describe your role at Wyattprism Communications?
Generally, accounts is considered to be a back-end work, but nevertheless it can't be denied that in the times where economy is in flux, it is the management of accounts that highly depicts in which direction the company is going. Be it a private limited company, NBFC, HUF, a Trust, or Individual taxations, having worked in a family run business set-up to professional set-up, I have gained diverse experience in the field.
In this or rather any industry, it significantly matters how effective & efficient you are in understanding and interpreting numbers, and this is the differentiation i bring at wyattprism communications
In this or any other industry for that matter, it significantly matters how effective & efficient you are in understanding and interpreting your accounts. This being the differentiation I bring about at Wyattprism Communications; making the processes simpler, improvising & streamlining them while facilitating the top management to take timely & informed decisions. As a C.A.O. while integrating the information well, within departments, I ensure that things happen in a process-oriented manner.
Starting from a very small set-up, WyattPrism has been on its journey of acquiring a renowned position amidst the top companies who prepare reliable annual reports in India and I'm glad that I'm part of its enriching journey. Proof of our growth and success reflects on the fact that today we have clients which include recognized corporates such as Tata Chemicals Limited, Rallis India Limited, Havells, ICICI Lombard, ICICI Securities, Bharat Forge Limited, Jyothy Laboratories Limited, Syngene International, Mahindra & Mahindra Limited and many others who trust us for their annual reports.
Being on top of the game requires constant learning and upgrade, followed by evolving technologies and processes. How do you go about this?
It's obvious that our economy and
its entire eco-system is changing rapidly. Being always open to learning, I continuously stay updated through the print and digital media. One of the other key sources of being aware of our environment is interacting with people which has always been my liking (I love to know their stories and learn from their skills, knowledge and experiences). At the end, it's the practical approach and implementation that relishes the best outcome.

Family plays an important role in every professional's life. How has been the support & inspiration from your family in your journey so far?
I have been blessed to have the best guiding lights around me. Foremost being my father who has been a role model teaching me the nitty-gritties of business and keeping me motivated all along. My moth-er taught me to never say no and to have the courage to take up all sorts of challenges in life. Even post my marriage, I received the similar support and encouragement from my husband who is an Investment Manager at Piramal Capital & Housing Finance. My in-laws have also been very supportive.

However, whatever I am today is only because of my spiritual mentor Shree Prem Acharyaji, who is a highly revered spiritual soul. A man known to make timeless contribution to the world by re-awakening of 'Vitraag Vigyaan' which means "science of the soul". A truly insightful personality, He is an inspiration to the modern generation in harmonizing the materialistic and spiritual worlds which is immensely important to keep you grounded and at peace. Hence making the journey a beautiful amalgamation of both, the inner and outer balance.

"In the times where the economy is in flux, it is the management of accounts that highly depicts in which direction the company is going."

Are you engaged in any sort of mentorship programs outside your organization?
I am a very spiritual person which believe me, is very different from being religious. I like working on myself for my personal growth, to find out where-in lie my strengths and weaknesses hence allowing me to prepare myself better to strike a balance between personal and professional life. That's my secret to staying happy. I am and have been an active member of Shrimad Rajchandra Aatma Tatva Research Centre (SRATRC), a registered charitable trust which undertakes socio-economic development projects for the benefit of the adivasi community in the villages of Parli in Maharashtra since 2003. I am also a member of Shramik Naari Sangh (Sa-Ni-Sa), an NGO working towards upliftment of women in the society.

Siddhi Shah, Chief Accounting Officer and Strategy Head, WyattPrism Communications
A Bachelor of Business Administration in Finance from St. Xavier's College, Siddhi is a passionate accounts & finance professional. Holding around 12 years of experience working in the same domain but variegated industries, she stands at the vanguard of growth & development at Wyattprism Communications.

Office: Mumbai