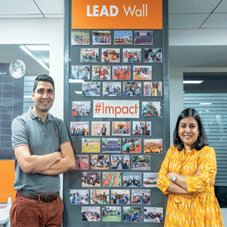 India has 1.4 million schools that serve close to 250 million students, and only the top 3000-4000 schools deliver quality school education. In the remaining one million government schools and most of 400,000 affordable private schools(APS), students get schooling but not learning. Smita Deorah along with Co-Founder Sumeet Mehta, is reimagining learning and attempting to provide excellent education to every school going child in Tier-II, III & IV towns of India.
Today, LEAD School offers a comprehensive academic solution to 700+ affordable private schools across 300 Tier II-IV towns across India, catering to 280,000+ students. To know more about Smita's journey, here are excerpts of a conversation CEO Insights had with her.
Please walk us through the journey of how you founded LEAD school.
When I moved back to India in 2007 after my eight-year stint with P&G in Singapore, I felt that the education system in India was not robust enough to realize my daughter's full potential. Hence, I rolled up my sleeves and started experimenting with several early age learning techniques to provide her a rich learning environment at home. As a result, she became an independent reader by the age of three. But I couldn't stop thinking about all the children in the BMC colonies near my home who were deprived of such learning opportunities.
Determined to do something about this, I founded an NGO in 2011 where I partnered with 16 Anganwadis and implemented a multi age pre-school curriculum. We had very encouraging results with these children, and that acted as the perfect springboard for me to setup the first LEAD School in a small town in Gujarat in 2012. I started this with Sumeet, who was equally passionate about this cause and had left Zee Learn as its CEO by then. I still recall we had 14 students on the first day of school!
We visited hundreds of excellent schools across the country, took-up short term courses at Harvard Graduate School of Education and visited schools in Finland and Singapore (top rated PISA countries) to learn how the best schools were teaching students. We incorporated all our learnings and kept building our academic offerings both curriculum and technology. We saw fantastic results from our students, where they were starting to become fluent with English and conceptually better at math and science. This led us to start four more schools in semi urban Maharashtra.
I have always enjoyed the challenge of breaking unstructured problems into smaller chunks and solving them by reimagining them with out-of-the-box solutions
By this time, we realized that we had a scalable system on our hands. But then, in our lifetime, we would at best be able to open 50 or 100 schools and that would not even be a drop in the ocean. That is when we decided to partner with affordable private schools in India and offer them our academic system.
Please tell us a bit more about LEAD School and how the system impacts schools.
Our mission of LEAD School is to provide excellent education for every child. What is important is that we have to ensure each and every child in the class is learning, not just the toppers. And we have to nurture all children to their full potential and help them grow into capable adults, responsible citizens and good human beings.
The first thing that works is re-imagining teacher training. At LEAD School, we have seen that this single intervention via our teacher app has made teacher performance improve by 20-30 percent in one year. The second thing that works in affordable schools is convergence. What is required is an integrated system that brings together all that a teacher needs, but in a user friendly manner. The third thing that works is resetting parental expectations of learning. Being able to apply their learning, think critically and express themselves in their own words are important skills that students need in this new era.
Educating parents to expect and value these is extremely important. When a system empowers teachers, enables schools and enlightens parents, it serves as a scalable model for excellent learning. That's what LEAD School's system ensures.

What sets LEAD School apart from its competitors?
What sets us apart is the fact that we are a 'School in a Box' solution. We have replaced traditional piecemeal solutions of books, smart classes, teacher training & assessments and integrated all of them into one. The second differentiator is how we have leveraged technology. When used right,technology facilitates good teaching practices and helps save teacher time. Another differentiator is our approach to English. We have the ELGA(English Language and General Awareness)program which teaches English as a skill. Thus, we have seen our students become independent readers and writers of English, which has allowed them to learn other subjects faster and better. As we scale, we are hoping that we will be able to impact the academic lives of 10 million children over the next five years.

Can you tell us more about LEAD School's culture?
LEAD School's culture is rooted in its five values Integrity means honouring our word, Growth mindset is relentlessly building capability as we grow, Courage is doing the right thing for all our stake holders, Empathy is having deep understanding of the problems our users face & solving them, and Being the Cause is the mindset that we will solve for every barrier that stops us from achieving our goals. These are the values that I lived by for many years now, and they have helped me achieve results in life. All our 550 employees practice these values every day, and that's what makes our culture unique.

KEY MANAGEMENT:
Smita Deorah, Co-Founder & CLO, Lead School
Smita setup LEAD School along with her Co-Founder Sumeet Mehta, with the mission to provide excellent education to every school going child in semi urban India.

For Budding Education Leaders:
"If you really want to innovate, then do not get hindered by existing paradigms. Question them, reimagine and innovate".

Favorites:
•Hobbies: Reading & Travelling
•Travel Destinations: Antarctica & Everest Base Camp in Tibet