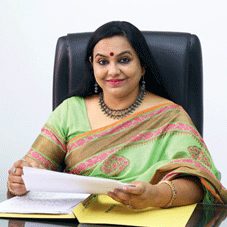 'Success doesn't happen overnight'~ a clichéd yet powerful phrase, stands true in the lives of many leaders today. It isn't an easy feat to evolve into a leader, but one which requires extensive passion, perseverance, grit and determination. Vandana Bhargava (Principal, JM International School) is a living embodiment of all these qualities. She is currently a legend in the education industry of India with over 28 years of qualitative experience in teaching and administration across the best branded schools.
Vandana's story itself stands as a testimonial to what she has achieved today! Despite hailing from a small holy town in Ujjain, Madhya Pradesh, she has always outclassed as a go-getter and a self-made professional. Her parents and school have been the two most prominent backbones and sources of inspiration in her life, which moulded her into what she is today. Besides, skills in logical & critical thinking, quick & efficient problem solving ability, excellent communication skills, management ability and above all, being a true leader and at times a team player, are Vandana's biggest fortes.
Today, Vandana spearheads JM International School (JIMS) with an aim of establishing child centric system of knowledge through experiential learning. To know more about Vandana's inspirational story, delve into the following excerpts of an exclusive colloquy between her and CEO Insights.
Walk us through your educational & professional background.
My schooling at St. Mary's Convent School taught me how to follow deadlines, be punctual & regular and eventually made me into a disciplinarian. I was also quite good at extracurricular activities Kathak (Visharad)and Basketball and played at Junior Open National
Championship 1983 and National University games too. I also pursued my Graduation and Postgraduation in Chemistry at Ujjain itself.
My professional journey began in 1990 as a PGT Chemistry at Kalka Public School, New Delhi wherein I even designed the Chemistry Lab. I also take utmost pride in working for'Each One Teach One' Foundation and Mayur Public School, the first school where all my students passed with distinction in its very first Class X Board Examination.
Vandana's parents and school have been the two most prominent backbones and sources of inspiration in her life which moulded her into what she is today
Tell us about your stint in teacher training along with other skills in your repertoire.
In 1994, I was appointed as the Senior School Coordinator at Hillwoods Academy, Delhi. It was here I grasped the nitty-gritty of administration and also started training teachers on creating a good question paper, blueprints and controlling classes. I take pride in training 2500+ teachers so far, while learning that training is an integral part of a teaching career. BesidesI excelled in communication & soft skills, which later bestowed me a trainer for soft skills role. I was also a CCE mentor for CBSE schools from 2007 to 2015. Moreover, I regularly attend workshops on effective teaching of science, life skills and many more subjects.
How has your journey at JMIS been so far?
At JMIS, I always encourage students and teachers a like to undertake small investigatory projects so that the child can deduct answers through mere inquisitiveness and spontaneity. We ensure learning takes place based on the concept 'A new Education for a New Consciousness'. I personally had the chance to develop my own curriculum at JMIS that is appropriate to the present day requirements of children so that they can create meaningful and sustainable connections with the real world. I was also responsible for concocting effective content teaching methods and
co-curricular activities, ensuring that our children grow-up as successful, confident and responsible citizens of India.

How do you stay abreast of the industry's advancements?
Since the education industry is swiftly evolving with new policies, gadgets and techniques, I ensure to learn about them from time-to-time by regularly attending workshops. What astounds me very often is the diverse set of audio visual tools available for teachers today! At times, I wish I was born a decade later so that I could experience these interesting learning methods in my childhood itself.

Could you share some details about your personal life?
Yes. Firstly, my parents! They ensured that I received good education and proactively participated in all extra curricular & co-curricular activities at school, which undoubtedly built my confidence and made me what I am today. My husband Atul has always been a co-traveller in my journey, while my sons Anubhav and Abhinav encouraged me to take up challenges and succeed, right from their young age. Despite losing Anubhav on June 8, 2018 to a fatal bacterial infection, Abhinav always stood by me as my pillar of strength. He made me realize that Anubhav would have always wanted me to teach and mentor students, which was my never ending dream. Today, every student I witness is an Anubhav, whom I hope to mould into a young, sensitive and sensible individual!

KEY MANAGEMENT:
Vandana Bhargava, Principal, JM International School
Vandana is a well versed school management professional holding rich experiences in entire gamut of school administration, including curriculum planning, teacher training and development of managerial aspects of school education.

For the Budding Leaders:
"The driving force always comes from within. Be honest to yourself more than to anyone else. No one can motivate you more than your own self".

Favorites:
•Hobbies: Kathak(first love), Music, Dance, Cooking, Playing Basketball, Athletics & Swimming
•Travel Destinations: Himalayas and Lush Green South India
•Cuisines: Ethnic & Spicy Indian Food