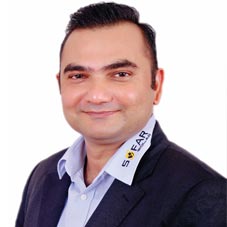 Focus on renewable energy has been gaining momentum across the world and India is gradually catching up in the race. Given the government's push, change in economics and increasing awareness among consumers, usage of solar energy for has gained massive adoption and is only slated to grow in the years to come. Capitalizing on this upward trend and bringing to the fore improved inverter technology, both software and hardware is Sofarsolar, a subsidiary of Sofar Group, a global pioneer in the Green Power Switch (GPS) industry.
Operating from its Indian headquarter in Ahmedabad, Sofarsolar specializes in R&D, production, sales and service of grid-tied inverters ranging from residential, commercial and other related renewable products. Known for its high quality products, lesser service complaints and prompt pan India service, the ambitious firm has become a leading player in the Indian renewable energy market. At the helm of affairs is BrijeshPrajapati, MD, Sofarsolar, a seasoned businessman and sales professional with years of experience behind him. In an in depth interview with the CEO Insights team, Brijesh gives us detailed insight into Sofarsolar's vast product and service portfolio while also shedding light on the firm's innovative future endeavors.
Sofarsolar is part of the prestigious Sofar Group. Give us a brief insight into the company and its parent organization. How is Sofarsolar currently positioned in the Indian market?
Sofarsolar is part of the Sofar Group, a highly diversified global leader in the GPS (Green Power Switch) industry. A significant player in the communications and renewable energy field since 2007, Sofar Group decided to foray into the PV (photovoltaic) inverter business, thus establishing Sofarsolar in 2012. Our firm today specializes in R&D, production, sales and service of grid-tied inverters & holds a strong presence in the rooftop solar business and EPC sector.
Aligning with our parent firm's commitment to addressing newer challenges, Sofarsolar has entered the PV market and is successfully conducting business globally. In order to support the current growth of the Indian PV market, our firm has recently taken steps to strengthen its business position in the country with a new office and leadership. We intend to expand our footprint in the Indian PV market through the addition of hybrid inverter and storage inverter as a smart solar inverter.

Sofarsolar offers a wide range of inverters. What is it that makes your products a cut above the rest?
Sofarsolar specializes in manufacturing and selling BIS certified single phase and three phase inverters. All our products have well-designed inverter cases and die-casting housings go through anti-corrosion &anti-rust protection processes. Our products include a wide display screen, support RS485/WiFi/ GPRS/ Ethernet for data upload and have a built-in SD card with data storage capacity for upto 25 years. Sofarsolar inverters possess net metering facility, anti- islanding protection for grid connected inverters and IV curve scanning. We have also built a web portal and mobile application for online monitoring.

Our products are highly reliable, with a service failure rate of less than one percent and come with eight year warranty. We use an advanced technology online service platform with specific technical parameter to change new systems against faulty inverter system for replacement. Users can make use of an online service support system when required and our Pan India service with prompt response.

Your professional journey spans across several years and organizations. In your opinion what are some of the most important business lessons that you have learnt on the way?
I hold a BE degree in Electronics & Communication from SVIT, Gujrat. After graduating I began working with automation, VFD and UPS products on the beginner executive level. Since a large part of my early career was spent in the sales department, it helped me understand the importance of building a strong relationship with clients and I continue to apply this lesson to my current business. Infact several of my clients from previous companies support my growth till today. Over my professional journey that began from automation, then UPS and now in the renewable sector, I've realized that clients remain the same, only products differ. A company's goal should be to be loyal, trustworthy
and helpful towards its clients.

Throw some light on the various methods and strategies adopted by Sofarsolar in order to ensure client satisfaction and to match stride with clients' impending business requirements.
We are committed to 'build quality and offer quality'. Our online service platform helps us render effective after sales services to users. Not only can consumers check an inverter's warranty just by inputting their product's serial number on the platform but can also purchase a warranty extension when required.

Customer feedback is taken seriously, any problem sent in online by users is addressed in real-time and all customer complaints are studied in detail. We maintain a separate RCA for OEMs and ODMs. Our team renders assured quality development, service up gradation and software update when need be. We arrange a technical brush up session with installers, EPC and service teams for every client quarterly. Sofarsolar constantly studies that market to gauge new and upcoming developments and market needs.

What are the various products and service that Sofarsolar is working towards incorporating within its portfolio in the near future?
Positioned to play a key role in the Indian solar industry, Sofarsolar is working towards launching new versions of compact inverters in the near future. Our product portfolio will expand to include Li-Ion Batteries, new energy automobile (Supercharger-EV Charger), hybrid inverters, storage inverters and AC Retrofitting Inverter. We are planning to setup in India as per "Make in India" concept and focus largely on energy storage system & Li-Ion batteries products. Additionally we are working towards making each of our product BIS certified.

In order to achieve higher business growth we are working towards setting up service facilities, team management with PAN India service network and expand our distribution network. We will continue our endeavor to strengthen our relationship with clients through quarterly Seminar/Webinar as per Distributor/EPC planning schedule and organizing service point of view seminars/webinars.

BrijeshPrajapati, Managing Director
A seasoned businessman and sales professional with years of experience behind him, Brijeshhas previously worked in the automation, VFD and UPS product sector. A people's business leader he strongly believes in keeping his clients' satisfaction as the company's top priority.