Melting Flowers: Delivering Abundant Western Designs With A 'DESI' Touch In An Affordable Price Range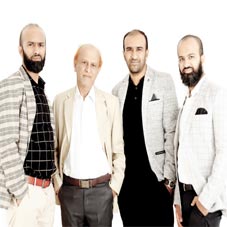 With a vision of becoming the largest flower décor company in India, Melting flowers is delivering abundant western designs with a 'desi' touch in an affordable price range, making the dreams of many Instagram and Pinterest-savvy couples come true. In an exclusive interview with CEO Insights, Syed Atif, the Co-founder of Melting Flowers expands on the leading wedding decorators and floral designers of South India.
1. What are the various decoration services Melting Flower offers to its clients?
We work for the satisfaction of the clients. There are times we go beyond our scope and make sure that the clients get what they want. Consider for instance, the erratic monsoons, when there is sudden rain, we make sure that we give them some backup and arrange the decorations elsewhere also, so that they can immediately utilize it. Impressed by our dedication and effort, most of the customers have approached us with more requirements such as Lighting, Photography, DJ and other wedding necessities. So even if we are already occupied with our own decorations and arrangements, we take up different assignments for some of our reputed clients where we provide them with furniture, special lighting, chandeliers, photographers, caterers, artists, bouncers, security, valet parking, and many more arrangements to facilitate smooth weddings.
2. What are some of the unique qualities of your company that separate it from other competitors in the floral designing segment?
Although it is an industry sentiment of not exposing the designs and materials used by us to our competitors, we went out of the box and started a new business in 2018 of renting wedding décor material, called "Lucky Wedding Rental." We rented our expensive décor items, and this became an instant hit as many decorators & Wedding Planners started approaching us for our materials.

In 2019 we added good collection of Expensive Chandliers to ur Inventory, we have a dedicated team to maintain it & Install at our clients weddings. This again created benchmark in the industry as none of them wanted to maintain these delicate pieces, further our rental prices are very reasonable, even mid-range Decorator/Wedding planner can easily afford them.

In 2020, we started yet another new segment called "Flower Fashion India" which is an online e-commerce website for designer wedding Flower garlands & Flower Jewelry, wherein garlands can be booked with just a few clicks and delivered across South India. An amazing feature of this site is the setting up of a "Trial Room" concept where the bride can take her picture and upload it on the website to choose which garland is a good match for her attire.

We have the finest flower artists; we also take customized orders, the wedding couple can select any Garland design online and we will customize it for them. The amazing response this generated has surely helped entrench our position much ahead in the industry, giving us an edge.

3.How you handled weddings during the COVID pandemic? What were the safety measures and procedures to maintain safety?
During the pandemic, we allowed our customers to postpone the events multiple times without any additional service charges. We also came up with a Cancellation Policy under which if the wedding is cancelled 20 days prior to the wedding date, we refund the full advance amount received. This is how we managed to tap into more bookings as compared to our competitors amidst the flurry of cancellations and postponements that threatened to stifle the industry.

During the lockdown, we made traveling arrangements for the employees who wanted to travel to their native states. The employees who could not go stayed with us like our family and we took care of their food and accommodation. When the weddings commenced with limited gatherings after lockdown, we were
able to hit the market promptly with our workforces, unlike our other competitors. Lastly, we were the first decorators in South India to initiate décor execution with PPE kits. So these are some strategies which helped our company to stay afloat and deliver during the pandemic.

4. Tell us about your efficient team and employees who are working under you, and how are they able to handle all of these operations?
Once anybody joins our organization, we give them a clear insight into our vision of 'providing excellent service at affordable prices' so that they can ensure the best services to our clients. We take feedback from the clients and understand how well everything was executed at the wedding. When a customer appreciates any integration manager or the artists for their excellent work and gives us a five-star rating for all our efforts, we have a reward policy for our execution team and the artists. Similarly, we also have a panel policy in which for a negative feedback, we penalize them by reducing their ranking for motivating them to learn better.

5. What is the future roadmap set for Melting Flowers?
We have struggled a lot during our budding days. As I told you, we see a lot of scope in the wedding industry in the coming years, especially till 2025, we are looking at the opportunities in tapping most of the market in major cities. We are currently setting up our target of expanding in 10 cities till the end of 2023 by understanding the market from scratch. Having provided wedding services all these years, we understand the pulse of the industry. So within the next five years, we want to dominate and take a major share of the wedding décor industry in the niche segment.

Melting Flowers was incepted in 2012, by three brothers Syed Atif, Syed Kashif & Syed Tousif who are CA Alumni, who were more inclined towards entrepreneurship than a traditional 9 to 5 desk job owing to their business family background. Passionate about designs and decorations, they commenced this venture after recognizing low customer satisfaction level in the Floristry Industry. Their journey started with family weddings, gradually transforming into full-fledged and celebrated wedding designers. We are blessed to have our visionary father Syed Arif who guided us in taking all business decisions.

Offerings: Wedding decor, Theme Decor, Décor with Natural & Artificial flowers, Special lightings & Chandeliers, Furniture, Recommend Wedding Venues, House-Warming decor, ShowroomInaugurations, Corporate décor etc.