King Koil: A Pioneer In The Mattress Industry, Developing Cutting Edge Premium Sleep Products Through Leading Mattress Technologies

Sleep is not a luxury but it's a necessity for every human being and its deficiency can have multiple bad effects on our mind and body. A sleep-deprived person not only fails to remain active throughout the day, but also suffers from many unavoidable issues such as back pain, depression, weight gain, ageing, headache, and drowsiness. Relaxing our body and mind, mattresses play a significant role by ensuring correct body posture, accurate spinal alignment along with the fulfilment of our daily sleep quota. A heritage name in the mattress industry globally, King Koil was incepted in the year 1898, now reigning the mattress industry with excellent product chains of mattresses along with the latest sleep technologies. King Koil is the oldest global premium mattress brand and has been a pioneer in the mattress industry for over 120 years. King Koil is the preferred vendor for the top hospitality chains across the globe.

To know more about King Koil, an exclusive interaction with Archit Gupta is presented on behalf of CEO Insights highlighting some of the elite and unique features of the brand.

Tell us about King Koil and emphasize on the exceptionality of the brand as a frontrunner in the mattress industry?
King Koil has a presence in over 100 countries, and each country has a state-of-the-art manufacturing unit, to give its customers nothing but the best. No matter where you are, King Koil's quality is unparalleled and has stood the test of time. Having a global presence has helped us with maintaining high standards for quality and manufacturing processes. We develop all our foam in-house and the same is being certified as 100 percent sleep grade foam. With more than 100 million happy and satisfied customers around the globe King Koil is recommended by doctors and is the only mattress brand approved by ICA (International Chiropractors Association), USA. To enhance the Customer's In-store Experience, we extensively work on our product display systems across all our 600+ company exclusive and retail partners showrooms in India.

What are the various mattress variants King Koil prepares and provides for its clients?
Continuous R&D, Innovation and Product enhancement is the only key for unparalleled success. As we advance, our lifestyle and needs changes, hence, as a global brand we have to always evolve our products, manufacturing standards
and quality procedures. King Koil in India offers 30+ Mattresses for our direct consumers and the same has been segregated in 5 different ranges, primarily such as Back Support, Memory Foam, Orthopedic, Latex, Innerspring and Luxury Mattress Range. Apart from these mattresses, King Koil offers accessories to enhance your sleeping experience which comprises pillows, mattress protectors and mattress toppers. For our Hospitality Clients, we offer altogether a different range of products along with customized bedding solutions, roll-away beds, pillows, protectors and toppers. Similarly, the mattresses for hotels and hospitality sectors consist of hospitality bedding solution, Maharaja Grand, Euro Soft, Comfort Sense, Foldable Roll Away Bed, Non-Foldable Roll-Away Bed, Memory Foam Mattress Toppers, and Recharge Energy Sleep Pad.
King Koil is the oldest global premium mattress brand and has been a pioneer in the mattress industry for over 120 years
How is King Koil working over the latest manufacturing trends? What is the USP of King Koil which makes it stand apart in the industry?
Research and Development being the heart of our business, King Koil works tirelessly with multiple associations such as ICA, FCER and other associations across the globe to deliver the superior sleeping experience to our customers. We follow international manufacturing guidelines which help us in producing high quality and durable products. Every product we manufacture has a Sleep Quality Index ranking and is derived through sleepID. We have always believed in "Better Sleep Through Science" and using the latest sleep technologies such as pressure mapping, posture and sleep tracking analysis helped us deliver unmatched products to our customers with the help of body-match technology sleepID.
Tell us about body match technology – sleep ID. How it analyses the sleep patterns to choose the right mattress for the clients?
Our research-based body match technology allows you to find the right mattresses for your body type. Our software takes various focal points into consideration before making a recommendation. Some factors we take into consideration
before populating a mattress to meet your requirements. With Sleep ID, all you need to do is enter basic data and our software will populate the best match that works for you and your partner's body, to an accuracy of 94 percent. Over the years our research and development team worked extensively considering various key parameters such as posture analysis, body composition, sleep tracking, pressure mapping, sleep discomfort, and spinal alignment to understand the needs of the human body. Whether you need a Memory Foam Mattress or Latex Mattress or a Mattress which helps you re-energize every time you wake up, we have the best mattresses to offer.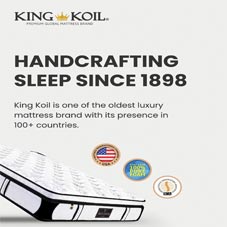 How has King Koil managed to endure its brand name in the industry? Tell us about the major clients that King Koil has served over these years.
A brand name that has sustained the test of time, King Koil has always reinvented itself by introducing cutting edge technology in its designs and products, to match the needs of its customers. King Koil, a preferred vendor to top hospitality chains and groups worldwide, is popular for providing customized solutions per specifications of hospitality brands. King Koil is the first choice of Hotel chains such as Marriott, ITC, Sarovar, Starwoods, Wyndham, Hilton, Hyatt, Radisson, IHG, TAJ and many others. King Koil is the only brand in India, approved to manufacture the world's famous Westin Heavenly bed in the hospitality industry.
Archit Gupta, Managing Director
A Serial Entrepreneur with his core skills in Managing, Growing and Leading multiple lines of businesses. Archit is skilled in creating premium/niche business positioning through Value Creation, Team Building, Management, and Analytics. With a demonstrated history of working in the Consumer Goods, Metal Packaging and Technical Textiles Industry. A professional MBA and a Bachelors of Engineering graduate from reputed universities. He is strong in leadership and growth building capabilities.