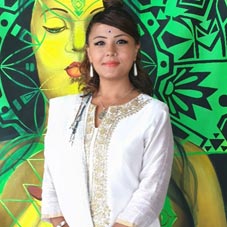 'Yoga as Life Coaching'! What crosses your mind? Are they actually related? We have always believed that life coaching proclaims to succour a different set of expectations from those of yoga, but, Sonam deduces that life coaching and yoga are interrelated. She explains the interrelation by defining Yoga as spiritual coaching that helps one revive the PRESENT, and a powerful tool to balance our inner and outer life situations.
Himalayan Yoga Bliss is the figurine of Sonam's endeavour, where she attempts to create a parallel narrative around Yoga as Life Coaching (delivering ancient Indian Yogic practices in a way most conducive to contemporary minds). Sonam has exclusively narrated a spectrum of aspects about herself as well as her Training school with CEO Insights. Here are the excerpts!
What was the cause that urged you to establish Himalayan Yoga Bliss? Help us transmute along your journey. What were the challenges faced by you?
Having started off working with big corporations gave me a vast exposure in Global travelling. Discovering diverse cultures, behaviours, and more I perceived the existing similarity between human experiences, needs and emotions. This burning fire of inner quest and contemplation gave birth to Himalayan Yoga Bliss, which is a living proof of my love and dedication to-wards the practise of yoga and meditation. Highly misunderstood as a physical exercise, Yoga & Meditation actually are two very holistic practices - It is a subtle inner Therapy, piercing deep within our being aligning our scattered trio the Body, mind and spirit. Spiritual Life coaching involves working with human mind, patterns, behaviour, psychology and emotional intelligence, and so is the ancient practise of Yoga as a whole.
At Himalayan Yoga Bliss we strive to connect these dots and help individual discover their full potential.
Success is an ongoing learning experience, where there's a lot of moulding around the edges and adapting to situations and challenges that comes along. We receive students from all around the world, and some of the major challenges they face are being out of their comfort zone, concerning their adaptation to environment, culture, weather etc. However, the profound experience they take back surpasses all the small challenges which is a part and parcel of our human experience and transaction on this earth.
Life is a play, just enjoy the drama without getting attached to the story or your role
Can you take us through the under- lying principles that form the basis of your life altering courses? How is Himalayan Yoga Bliss positioned in coaching world?
Born in a family practising both the Buddhist and Hindu philosophy, I grew up in a rich cultural atmosphere understanding and practicing the concepts of mantra chanting, the art of vipassana and meditation from my grandmother. With time and direct experience I understood the true understanding of these teachings which goes way beyond the superstitions and rituals. Hence most of our courses and online coaching are bridged through ancient Indian traditional methodology and contemporary approach that suits the modern mind, opening up array of life possibilities.
Himalayan Yoga Bliss is a registered Yoga and Meditation Teacher training school to support & educate Yoga teachers in their journey to become more creative, balanced and willing individuals who in return consciously contribute towards their community. We offer many internationally recognized residential Teacher training programs with a multi-style exposure & immersion into traditional Hatha Yoga and its contemporary styles, popularly the primary series of Ashtanga Yoga and Vinyasa flow. We have a dedicated team of Teachers who
have adapted to the practise of Yoga as their lifestyle and teach with lot of awareness and compassion to help impart their knowledge and experiences to new Teachers.

Every participant is looking for different programmes and techniques to overcome their life challenges. It's amazing that our ancient land of India is a treasure house of spiritual answers and holds vast history and ancient knowledge to fill this void consciously. All our trainings are conducted in small groups and our locations amidst the stunning landscapes of the Himalayan mountains of Darjeeling India, along with our sister-school located few minutes from the idyllic beaches of Goa makes all our trainings very unique creating long lasting impressions and experiences of a life time.

What is your view on Holistic Life Coaching and its impact on young generation, where do you want to see yourself in the coming future?
As we are growing aggressively in the grasp of materialistic achievements, a lot of us often find ourselves lacking something within, a void that needs attention. This is where Holistic coaching comes to rescue the youth and help align their outer and inner quest. The word "Holistic" comes from the word " WHOLE" which means to find our totality in all dimension of our existence. Humans are expansive and we love to keep expanding, however most of the time it take a monotonous turn and we find ourselves entangled, stagnant and confused. Practise of Yoga and Meditation creates an equanimity by balancing our ability to function in all dimensions of our existence. Approaching materialistic needs with awareness as well as honouring our spiritual longing that demands the evolution of our consciousness, will help the new generation live a life of Totality and true happiness.

Sonam Yogini, Holistic Life Coach, Founder & Director, Himalayan Yoga Bliss
Having trained more than 300 senior yoga and meditation teachers worldwide, Sonam continues to be a devout spiritual practitioner and rigorous student of yoga. Currently she travels and teaches the foundation of Yogic practises and its philosophy worldwide.

Office: Darjeeling, Goa