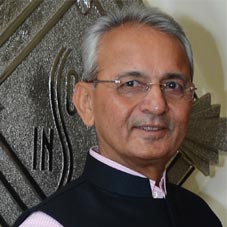 Prithvi Raj Bijlani is a well-regarded and accomplished chartered accountant with more than 40 years of experience. He has a strong expertise in business development, business strategy, cost optimization, business process re-engineering. Prithvi has in-depth knowledge and perspective of business organization, culture, leadership, team management & dynamics. PrithviBijlani's extensive and varied expertise, training, and knowhow of Art & Science of Coaching tools & techniques from Erikson, makes him a Coach who can help at all levels of personal as well as professional space.
Prithvi endorses firm analytical, problem-solving, persuasion, presentation, communication, and interpersonal skills. He has been a member of the Boards and senior management for a significant portion of his professional life. The leader has developed an intuitive understanding of what makes people tick in their job and their personal lives. This has made him a competent and accomplished mentor to many in Delhi. CEO Insights engages in a brief interaction with Prithvi Raj Bijlani (Founder, Goal & Potential), who shares his inspiring experience of becoming a Life Coach.
What was the key motivation that guided you to start Goals and Potentials and tell us about your journey from a Chartered Accountant to a Life Coach?
I was a chartered accountant by profession and have held positions as MD & CEO, Director on Board, Trustee, CFO – Multinationals. l have worked through geographies as well as operating and engaging at the highest level in Indian and multinational companies such as Hughes Network Sytems, Amway, Hollard, KPMG, E&Y, PWC, Deloitte, BMR, Korn Ferry, BCG, Max Life,
HDFC Life, RSA to name a few; I am culturally very well aware and sensitive.
I came across the notion that corporate people were unable to get the or impartial / fearless advice. They need somebody who can seamlessly give them unbiased suggestion/ advice/guidance to help them find out where they are heading. I have decided to do more and get them out of these challenges to help people get a sounding board which provides unbiased advice. I held a detailed and structured analysis of counselling and came up with the profession of Life Coaching. Life Coaching is not very common in India. To learn more about this, I joined Erickson International. I completed formal coaching and accreditation from the International Coach Federation, U.S.A, and I am an Erickson Certified Coach with Experience in the space of coaching.
As a Life Coach delivering Leadership Coaching, I would support my clients to help themselves and consider it my privilege to work with them
Kindly throw some light on your professional background and experience that directs the company's progress and molds strategic business modules for Goals & potentials?
In Goals & Potentials, I partner with my wife (GunjanBijlani), a consulting psychologist. While offering leadership coaching, I specialize in engaging with senior management and proprietors whose day-to-day decisions have far-reaching consequences for both business and the people around them. By serving as an unbiased listener, I help my Coachees/ clients to navigate the crossroads they face in their lives.
As the Indian business scenario is a combination of multinational companies and Indian family-run companies, I tailor my leadership coaching to resolve the exact problems preventing these companies and their executives from rising to their maximum potential. Solutions to problems
always lie inside ourselves; we need to look for the right place. I effectively play a patient soundboard role, using the right tools to ask the right questions and help the clients understand the responses. In the theory of life, I believe that when in doubt, one has to take the next small step.

Kindly explain the various pro- grams and services you offer and the various clientele/group your company caters to. Also, what do you consider your flagship service?
For more than 40 years of working in various transnational companies in multiple roles, I could very closely experience people in leadership positions. I like to encourage people to be leading a balanced focused life to maximise their professional & personal potential. Drawing from my own experience, I can assure the clients that finding harmony in life is necessary.

As a Life Coach delivering Leadership Coaching, I would support my clients to help themselves and consider it my privilege to work with them. At the corporate coaching sessions, I will help identify their goals and make the most of their potential. I believe that my greatest tools are my capacity to listen with empathy, patience, confidentiality, and respect for the individual while providing leadership development.

What is the future roadmap set for your company? How are you updating yourself with the latest technologies/industry trends to make your company reach its future goals?
An effective life coaching is required for each individual to optimize/Maximise their personal ability. In the coming years, everyone in the emerging economy will need a life coach to manage their lives. Happiness is the primary concern to lead a future. If the problems are dealt with rightly, a person can pursue his potential.

Prithvi Raj Bijlani, Founder, Goals & Potentials
Prithvi Raj Bijlani is a very well respected Chartered Accountant with over 40 years of experience. He has held positions of MD & CEO, Director on Boards, Trustee, CFO – of Multinational. He has in depth knowledge & understanding of Business organisation, Culture, Leadership, Team Management & Dynamics.