Dr. Manisha Gaur: A Pioneering Motivational Speaker & Celebrity Life Coach Promoting Human Asset Development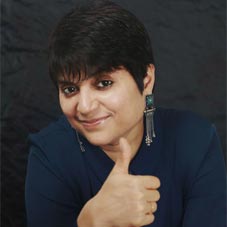 With over 20 years of renowned experience in the industry, 5,00,000+ people inspired. She has been the catalyst of change in many lives in a better way across the world.
Life is not just about existence, it is a progressive journey and a celebration of learning and moving ahead by metamorphosing problems and hurdles into opportunities. It is a celebration of effective survival.
However, living in this fast-paced world struggling with personal, emotional, financial, professional and other issues, many a times we are not aware of the ways to do the same. Consequently, in order to deal with such life situations we might need the assistance of a coach or mentor who could enlighten us, instill motivation within our minds, unlock consciousness of mind and lead us towards the growth and transformation journey. Dr. Manisha Gaur completely understands this critical but fundamental necessity of the humanity and importance of Roopantaran (Transformation). She is helping people to fly by breaking their cocoons of conscious and unconscious levels with her blissful mindset and effective techniques.
Through Roopantaran (Asia's No.1 NLP Training & Life Coaching Company) she is all set to change the wind, bringing about a positive and progressive change in people's life. Dr. Manisha Gaur has exclusively narrated a spectrum of aspects about herself as well as her company with CEO Insights. Here are the excerpts!
What inspired you to choose this prestigious path of being a motivational speaker and if you can elaborate the term "Peace Speaker"? What are the major challenges that you encountered in your professional journey? Also tell us, how has your journey been so far?
Peace is the first required emotion of mankind. If one can achieve peace, than motivation and transformation is very easy and smooth. Even as a coach my first step is to install peace in the client's inner system than it's easy to channelize the energy for betterment.
We take care of small things around us and we often do these things daily. We do not like the accumulated dust on the table and we like to wipe it. We like our decors clean and crystal-clear weather it is a really small flower pot or a chandelier, but ignore the dust of the mind and soul. We do not pay
proper attention to the tools, techniques and mediums to remove that dust of mind and soul which is the root of all our problems.
We are not paying attention to the tools that strengthen our human assets, so this is the reason that people are troubled by mental illnesses nowadays, maybe this is the reason that many relationships are failing, negativity is spreading all around, while a ray of transformation can change everything. This idea inspired me to become a Meta change agent; this inspired me to become that ray of light in someone's life. And this career was a natural calling and I ventured out in the world to create a bigger impact, developing human asset.
Through Roopantaran (Asia's No.1 NLP Training & Life Coaching Company) she is all set to change the wind, bringing about a positive and progressive change in people's life
In a general manner, we all have the knowledge of what's right or wrong irrespective of situations, but often fail to implement as sometimes the drive is missing or we are ignorant of the fact. I want to be that driver and establish as a catalyst of change in their lives, helping them recognize and overcome all of their difficult situations beautifully. As overcoming problems is the final result which anyone can do with whole lot of struggle and pain but I am training them to win by minimizing pain and struggle with a sense of enjoyment and wisdom in them. Afterall life is bouquet of beautiful emotions so one should be able to see the beauty of flowers and thorns together and should understand how those spikes on the branches are necessary and beautiful. I cultivate a sense of awareness inside people.
The journey has been quite satiating. Yet, challenges were there with respect to awareness about counselling, coaching and training. As people find it quite simple, sometimes not required and didn't show concern over. But, I was intrigued and enthu about this, so I never stopped giving to this industry.
Enlighten us with your educational and professional background. You provide a number of services to the clients, cast some light on them?
I believe in eight limbed path described by Patanjali in Yoga sutra (Yam, Niyam, Asan, Pranayam, Pratyahar, Dharna, Dhyan & Samadhi). Also, learned Chakra cleaning & healing process along with many National & International meditations & energy balancing techniques.
I pursued Ph.D. in Mind-based therapies, Masters in social work, Certified Master Trainer in NLP, Time line therapy, Hypnotherapy & Life coaching. Travel many countries to
learn from different experts in unconscious patterning which enable me to blend knowledge and experience of them into my training & coaching. Also, represented India & South Asia in many International conferences.

What's the difference you are able to create? How do you ensure to instigate holistic development and trigger awareness on unleashing the clients inner potential?
Every person has the similar mind with equal amount of potential, amongst which some are highly creative, inventive and successful comparatively the average numbers. The generic reports deduce that mostly we all human use two percent of our brain cells to accomplish tasks. If we are able to utilize mind power in a proper manner we can do miracle.

Ones who pursue my guidance, I first make sure to analyze them; identify their behaviors, negativities, confusions and conflicts they are facing and what's stopping their excellence or growth. It involves understanding of their conscious and unconscious levels and wisdom pattern. Later, my objective is to delete negative habits, behaviors and then work out toward installing required patterns to achieve their ultimate goal, devising and projecting the crafted pattern of disposal. To remove the root cause of their presenting issue, it remains my foremost target. I believe if purpose is ruled by positivity, everything is possible to accomplish and I make sure client remains positive all along the process.

"I as a Life Coach, wish to train more & more people, deploying A-Z requisites of training & coaching"

The industry you are in requires the coaches & trainers to keep themselves constantly updated. How do you go about this?
Truly! There is no end to learning things. We keep learning from our every day lives, instances, ethos, friends and even our clients. I am always open to learning in order to help people better with their issues; hence whatever I feel helpful I keep inheriting and am willing to continue doing the same.

What's the future script that you have penned for yourself and the company?
In this industry, there exist many trainers and coaches possess expertise in use of language, and many others have expertise in tools and techniques. But, I as a Life Coach, wish to train more & more people, deploying A-Z requisites of training & coaching, being able to enter into individuals internal system, understand them, their wavelength & aura, and help them prosper in their lives. All in all, I want to make the human asset development industry very strong and powerful.

Dr. Manisha Gaur
Motivational & Peace Speaker, Celebrity Life Coach, NLP Master Trainer, Hypnotherapist, Writer & Peace Activist.

CEO & Founder – Roopantaran (Asia's No.1 NLP Training & Life Coaching Company)