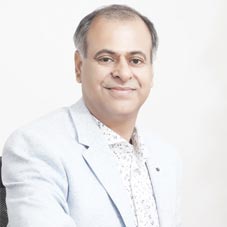 Kishore firmly believes that it's possible to have a highly productive, performance and execution oriented, and yet a warm, friendly, collaborative and fun culture in any organisation.
He has helped many organisations and their leaders actually live and breathe their vision, mission, purpose and values on a daily basis.
Kishore says that for any sustainable cultural transformation to happen, leadership development and one-on-one personal coaching must move hand-in-hand. All personal concerns of all key leaders must be addressed. Each leader must commit to personally transforming their behaviours for the cultural transformation program to succeed. When all leaders and their teams feel safe and secure, they actually look forward positively to the cultural transformation. The results are not only magical for the organisation, but each leader personally benefits and moves towards deeper fulfilment of his role.
In his extensive 22 years of experience, Kishore has designed, implemented and lived this culture with his own teams in organisations like Tata's, HDFC and Genpact. And since then he has helped leadership teams of organisations like Times Group, JSW Steel, Car-Dekho, Tata Communications, KPMG etc. bring about this cultural mindset shift in their day-to-day working.
Kishore uses his deep knowledge of Neurosciences to explain in very simple and logical terms, how an individual's Belief System and Mindset are formed. His tools and frameworks empower leaders to alter their behaviours. Leaders exercise free-will and choice, to not fall for the traps of their pre-existing mindset or belief systems. They are then able to think creatively and bring about new behaviours which are in sync with their organisation's vision and value system.
Irrespective of their experience and seniority, when leaders break away from their pre-conditioning, they develop an open and learning mindset,. With the help of their personal coach, they design their own action road maps, pathways and trackers to enable, support and track themselves in their implementation and execution. Culture of any organisation is a cumulative set of behaviours of its leaders. When each leader transforms, the culture transforms.
The three step methodology includes:
Step One: Dismantling their existing limiting beliefs
Step Two: Creating new forwarding beliefs (about themselves, their teams, their peers, customers, and all key stakeholders)
Step Three: Embedding these new beliefs in their sub-conscious mind.
An open learning and agile mindset allows for amazing new bonding and camaraderie amongst all senior team members. There is a remarkable and sustainable shift in the energy and space of the organisation. This allows for the new, vibrant culture to thrive.
Embedding new forwarding beliefs using neuroscientific and NLP tools into the sub-conscious mind, allows for new thought process to happen on its own. With the understanding of neurosciences the leaders become very clear on the "why and how". This makes the process easy and graceful.
Kishore says that most leaders are left with a wow feeling after every personal coaching session. Their energy is at a new high.
Kishore's group workshops enable the understanding of the design of the brain and how survival seems to become the predominant driving force for human beings. Kishore shares some powerful yet very practical and simple tools in his workshops which help the leaders break-away from survival patterns. These tools help
(a) Raise each leaders awareness and mindfulness
(b) Keep alive his personal vision, mission and goal
(c) Keep alive as a context, the organisation's vision, mission and goals
(d) Enhance the leaders personal charisma and energy
(e) Enhance enrolment and personal bonding skills
(f) Create powerful, inspired teams and camaraderie
Every challenge turns out to be an opportunity to go deeper, know better, understand better, research more about the facets of the human mindset
In an invigorating chat with CEO Insights, Kishore reminisces about his journey and delineates about his Leadership & Mindset Coaching chronicles.
You have worked in senior positions for some well-known corporates for over two decades. What propelled you to change the course of your career and venture into coaching?
I have always been inspired by the science of understanding human behaviour. At work, I would closely observe people, especially leaders on why they do, what they do. I would keep looking for some common underlying principles. And then the study of Neurosciences helped me answer all my questions. In 2014, I was nominated for this program on Neuroleadership by David Rock.
This not only kick-started the process of being a coach but also researching and studying NLP tools and quantum physics, which today forms the cornerstone for leadership development and coaching. I got trained in NLP tools by Sat and Siri who are certified trainers of Richard Bandler, founder of NLP. I got trained in Quantum Physics by Prof Amit Goswami of Miami State University.
I started implementing these tools and frameworks at my workplace with wonderful results. And I could also see the struggle, pains and challenges other leaders faced because of lack of understanding of this science. Their teams also suffered and this made me take the bold decision of becoming an enabler for this science and knowledge to be made available to each leader. I wanted people to really enjoy work. After-all work is where they spend most of the time of their lives.
You mention about Neurosciences and NLP, how does it help a CEO or any leader today to know about these tools?
All our actions and behaviours in life come from our thoughts. And thoughts are produced by our brain. We get about 70,000 different thoughts a day. We choose sub-consciously from these thoughts, which ones to act upon and behave from. When we learn how to make these choices consciously then we can take control of our future.
Else we are destined to live with our past beliefs and habits. For a leader it becomes very important to break away from the past beliefs and thought processes, to be able to charter a new future for himself and the organisation. Hence, understanding this science helps make intelligent choices and enables out of box thinking.
Tell us about the various challenges that you were posed with. Also, brief us on your journey so far.
Having spent 22 years in the services sector, especially BFSI, working with leaders from manufacturing sector offered some unique challenges. This helped me in customizing my tools and approach. Ultimately what helped was the fact that we were dealing with the human mindset, which was common across any industry. I have worked with leaders from as diverse a background as BPO, steel manufacturing, consulting, telecom, software and media.

Walk us through some of the programs you offer. What unique tools or methodologies do you use across your coaching programs?
Besides customized cultural transformation and leadership development programs for organisations, I also offer reasonably priced, open leadership development workshops, which have been attended by a very diverse population from US, Singapore, Australia, Dubai, Muscat, Burma and India. I continue to offer these programs on zoom, on weekends and also have a team of trained coaches, who work one-on-one with each participant. So, it's a combination of neuroscience based workshops on weekends and a coach personally working with you. The programs start as low as INR 12,500 for a month long workshop and includes a personal coach! I call it the "Extraordinary Results program" and many corporate leaders, home-makers as well as students have benefited immensely from it. Many home-makers turned into entrepreneurs after doing my program. They discovered their purpose and passion in life and converted it into businesses. Many students got rid of their laziness and procrastination and designed action roadmaps to study hard and get into their dream universities. Some completely got rid of their deep-rooted fears and anxieties and their claustrophobia!

We would love to hear about your strengths and weaknesses and how have they been instrumental in transforming the lives of corporate leaders and employees.
I realised that there are many times during a day, that I lose focus and get triggered by my own emotions and get diverted from my vision and purpose. And I had a very keen desire to understand human beings and their behaviours. Why we get triggered and put off, and lose our focus. And that made me come up with Neuroscientific tools which are simple, practical and easy to use on a day to day basis, so we stay on course and not self-sabotage ourselves. These worked for me and I now share them with everyone and that gives me fulfilment and my purpose and meaning in life.

How do you stay attuned to the latest developments in the field of coaching?
I make sure I attend at-least two, top of the line, self-development training programs a year. I myself have engaged a world-class personal coach who guides me. I regularly attend the conferences organised by International Coaching Federation, USA and other global bodies. Last year my company was one of the sponsors at the Mumbai all Asia-pacific coaches meet. I am a member of the ICF, USA which keeps updating us on the latest tools and technologies on coaching.

Brief us on your future plans.
My dream is to bring the latest neuroscientific tools and technologies to every person, so they do not fall into the survival patterns of the brain, which tends to bring our emotions and feelings down. And everyone lives a happy, joyful, and fulfilled life.

Kishore Chainani, Leadership & Mindset Coach, and Founder
A former corporate leader and now an internationally-certified leadership & mindset coach, Kishore has touched thousands of lives through his coaching & training in domains of professional and personal development.