To run a hassle-free business beating the contraptions of modern technologies, enterprises must adopt a flexible working space. It was Bernard DeKoven who said coworking is working together as equals. He couldn't be more accurate in defining, as companies today seeks the best available solutions to set up a company within no time. The availability of IT infrastructure luxuries as per the need is one significant burden for most businesses which opt for coworking spaces. Frequently, small organizations find it challenging to locate spaces that can perfectly fit their kind of working area. Space and Service, based out of New Delhi, serves to fix this problem, offering customized coworking spaces to businesses. Headed by G Singh, the company strives to deliver tenable business productivity and serve tailor-made infrastructure to the individual needs of the business. Director of Space and Service, G Singh, converse about how he and his team is engaged in providing high-standards of services to customers with comprehensive system requirements at the place.

Coworking spaces are expected to offer the same or even higher standards of amenities as of a traditional office. How is Space and Service operating in this realm? What are your rental solutions for the IT industry?
Space and Service offers customized unit renting options. Since every company has a unique structure, it demands, coworking management cannot assess the human resource structure of its clients beforehand. We have observed that almost 95 percent occupancy rate is due to customized coworking solutions. To ensure customers are availed the best of experience, we offer the division of closed units according to the demand of the client. Every unit contains a lockable office with management cabins within.

We primarily cater to back-end IT solution companies. They are the backbone to the large enterprises in the country. The products that we rent for IT companies include Desktops, Laptops, Servers, Projectors, Workstation Computers, Media Equipment, and Online & Offline UPSs. We allocate end-to-end technology for clients subject to
their requirements. The IT professionals we bear are proficient in dealing with any networking technology solution for clients.
What kind of hurdles have you en- countered in the journey so far? In what ways are you taking the edge off for clients?
Speaking about the challenges, primarily, we have often felt that the goods and services tax of 18 percent for retail rent is high. Secondly, as we may know, coworking business comes in a large space. In the case of New Delhi, there is a vast scarcity of office space within the metro area. Taking this low supply for office space, the model is least practical in prime locations of metro cities.
We are into business infrastructure support. We have a self-designed mobile application which is attended round the clock by our admin staff. Our office is furnished with automation from Mitsubishi
However, there is a solution to this problem if the government allows the conversion of industrial space to commercial or office use at a nominal fee. The Municipal conversion charge in New Delhi from Industrial space to others is too high in comparison to conversion charges from residential to other use.
As mentioned earlier, our clients are IT solution providers. Due to the volatility of their principal's business, the process given to our clients is reduced. Resultantly, when our clients attempt to decrease their employee strength, they tend to reduce the space. We appreciate their demand for space, at the same time respect the reduction of rented space. We customize the space for them and subsequently, reduction of rent.
What technologies do you leverage while offering the best for the customers?
We are into business infrastructure
support. We have a self-designed mobile application which is attended round the clock by our admin staff. Our office is furnished with automation from Mitsubishi and furniture designed by efficient industry professionals. We have the office spaces centrally air-conditioned by VRF technology. The Office Networking is entirely equipped for voice, VOIP, Data Integration from desk to desk across the building. We have set up server rooms that are 24x7 monitored by IT professionals. All technical inventories are surplus for any unforeseen equipment failures.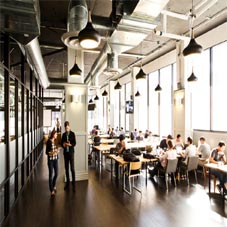 New coworking platforms are entering the domain as India's business environment is flourishing. What is the recent revenue growth that Space and Service have obtained? Also, what plans do you have for the company?
We have space of about 32,000 sq ft. It is an upscale coworking business centre renting company with 800 seats and many utility areas. Some many corporates and startups have been running their business successfully with our support and ready-to-go infrastructure. We have been witnessing significant growth in the turnover, running in a profit of 40 percent for three years.
G Singh, Director
G Singh has a rich business chronology of starting 17 companies to success since 1995. He has built projects to success with self-funding and dedication before exiting. Singh has incubated small companies with only two employees to big companies with 300 employees in his career span. With his experience in fashion, real estate construction, media, travel, and coworking industry, Singh has become versatile in adapting and elevating business opportunity to a successful position.