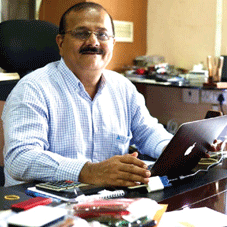 In the present technological world, mobile phones and laptops have become two inseparable elements of our lives, and hence, the demand for gadget accessories is also on a constant rise. Be it for connectivity, protection, charging or audio, accessories are absolutely indispensable for smart gadgets, portraying both superior style and functionality. But in India, majority of the accessory companies merely import products from China & other countries and merchandize them, without any sort of value addition to those products. The alarming fact is that even the rest of this bracket does not deploy their own design concepts, tools or materials, which depicts a clear degradation in the products' quality.
On the bright side, there are pioneers like Stuffcool, India's leading tech accessory brand breathing a legacy of over 38 years in the industry. What places Stuffcool at an unbeatable position is that all its designs are patented, while it deploys proprietary materials and tools to bring-out the best features across all its products. The Founder Director of Stuffcool, Hemang Budhdeo, has explained more about his firm and its excellence during an exclusive colloquy with CEO Insights.
Walk us through the idiosyncrasies of Stuffcool. Also, what inspired you to plunge into the tech accessories market?
Our foremost mission is to develop innovative products withtop-notch quality and affordable prices so that any Indian customer can easily afford them. Adhering to our tagline 'Little Things Matter', we take utmost care of intricacies in every product right from the point of design till packaging.
Our Company was established in 1981 as an OEM to reputed brands like BUSH, Philips, Onida, Thomson. We were then distributors of various CE/HA brands. When we established Stuffcool, we decided to benchmark the same quality as set by brands like Philips and same ethics of Distribution of the reputed CE/HA Brands that we used to deal with. Stuffcool is a family based company, which is spearheaded by me while as my brother Jiten
oversees sales and my son Dhaval, an MBA graduate from ISB assists him.
What challenges are you currently facing across the Indian market?
I believe that there is no proper recognition from the Government for companies like us that bring-out the best tech accessories, as compared to other companies that sell inferior products. Moreover gadget accessories being registered under non-GST plan is our biggest challenge. Hence, we are trying to expand out of Indian market. We have already plunged into the UAE market, while we are working with other SAARC countries.
Adhering to our tagline 'Little Things Matter', we take utmost care of intricacies in every product right from the point of design till packaging
Could you brief us on the product development process that you follow at Stuffcool?
It all begins with a thorough market research to identify the gaps. Leveraging associations with top OEM suppliers (around 35) from India, China, Korea and Taiwan, we involve in design and manufacture of our products, post signing exclusive agreements with them. Moreover, our 30-year experience of working for top brands like Philips and Thomson help us in coming-up with high standard products for our customers. We also have a dedicated agency to inspect every product's quality and finish before shipment. With regards to delivery of products, we have our own contracted suppliers who hold rich experiences of working with big companies of the world.
Being a powerful offline distribution company, we offer our products across 2000 stores through associations with 33 distributors PAN India and 60+ staff. We are also leading third party accessory providers for Croma and Reliance stores, while we hold online presence across Amazon and Flipkart.
What are the diverse tech accessories that Stuffcool offers?
Currently, we offer products with premium style as well as protection under eight categories namely Cases Screen Protectors, Cables Chargers, Power Bank, Enhancements, Audio & Bags. We take pride in being the first company in India to have launched Qualcomm certified Quick Charging 3.0 Power Bank with PD 18W, which is the newest fast charging standard of
Apple and Google. Not even behemoths had this kind of highend product, six months ago. We were also the first company to unveil Apple certified Type-C to Lightning cable in India as well as a Qi certified Wireless Charger. Clearly, we conform to numerous standards like BIS, RoHS, Qi and many more across each product, which speaks about the unparalleled quality that we present to our customers. For instance, we have three varieties of the entry level micro cable priced Rs.199, Rs.299 and Rs.399, wherein even the least priced cable is of excellent quality and proper length.

They say quality comes with a premium price. This aptly describes our products, wherein each material, component and shell are of premium quality and thus, come at premium prices. But when compared with international brands like Belkin or ANKER, we offer 30 percent lesser prices. We are probably the only accessory brand that designs and 'Makes for India'.

Brief us on your recent and future innovations.
Recently, after we launched 5A Superfast Charge Type-C Cable, we have introduced Qi certified wireless power bank with massive power to Fast Charge two device simultaneously with PD18 and QC3 fast charging protocol. We are in design stage to introduce world's smallest & compact USB charger that can be compatible with both mobile phones and laptops. Our main focus for the future will be on fast chargers, Type-C cables, smart home products, and highly functional laptop bags & backpacks. To achieve this, we have a dedicated team of three engineers who travel and stay abreast of the trends in the global market. Further, our strong relationships with top gadget firms like Google (Pixel) help us in being updated.

KEY MANAGEMENT:
•Hemang Budhdeo, Founder Director
With exemplary professional experiences, Hemang currently oversees product development, engineering and operations at Stuffcool.

•Jiten Budhdeo, Director – Sales
Jiten boasts of 30 years of solid experience of managing sales channels resellers and distributors

•Dhaval Budhdeo, CEO
A B.Tech Mech Engineer with MBA from ISB, Dhaval has extensive experience in Product Development and Distribution management

Headquarter: Mumbai
Products: Cases, Screen Protectors, Cables, Chargers,Power Bank, Enhancements, Audio & Bags