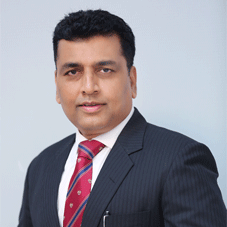 COOs are undeniably important members of every organization, and their contributions are vital to the success of that organization. The COO's responsibilities include acting as the organization's second-in-command and maintaining the firm's overall efficiency. Sudhaker Jadhav (COO) of Oasis Fertility was interviewed by CEO In-sights, wherein he shared his professional journey to becoming a leader.
Tell us about your professional back-ground before Oasis Fertility. How has your expertise helped in molding the company's operation?
I spent the first 11 years of my career in the pharmaceutical industry, working for Cipla and Dr. Reddy's and holding various roles in sales, marketing, and information technology initiatives. In 2005, I became Head Marketing at Wockhardt Hospitals, where I was in charge of improving marketing communication and strategies, as well as brand building for Wockhardt Hospitals in Hyderabad. I was promoted to Head Operations in 2008, where I supervised both units in Hyderabad. Later on, I worked for healthcare organizations such as Yashoda Hospitals, Narayana Health, and Nightingales Home Health Services. I joined Oasis Fertility as Chief Operating Officer in March 2018 and have been instrumental in expanding the company and establishing clinics across the country. I am enthusiastic about good marketing practices, customer relationship management, patient experience, Net Promoter Score (NPS), and team building.
As a COO, what were the initial challenges that taught you the basic lessons and how did you manage to achieve the success that you had in the later phase?
I am primarily a people person, and I believe that people are the most valuable resource for success.
When I joined Oasis Fertility, the organization was on the growth trajectory and on the cusp of this transition, it was critical to have a focus on changing the attitude of the personnel, winning them over, and leading them to a larger vision. My first move was to carefully tread this path, win people over, align the company's mission, and aid in making transitions easier.
According to you, what are the key elements needed for successful business Strategy planning?
I have come full circle in the healthcare industry, having worked in pharma sales and marketing, IT campaigns, as the business head for a dedicated vertical, overseeing multispecialty clinics, home healthcare, and now managing a single specialty. I have a thorough understanding of the healthcare markets in the country's various geographies. Working in pharmaceutical sales and marketing has always kept me grounded. I got my hands dirty in the early years by doing hardcore sales, so I can better relate to business realities.
I am enthusiastic about good marketing practices, customer relationship management, patient experience, Net Promoter Score (NPS), and team building
Share some best practices where you have brought your experience to its best use and helped the clients to cherish the moment.
In continuation of what I previously said, fertility treatments are highly individualized and there is no one-size-fits-all definition. Every couple will have a specific challenge conceiving, and while our physicians do their best from a treatment standpoint, it is the non-clinical touchpoints that matter a lot during the couple's path to parenthood. We believe in fundamentals, and having worked in healthcare for over two and a half decades, I am convinced that health-care operations management is not rocket science, but rather a combination of common sense and complete empathy, enthusiasm, and care for your patients.
We have a fantastic contactless
registration process in place and have tried to give our patients the best possible experience, right from the entry point where they are met by the security officer, the receptionist, the customer relations executive, the pharmacist, the nurse, and all the people involved in the value chain, the patient is the topmost priority for any employee. We in management operate on a different model, in which patients come second and employees come first and are convinced that if we keep our employees happy, they will keep the company cheerful.

In your professional journey so far, which are the milestones that have bestowed you with utmost satisfaction - both as an individual and as COO?
There have been many landmarks in my journey so far, and some of them are still near and dear to my heart. I recall vividly my first day of work as a marketing trainee at Cipla, where I was the only person with a commerce background among 45 others with a complete life sciences background. On the first day of training, I was on the verge of leaving, but then I asked myself, 'Why not? I suppose the sense of vulnerability I felt during training compelled me to perform much better than anyone with a life sciences background, and I was one of the best salespeople at the time.

Staying hungry and staying foolish, became an ad-age from that day forward, in my opinion. I also believe that entering a boardroom after a difficult sales, marketing, and operations journey requires a great deal of bravery and reality. You understand the ground realities, the rules of the game, and how to react to circumstances. In the early years of the profession, I still encourage newcomers to get their hands dirty.

Sudhaker Jadhav, COO, Oasis Fertility
Location: Oasis Fertility – Hyderabad
Sudhaker Jadhav has done his MBA in the year 1994 and has 2 and half decades of experience in Healthcare Marketing and Operations in India. He has added qualification of certification courses in Healthcare from Harvard and IIM Bangalore and Harvard T. N. Chan School of Public Health. Sudhaker was associated with various prominent healthcare firms such as Cipla, Dr. Reddy's, Wockhardt Hospitals, Yashoda Hospitals, Narayana Health, and Nightingales Home Health Services.