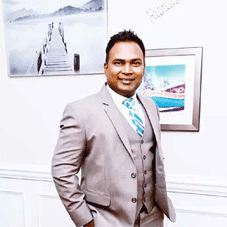 FNF India is a subsidiary of the USA-based Fidelity National Financial Inc. FNF India provides its customers with services such as Title Insurance, Technology services, Residential Mortgage services, and various other Financial and Mortgage Services. From the very beginning, the company has been known for providing its customers with best-in-class, cost effective, and quality solutions. The company's employees have been the primary reason for its success, and the person who has played a major part in developing them is Shashi Bhushan, the Chief Operating Officer and Vice President of FNF India. At FNF, his main objective has been the development of the employees alongside the organization's overall development. He works with a simple mantra, i.e., "If you take care of your employees, your employees will take care of your organization." His years of experience and effective methods have made it possible for him to take FNF India to new heights. Following are excerpts from an interaction with Shashi, where he talks about his career background and his future plans for the company.
How did you start your career? Also, can you tell us about some of your professional achievements?
My father was an ex-Indian Air Force Officer. Due to my defence background, I got the opportunity to move around the country during my formative years, and I think that has helped me a lot in my professional life. When you are moving from one state to another, you get to meet different people, learn different languages and experience different cultures, and that has actually helped me develop as a person and gain experience. When I started my professional career, this experience helped me immensely in achieving my professional growth. I had an early start of my professional career as 201923a medical transcriptionist at the age of 20, where I used to listen, interpret and record audio files sent by doctors. Later, I changed my job and joined a call centre, and worked there as an executive for a couple of years. Later, I moved to a start-up providing outsourced services to American Title Insurance and Mortgage
Servicing clients. This was a turning point in my career where I obtained supervisory and business knowledge in the industry which I am currently in.
Since it was a start-up, I not only learned business knowledge, but also gained the experience to successfully navigate businesses through the typical challenges a start-up business faces. My journey in FNF India started in 2005. I was selected to be the leader of a team of 30 employees. Looking back, I feel proud to have successfully led and grown the small team to now become a 5000+ employee organization, with a 100+ clients.
My biggest satisfaction comes from seeing so many growth stories around me. Over 90% of the management staff at FNF India have grown from within, and we have successfully maintained a 0% attrition rate for the management staff. I have always invested heavily in people around me. It is a big achievement for me that I have been able to work with a diversified set of people, and groom and grow them to the next level of responsibility.
FNF India is constantly working on new products and technology, that includes AI and machine learning. We are currently working on technologies that are best in class, and that give us a clear competitive advantage
What are your roles and responsibilities at FNF India, and how do you motivate your employees to bring out the best in them?
My mantra is very simple – "if you take care of your employees, your employees will take care of your organization". I have always believed and lived with this mantra. As I said, I invest heavily in my people, and give them plenty of opportunities to grow within the organization.
I work with my direct team to identify employees who have the potential to grow more, and we identify them at an early stage itself. We then have well laid out development plans according to their areas of expertise and interest, along with personalized mentoring program to bring out the best in them. Our mantra for success is basically to work with the people and make sure that we have lots of growth and success stories within the organization.
As for my roles and responsibilities, I am responsible for successfully running the end to end operations of FNF India. To ensure that this happens, I also need to see to it that organizationally we define and leverage a well laid out technology roadmap which supports our business goals around growth, efficiency gains, quality, risk and compliance. In addition to that, it is my responsibility to ensure that FNF India stays aligned to the broader vision and mission of the FNF family, and directions and ideas of our CEO are implemented effectively.

Can you tell us about the major differentiators of FNF India?
FNF India is constantly working on new products and technology, that includes AI and machine learning. We are currently working on technologies that are best in class, and that give us a clear competitive advantage. We are a leader in the Title industry. The core vision of our CEO is to drive technology for the title industry, and we are working on par in terms of delivering high-end products into the market, giving us a competitive ad-vantage in the market.

Our people offer another major advantage to us. The huge talent pool, with deep and continuous domain expertise in the Title Industry and a highly effective skill development program offer us tremendous scale and speed. A mix of our technological abilities and our hugely talented human resource pool offers something which is difficult to match.

How do you see your Future with FNF India?
The concept of Title Insurance is an upcoming concept in India. I am immensely inspired by the prospects of Title Insurance in the Indian market. There are a very few companies that are working on this type of insurance in India. Currently, we are primarily based in the USA and Canada, but we plan to expand globally. I think Title Insurance would eventually be part of the Indian society. In that context, I plan to work with the Government of India to see if FNF India can be one of the Title Insurance providers in future in India. With our expertise, we are working on a plan to work with the Indian Government to see if we can participate in the entire exercise.

Shashi Bhushan
Shashi likes to travel with his family during his leisure time. He prefers long drives and loves to visit new places. Shashi's son loves skiing. During the winters, Shashi and his family would normally go to the mountains to make his son experience mountain skiing. Shashi also enjoys horse riding whenever he has the free time.