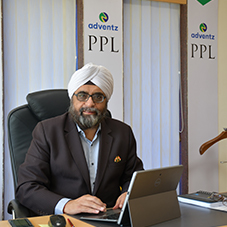 Each business beholds a distinct leader. While some trust their instincts and evolve as innovators, a few share an inspiring vision to succeed as active tycoons, and other impulsive magnates turn opportunities into successful ventures. Well, only a handful of mandarins emerge as the Jack-of-all-trades; just like Ranjit Singh Chugh, Chief Operating Officer of Paradeep Phosphates Limited.
With extensive experience in the fertilizers chemical, Sponge iron (part metal & part chemical) and copper smelter, he stands as an exemplar of perennial dedication, perseverance, and a never-say-die attitude. Reminiscing over his active journey with CEO Insights, Ranjit shares some experiences that harnessed him while surging into the corporate world and becoming a leader.
Share some deep insights on your 4 decades of professional journey.
Born and brought up in Gujarat, my schooling happened at Sainik School, Jamnagar. After pursuing Chemical Engineering from the National Institute of Technology, Andhra Pradesh, I was privileged to work with Indian Farmers Fertiliser Cooperative (IFFCO) for 11 long years. The stint at IFFCO was immensely opportunistic and helped me work in three different locations having different technologies for ammonia making.
Fortunately, a large part of my professional journey was with giants such as Aditya Birla Group, Hindalco, IFFCO, Zuari and Mittal Steel (Steel Giant of the World) in Trinidad & Tobago. Subsequently, family situations urged me to come back to India. For the next 6 to 7 years, piloting diverse operations at Hindalco was a relishing experience.
The three decades of the journey were filled with learning, exposure, and experience. However, a sudden desire to explore more descended over my thoughts. While I spent most of my career life at pseudo chemical brands, joining Gujarat Fluoro-chemicals Limited, Zuari, and Paradeep Phosphates Limited opened avenues to leverage my educational learning as well. In a nutshell, the 40+ years in copious appellations and countries is extremely rewarding.
What challenges did you encounter in the initial phase of your journey?
In my opinion, what seems like a challenge is completely dependent on our situation and timeline. In the early phase of my career, there was a technical glitch in a plant and was not operating steadily. It was a huge setback and we had to work with the technology supplier in Mexico. Followed by eight months of tireless hours in Mexico, the problem was set right making the plant operate successfully. As a new bee, that initial phase felt challenging.
Ranjit's strategies are inclined towards backward integration, circular economy, smart analysis, overcoming weakness, looking for opportunities, and moving forward. A leader is successful with a team. Formation of team is built on trust, transparency and "lead from front".
What experience in your journey helped you chisel yourself as a passionate leader who influences and inspires the people around you?
In 1993, a plant, in fact, Aditya Birla's brainchild witnessed a furious fire accident. When the fire broke out, Aditya Birla came to us and asked for some data and a weekly checklist. We had it ready, & only for 3 weeks data was shared. He untagged the documents and tore them into pieces right away. It was a point of devastation. I couldn't eat food well and felt so anxious the whole day. After some rigorous discussions and meetings, Aditya Birla boarded the car with other directors to leave. The car moved 50 meters ahead and stopped. He called me and patted my back by saying, "do not worry, the plant will produce 110 percent better than before".
Those 36 odd hours taught me the basic lesson of life and ensured me to be the best of myself. Such a great man, his humble attitude made me realize what spurs, and what builds others. It is probably the greatest experience of the incredible journey.
How do you channel your wisdom into your organization in terms of delivering quality deliverables and competitive services?
For the last 10 years, my association with farming in the Indian context made me understand a lot about the sector. Frankly speaking, it is a vulnerable sector that depends on
monsoon, government policies, and most importantly the middlemen. While nearly 60 percent of the population is dependent on agriculture, 90 percent of the farmers belong to the low-income category. The most crucial reason for these pathetic stats is the hassles caused by middlemen. These issues could be both while selling the products from farmers to the market and while selling the fertilizers from the manufactures to farmers. While producers of fertilizers cast out a price, the middlemen/dealers make the products reach the farmers at a much higher and unfair cost.

At Paradeep Phosphates Limited, we focus on mitigating this menace by building last-mile connectivity with the farmers. All my strategies point towards ensuring the best service to customers with the right spirit. In a highly populated country like India, the food requirement is high. Directly proportional is the demand for fertilization as well. However, India lacks the facilities and raw materials required to manufacture fertilizers. Companies like us are dependent on government policies and import & export costs from international markets. For example, one of the raw materials, which was 610$ per unit last year is 990$ today. We cannot afford materials at such high prices; this is where our plant operating strategies come into place. We continuously innovate, grow, and revamp to face market atrocities.

According to you, what are some crucial steps a leader should follow to achieve success?
In the fast-evolving world, a leader needs to learn continuously and stay updated with the industry nuances. Throughout my career, I have work with large-scale manufacturing companies. This large scale operation requires a broader vision with focused goal to move forward. Also, we have to set right the basic systems in place and further use modern techniques. Usually, the basic practices get diluted with time, which is not right.

In my opinion, a leader should look at the best practices, benchmarks and work to achieve those. It is not always about raising the bar; it is about dynamic success with proper brakes and accelerators. During external traumas such as Covid-19, reduce the production cost and keep the finances tight. Be like a sponge that adapts and absorbs. Also, learn from mistakes.

Ranjit Singh Chugh, Chief Operating Officer, Paradeep Phosphates Limited
Hobbies: swimming, working out, sports, binge-watching Formula 1 and scientific web series.
Travel Destinations: Brazil, America, Mexico, Switzerland, and more.