Prasad G S Sreekanta: An Implementer And Strategist With Abilities To Manage Major Business Operations With Ease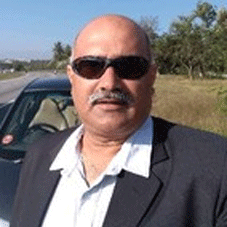 Furniture manufacturing market is expected with an actual and potential growth as the demand of customers and purchasing are increasing rapidly. With a competitive nature among the manufacturers as well as growing employment opportunities leads to boost up the productivity and expansion of the industry. Manufactures which offers furniture with innovative models with various designs, features more facilities and meets up with the customer satisfaction by proving according to their unique preferences are showing a steady increase in the furniture manufacturing market. Ovion Lifestyle is a name renowned in customizing living spaces without any limits. Set up in 2001, Ovion has its footprints present all over the country. Residence, Sports, Automotive, Hospitality, Aviation, Corporate are some of the segments which the company currently caters. The company's operations are well-taken care off by Prasad G S Sreekanta who is the current Chief Operating Officer of the firm. In an exclusive interactive session with CEO Insights Magazine, Prasad G S Sreekanta, COO, Ovion Lifestyle shares his experiences in various streams of Management and Business Development as a COO of Ovion Lifestyle.
Tell us about your educational and profession-al background prior to Ovion Lifestyle? How's your professional background helping you in the company's operations?
My educational qualifications are B.Sc, Diploma in Mass Communication and Journalism, MSW HR along with Master's Degree in Mcom. Apart from this, I'm a certified lay counsellor. I began my career with a small company, Gokaldas Exports Ltd. which was the number one in terms of export business. I worked with them from October of 1992 to 1998 where I had acquired the basics of managing business and operations. In 1998-1999, I was working with Viveks limited which is a Consumer Durables Stores (CDIT).
I was then working with a Division of Maxwell Apparel Industries Ltd., Manufacturers of V.I.P Men's
Undergarments, Lovable and Daisy Dee Lingerie's, Live-in Jeans, Bellini Shoes, myhome supermarket. Post this, I worked at a small shop called as the EXPO which is a compressed lifestyle shops which varied from 20000 to 50000 square feet LFS (Large Format Stores). I have also had experience heading media industry by then with my work with Hype Intercommunication Private Limited.
I have travelled across India to set up a lot of branches, stores, training, and development. Also, I have worked with Italco Italy, V Star, which is a Kochi based company, then I joined Bombatt Bhojana. Sir Sihi Kihi Chandru is our Director and Brand Ambassador of funny bunny character in cinemas. He is a well-known Actor in South Indian Regional languages Cinema, TV Serials and Conducted 2000+ Cookery shows in Televisions, also have 2 Million Fan Likings. These are the organizations where I have bought, particularly got an exposure in three verticals of business, which are retail, media and real estate. I worked with the GMI for a short period, there I used to do sales of high-rise flats and commercial retail space. Ovion CMD Kiran Kumar is the promoter and Investor and I report to him.
Ovion has come to represent global excellence in manufacturing, quality, and longevity
What are the measures or methods or strategies that you take to assess an organization's performance and also what practices do you take into account?
We have to understand ourselves, then our kind of business, who are all the competitors with us and whom we are going to target. I use to assess how we are connected politically, economically, sociologically and technologically. How fast, how good we are, what are the transition that we are willing to make, what kind of business we can make, I handled these kinds of business in my earlier companies filling gaps. I do some trainings also; like LMS T&D core effectiveness, Personality Development through organizational development, dipstick study. I call this organization development through individual development.
What are your hobbies or your favorite cuisine and also what are the major aspects and accomplishments of your professional journey?
I did participate in a lot of trekking activities during my college days. I enjoy travelling and meeting new people. In my entire 29 years of
services, almost around 18 years I used to travel a lot. I also love to cook a lot, specifically South Indian, North Indian and Bengali dishes and I'm a pure vegetarian. I'm a fast learner and can adapt to a good business. I can take much more bigger challenges and produce the good results, if authority with responsibility is provided.

Can you brief about your professional journey as this is a milestone as an individual and as a CEO?
In terms of Vivek Limited in 1999, I have tested business at Indiranagar stores which is around one core business. That was a milestone and the highest achievements across south India on those days. I was moved into one more division called as Maxwell, there I was heading as a retail operations manager. Initially I used to work in North Indian Territory, like Jammu Kashmir, UP, MP, Haryana Punjab, Delhi, Himachal, Punjab, Uttaranchal and south Indian states. I was moved on to this Hype Intercommunication. When I joined in Lovable Sports handling retail LFS Shop in Shop stores, Shopperstop, and Central where I was managing the entire e-commerce business.

"One should able to handle most in terms of understanding and developing the market, then you need to understand the need and demand of the market as what they're expecting"

According to you, what are the key elements needed for successful business strategy planning?
One should able to handle most in terms of understanding and developing the market, then you need to understand the need and demand of the market as what they're expecting. A lot of management theories are there that can be pushed in terms of analysis, performance, orientation, quality management. So, these are all the things which is going to be required for a person to be successful. You should have an open heart to learn and also exposure to understand. One should have the mind to learn. Different dimensions will open to know more, to learn and execute the business.

Prasad G S Sreekanta, COO, Ovion Lifestyle
Prasad G S Sreekanta is a well-known expert in the field of Business Management and Development. Prasad has completed his education in B.sc, M.com, MSW-HR, DI Journalism & Mass Communication. Also, he is a certified Lay Counsellor in Counselling Psychology. He has awarded and honored in Training and Development- in house staff, 1999 Highest Sales of Colour Television, May 31 1999 Crossing 1 Crore Sales and 12 Rank in Retail Management.