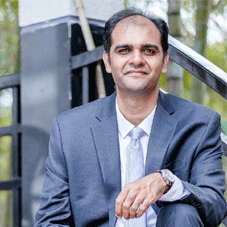 Who is a COO? Also known as the chief operations officer, the chief operating officer (COO) is a C-suite executive position, often considered second in command to the chief executive officer (CEO). As the title makes it obvious, a COO is responsible for the daily operations of a business, supervising all or most aspects of the company's procedures and plans. Depending on the organization, the COO may be tasked with managing issues including marketing, financial growth and development, sales, research, and personnel. A COO wears many hats, which again may vary according to the requirements of the company, but ultimately acts as a problem solver.
However, the answer to that question cannot be merely summarized in a sentence or two. To understand it one must be subjected to a close analysis of a practical example. Poorvank Purohit, has more than once, exemplified what it means to be a COO and demonstrated how it's done. We take a closer look at Poorvank's journey.
An alumnus of MS Ramaiah Institute of Technology, Bangalore (MSRIT) and Indian Institute of Management, Bangalore (IIMB), Poorvank has worked with some of the leading listed Pharma companies including Ranbaxy (Sun Pharma), Jubilant, Alembic Pharmaceuticals, and Hikal Limited. He has gathered exceptional expertise end to end in both, APIs (Active Pharmaceutical Ingredients) and Formulations (Finished Dosage Forms) space, and has executed successful implementations in various areas including Corporate Strategy, Sales & Business Development, Project Management, and Operations Management etc.
Over his years of experience in divulging exceptional business strategies, Poorvank has had to travel more than 40 countries bringing the expertise of B2B relationships and developing strong relationships with decision-makers with top innovators and generic companies across geographies.
His forte has been catapulting a business' brand image by introducing various value creation initiatives. Most of his initiatives have been on the market-driven side followed by bringing visibility to the company on a global scale. He comments, "The trust and credibility built with customers over the years have allowed me to grow the business in line with customer's needs and requirements".
Rightly so, the result of his approach has reflected on R L Fine Chem (RLFC), which has grown at a SalesCAGR of more than 22% since the last three years of his joining. Currently, Poorvank is the Chief Operations Officer at R L Fine Chem. Based out of Bengaluru, R L Fine Chem Pvt. Ltd. is one of the fastest-growing research-based pharmaceutical companies in India that specializes in the manufacture of niche APIs (Active Pharmaceutical Ingredients) in CNS category including Psychotropic substances.
RLFine Chem has three manufacturing plants, out of which two plants are approved by USFDA. One plant has additional approvals of PMDA (Japan), EDQM (Europe), and COFEPRIS (Mexico). Exporting over 75% of its APIs across the Globe, RLFine Chem has won the trust of more than 550 customers across 70 countries around the globe including large Innovators and
Generic companies, covering the US, Europe, Latin America, Middle-East, Asia Pacific, Africa, and CIS markets.
Placing the Firm on Global Stage- Brining Visibility
When Poorvank took charge as the COO of R L Fine Chem 3 years ago, the major focus back then was primarily financial metric-driven i.e. Revenue growth, EBITDA growth, margin expansion, debt reduction, and steady cash flows as it was an LBO transaction (Leveraged Buyout). When you join a financial investor-backed Portfolio company, you have to move ahead with speed and conviction. As Poorvank recalls, one of the major challenges was to secure early wins while driving the culture change and inspiring the old and existing team to deliver results for both the short term and long term.
In a B2B business, market intelligence is the key. In Pharma world, especially API space, data-driven decision-making is very limited. Therefore, spending on databases was an initial challenge. Poorvank led the firm to collect all the available databases to under-stand the market size, primary markets, competition, etc. This was the key to make critical decisions on the market side, particularly, pricing and the right product mix to drive growth.
Poorvank has worked with large, mid-sized, and small pharma companies. Every organization's size brings with it a different set of challenges
Next, Poorvank focused on building the right team by helping them realize the potential and vast possibilities. This fetched the desired results. The bar was raised to higher standards, especially in the last three years by achieving the desired milestones. This was one of the early successes that Poorvank delivered within the organization.
Poorvank and his team at times spotted and identified opportunities in the pharma Industry. The Industry is primarily dependent on Chinese suppliers for raw material supplies. We all know that two-third of bulk drug imports in India come from China. Given the environmental dilemma in China, a huge supply gap has been created for raw materials. R L Fine Chem found this as an opportunity to do backward integration on critical raw materials quickly. This not only allowed the firm to be self-sufficient but also helped its partners to take a much larger market share and make profits. Secondly, RL Fine Chem expanded the relationship with several customers by offering one basket of products to achieve economies of purchase.
A Problem Solver
Poorvank has worked with large, mid-sized, and small pharma companies. Every organization's size brings with it a different set of challenges. Poorvank explains, "Systems and Processes are much more robust when you work for larger organizations compared to mid-sized or small-sized organizations".
His expertise of having vast exposure allowed him to benchmark with best practices in the industry and implement those practices in R L Fine Chem. This includes looking at the evolving trends and defining how can the company capitalize on the opportunity within a defined time frame. As mentioned earlier, this led him to implement few market-driven initiatives with a lot of speed and conviction.
"Having an experience of working in both APIs and Formulations space especially in critical functions has allowed me to drive problem-solving approach through a collaborative approach and cross-functional teamwork. As a COO, you have to trust your team, inspire them to
achieve greater heights while acting as a facilitator", opines Poorvank.

The Collaborative Approach- Working Within & Outside the Organization
Poorvank has always believed in Value creation for all the stakeholders. Therefore, what drives his passion is turning around the organization not only in terms of numbers but also in terms of culture and organizational change. More so, Poorvank explains that one of the critical elements needed for strategic planning and execution is to bring alignment among all the key stakeholders. "You have to define the vision followed by strategy, provide structure on how things get done while communicating effectively with all key stakeholders", he adds.

The most important part of the value chain is the customer. As an important stakeholder, customer's PoV should not be overlooked. Particularly, in the pharma industry, it is about providing high-quality products to the customers and giving memorable customer service. Poorvank, while defining strategies, helps the firm look at the requirement of customers, build engagement and agree on the timelines to manage expectations and build long-lasting trust and relationships with customers.

A COO's Satisfaction Quotient
Further adding to what gives him utmost satisfaction as a growth driver at RLFine Chem, Poorvank adds, "I have been a part of growth journey for various organizations – Sun Pharma, Jubilant, Alembic, Hikal and now R L Fine Chem. Making an impact is what excites me in any role. Even at R L Fine Chem, one of the significant achievements has been getting the visibility for the company on a global platform through various initiatives". As it did work out impeccably, R L Fine Chem was nominated twice for two consecutive years in 2019 and 2020 in the "API Supplier of the Year" category in Global generics Bulletin awards, top tier awards for the Pharma industry.

Sharing his definition of what a COO is, Poorvank says, "A Great Chief Operating Officer is a great people person as People are your greatest resource in the business. A COO has to continuously inspire his team with effective communication to show direction and aligning stakeholders at all times so that Organization can make the impossible, possible".

It is appropriate that he is known as a turnaround specialist. Poorvank has turned around businesses in a short period without taking any shortcuts and create sustainable growth over the long term. Hope the question at the beginning of this article is answered!

Poorvank Purohit, COO, R L Fine Chem
Poorvank is an all Rounded, accomplished, as well as performance-driven pharmaceutical professional with Board level and Operating Partner experience backed by 17 + years of strong B2B experience in International Business for both APIs and Finished Products. Poorvank has initiated and built B2B businesses across the globe by establishing a strong network and relationships with top Innovators and Generic companies.

Before joining R L Fine Chem in 2018, Poorvank was Head of Global Sales and Business Development for APIs at Hikal Limited. His other assignments include the following listed companies: Alembic, Jubilant, and Ranbaxy.

Poorvank holds a strong technical, commercial, management background and his areas of expertise include P&L, Value Creation, Executive Leadership, Business Transformation, Corporate Finance, Sales and Business Development, Talent Acquisition, Operations Management, New Market Development, Corporate Strategy, Portfolio Selection, and Project Management, etc.