Asif Sharief: Accountable For Delivering Best Strategies For Company's Ongoing And Future Operation Plans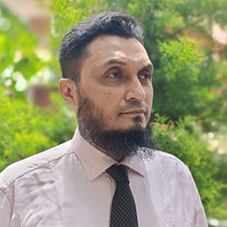 With the courage to accept challenges and commitment to deliver impeccably, A COO is not only to be humble but also strong, cautious, and optimistic at the same time. An adherent believer of this ideology, Asif Sharief has been motivating his team even through the most arduous paths. Positioned as the COO of Kudroli World, Asif initiates strategies to develop corporate business by adhering to 3C policy (communication, clarity & commitment) between the management and employees. Accountable for delivering presentations, develop relationships and build business ties, Asif not only coordinate with the Management and business heads to attain business operations but also strategize the company ongoing and future operation plans. Apart from planning and implementing the corporate budgets for business development and brand building, he is responsible for administering Corporate Governance and due diligence as well as allocating and supervising training for the required executives.
Engaging in an exclusive interaction with CEO Insights, Asif Sharief highlights the essence of his journey as one of the prolifically acknowledged operational officers of the country.
1. As a COO, what were the initial challenges that taught you the basic lessons and how did you manage to achieve the success that you had in the later phase?
I believe that it is important to keep learning to improve and I participate in as many professional development opportunities as possible. When I was assigned to devise strategies for a new manufacturing unit to maximize production, the production team came from diverse cities, cultures and classes, from unskilled to semi-skilled labor to technicians. I had to understand their work culture, social background and accordingly fit them in that team for better productivity and minimal conflict. I had to personally give more time to understand them and creating that bond of trust and workmanship.
2. According to you, what are the key elements needed for successful business Strategy planning?
I have been a friend, a teacher, a leader, and a counsellor and after that a COO. With continuous learning, I have always been open to changes. Analysing the market and competitors regularly, I know that the market dynamic changes very fast and are short-lived. Always ready to adapt to new changes, I have been a quick learner who prefers to work smartly with energy and passion.
3. Underline the distinctiveness of your firm – The Kudroli World. Share one incident highlighting how your expertise helped in molding the company's operation?
Once our company acquired a niche firm which created natural friction between long-time employees and those who came aboard during the acquisition. Each team had its own way of doing things and in the beginning, having more employees slowed down our ability to finish projects successfully due to miscommunication and conflict. After this happened, I asked members of our team to meet me for lunch. We went out in a relaxed atmosphere and began to discuss our working styles, free our egos and the way we work & they do. It opened the line of communications, and we began to understand each other better.
I strive for Passion to explore, Courage to challenge, Knowledge to excel, Patience in failure & Wisdom in life.
I volunteered for the role of the team lead in gathering this information from co-workers and ensuring that it was as accurate and organized as possible. I called several team meetings to set objectives and deadlines for our work and met with individual members to answer any questions and to make sure we were on the same page. Not only it began to work as a good team, but the output result was praised by the management, and I have been the go-to person ever since. This led to better teamwork, respect, ease of work and pride of the company.
4. Share some client stories where you have brought in your experience to its best use and helped the client make profits.
In our previous company SDRL (pharmaceutical manufacturing), we supplied medicine to our clients overseas who in turn supplied to their consumers. The regulation restricted the supplies, and this delayed the medicine reaching in time to the consumer which slowed our production and dips in revenue. We initiated online pharmacy for the customer to directly place an order along with a prescription copy for non-OTC products which was couriered directly to the customer without falling under government restriction category thereby making the customer get the medicine in time and we grew our business manifold till online pharmacy was disallowed by the government.
5. How do you define great leadership and what do you see as the toughest challenges that COOs are facing today? How do you keep up to date with changes in the Business trends so that you could always steer your organization towards the zenith?
One of the toughest challenges faced by the current CEOs are high attrition due to many opportunities, changing business dynamics, new technologies and cost for technologies, uncertain times, fierce competition. COOs need to stand strong, focused, and confident by quickly adapting to the changes
before they are overrun, outdated, and transformed to new dynamics. They have to be fast learners, foresee challenges, hunt for opportunities, meticulous in execution and stringent financial control& planning.

6. In your professional journey so far, which are the milestones that have bestowed you with utmost satisfaction - both as an individual and as COO?
In previous company SDRL, we were able to transform from a small local manufacturing company with sales of Rs 5 crinto a USFDA approved global manufacturing with revenue of Rs.80 cr.

Under R&D Developed generic drug Levetiracetam for treating children with epilepsy an, this earned great export revenue & recognition, so far, this has been a major milestone for me.

7. How do you manage to strike the perfect balance between your personal & professional life? How has your family inspired and supported you in your journey so far?
I maintain strong discipline in time management and proper plan execution to achieve the task. I try to plan my schedule with my goals prioritized so that I can give myself enough time to complete everything before a deadline approach. As that is not always possible, I try to come in early or work through lunch when necessary. If work still needs to get completed, I'll bring it home and finish the work once my family has gone to sleep.

It would be difficult not to be inspired by one's parents. Thankfully, mine served as great role models for me. In addition to dedicating their time to their children, they have a tremendous work ethic. My father would wake up extra early to get to work earlier to put in extra hours to fulfill our educational goals & return home in time to see his kids. This inspired me to put in extra hours in my work to achieve those results and be still able to give time to my family.

Asif Sharief, COO
With a strong eye to identify and hire the best employees, Asif enjoys forging new relationships with business partners and employees alike. Being a creative thinker, he can solve complex problems and can understand budgets, analyze costs & identify business opportunities. He retains and configures staffing team to multitask effectively by making them feel self-motivated & drive them to handle numerous priorities with enthusiasm. A detail-oriented, creative, and dynamic individual, Asif is ready to step in and make changes where necessary.

Hobby: Football & Adventure sport
Favourite Cuisine: Chinese and Turkish
Favourite Book: Sage of the Tallmud
Travel Destination: Medina, KSA
Awards & Recognition: Parsoli award for enterprising VP
Star Drugs for most dedicated and Loyal Employe Article - Coffee brewing for Young India - for ABC coffee day
Article - Wealth creation by equity & low risk venture-for Parsoli