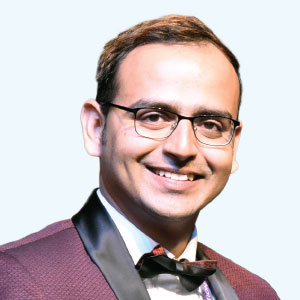 Being a significant part of one of the biggest staffing firms based out of U.S. sounds like an achievement for the lifetime for most of us. But imagine that you are born with an incessant technology enthusiasm and a favorable climate around it. Sunny Shah Sunny Shah (Head, Collabera TACT) came across one such context when Collabera– the IT staffing giant decided to expand their technology training handle, and brought in the maximum out of it in the form of Collabera TACT – a top-notch organization that trains qualified professionals and students on emerging technologies like IoT, Big Data, Analytics, Cloud, Mobility, Digital Marketing and many more. Delivering his 200 percent, Sunny has played a pivotal role in TACT emerging into one of the leading technology training brands across the world, thus became a source of inspiration for the people around him. "If your actions inspire others to do more, achieve more and accomplish more, you are a leader. I firmly believe in this extract," asserts Sunny.
Sunny believes that Innovation has played a key role in both his emergence as a leader, and TACT creating a win-win situation for leading companies as well as candidates, and in turn becoming an award winning and worldwide recognized platform. "In addition, I got an ample of support from the backstage, from my mentor and Managing Director Mehul Shah which allowed me to constructTACT into an institute of this scale and caliber," adds Sunny. The support from the management was not merely in financial terms, but they stood with him from an interactive standpoint throughout the process.
Sunny believes that Innovation has played a key role in both his emergence as a leader, and TACT creating a win-win situation for leading companies as well as candidates
Being the Game Changer
The Post-Graduation from the prestigious London International College had given him a new beginning embedded with confidence. As a second turning point in his belief, Sunny joined Collabera in mid-2011 on an assignment to enhance their shared services division across the globe. Through comprehensively adapting into the scenario, conversing with regulatory authorities, establishing the entity and setting up the operations in a number of locations including Singapore, Malaysia and UK, he became a game changer for the heritage staffing firm. "In 2014, I was proffered with this opportunity to build a company within the company," elucidates Sunny. Perceiving the dire need for a professional training brand when it comes to emerging technologies, Collabera was all set to conceptualize its training business under a new entity – Technology Academy for Competency Training (TACT), and they had no alternative for Sunny when it came to experience and ability to handle responsibilities.
"I am happy that right from conceptualizing this business to executing it to an extent what it is today, I have been able to contribute from day one," he adds. He himself went down to the ground and interviewed the first set of teams, hence placed enough expertise on table to offer the first set of courses. The man who is known as the king of outsourcing and who contributed substantially in making Collabera a global staffing company, Mehul Shah was Sunny's predominant inspiration to put his heart into this project. In pursuit of persistent progress, TACT today offers a gamut of self-paced
online technical courses on almost every high-end technology (beginner, intermediate, professional level). However, Sunny admits the fact that nothing can be accomplished without sacrifices and support from the family. He says,"I have been fortunate to get unparalleled support from my family which allowed me to contribute in building TACT". Even though work life balance is an invariable challenge, he always tries to compensate it through spending quality time with his parents, wife and son.

Inspiring People & Getting Inspired
"Being a Six-Sigma Green Belt professional has helped me put process to madness at work. We implement Six-Sigma concepts in various operations of our business," he adds. Sunny's ability to work with millennial in utmost harmony has been remarkable. He not only inspires them, but also creates opportunities for those who have an extra-ordinary zeal to achieve something in life, which in turn helps him lead the entire team in one direction. "I look for inspiration in younger generation. To be honest, even my six years old son inspires me with the zeal and energy he carries," Sunny adjoins. Simultaneously, he motivates his beautiful child to put 200 percent while taking efforts and always challenge the status quo to remain innovative.

An admirer of technology blogs, die-hard cricket fan, and a born traveller who is restless in nature, Sunny's favourite destination is U.S., be it a business trip or a vacation. He is also a foodie who likes Indian, Chinese and Italian cuisines. "My business demands frequent travelling and hence aircrafts have become my second home," Sunny quips.With an aim to become a household name for training by 2019, TACT is further pressing the pedal in business management trainings, and he is getting ready to take more flights this year. "We want to bring a difference in the way people get trained and create a world-class training ecosystem that benefits all" he adds sharing his ambitious plans to grow TACT globally.