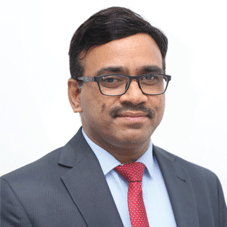 Suresh Anubolu, an HR leader, who strengthens organizational principles & valuation through right people, process & purpose interventions. Suresh's aim in his career is to nurture and create 'globally competitive organisations & globally recognised leaders,' using his OD & HR expertise. Suresh is a graduate of Mechanical Engineering and began his career with Autodesk distributor, promoting CAD / CAM software products in south India. This opportunity offered a great deal of insight into understanding the engineering, automotive, and defence industries, handling channel partners, selling skills, and the importance of customer relationship management, which helped in his HR career.
"I thought one of the ways to contribute to my country was helping Indian companies grow and gain global recognition," says Suresh Anubolu, Chief Human Resources Officer. To pursue this dream, he reached out to a few CEOs of Indian companies while he was working for a US MNC and had the chance to meet Manni Kantipudi, CEO of GVK BIO, who shared the same passion and left his career in Intel USA to join GVK BIO. CEO Insights engages in a conversation with Suresh Anubolu (CHRO, GVK Biosciences), who expresses his journey towards becoming a Chief Human Resources Officer.
Give us a brief detail about your educational and professional background before establishing GVK Biosciences. Also, tell us about your unique skill sets and strengths?
Before joining GVKBIO, I worked with CA Technologies (India), a US-based MNC, for more than six years. I was in charge of their HR function at their R&D center in India. Also, I was head of the Center of Excellence for Recruitment Process Outsourcing and HR Outsourcing for Asia Pacific Japan.
My unique skill sets are Crafting HR strategy to drive business objectives; Organizational design frameworks, Leadership coaching using Marshall Goldsmith coaching tools, accelerating changes using CAP tools, due diligence and integration of M&A companies, managing HR function through RPO & HRO models, leadership assessments using Psychometrics and BEI tools and, managing diversified teams.

The CHRO adds as much value as a CEO to a company undertaking various roles such as building and assigning talent, especially key people, and working to unleash the organization's energy. What different roles/ programs have you been undertaking at GVK Biosciences? How has your journey been at this organization so far?

My journey with GVK BIO has been rewarding and fulfilling. CHRO adds value to the organization by setting the right foundation for people's practices, designing the right people's policies, fostering good culture, and articulating the EVP, thereby attracting and retaining the right talent.

HR heads need to wear different hats in different scenarios to unlock the potential of an organization/leadership team that doesn't manifest all the time.

What were the initial challenges that taught you the fundamental lessons of managing large organizations' diversified and distributed human resource functions?
Some of my initial challenges in managing diversified HR teams were corporate thinking, SILO cultures, over-recognition of people close to power centers, poor communication leading to misalignment of priorities, and less use of the talent avail-able in remote centers.

At GVK BIO, I have put forward a binding theme for the HR team-'credible, measurable, and value-added HR partners-and every HR person needs to identify with that. I also set up an extended leadership group with people from remote centers and COE functions to break the SILOs, lined up a unified HR tool called e360 to bring transparency and access to relevant HR data, and set up a women's executive development programme to enhance diversity within the company and First time manager program to strengthen managerial
fundamentals.

How do you ensure to update yourself with the latest trends and technologies in the field of human resources so that you could always steer your organization towards the zenith?
First of all, I believe in "one shade better", what-ever I do. It puts a certain amount of pressure on my team and also on me. However, it helps a lot to keep the function ahead of the change curve. Besides reading books and participating in external programmes, I use several approaches to stay up-to-date with the latest trends and technologies, coaching leaders on weekends, learning from candidates during interviews, and learning from HR partners/vendors.

Are you engaged in any mentor-ship programs outside your organization to share your industry in-sights with peers?
One of my life's ambitions is being part of creating globally respected companies and leaders from India. I have been coaching and mentoring leaders/colleagues/professionals during my weekends. I do write Leadership nudges every week in LinkedIn to help Leaders in enhancing their effectiveness, which are popular. I am also a Marshall Gold-smith Certified Executive and Team Coach, and I give coaching to experienced acquaintances and also to ex. Colleagues.

What new human resource solutions are you planning to unveil in the future for GVK Biosciences?
COVID has made a vast awareness about organizations' role in the sustainability of the ecosystem, and I believe that organizations with a social fabric will flourish in the next 20 years. I am working with my CEO on ways to realign our sustenance, diversity, CSR & green initiatives to catch up with that momentum. AI, HR Analytics, and Self-Service Tools to improve HR roles' efficiency in diverse facets of employee lifecycle management.

Suresh Anubolu Chief Human Resource Officer, GVK Biosciences
Suresh Anubolu has around 25 years of Industry experience with IT Product, IT & Pharma Services (CRO) organizations. He has proven experience in driving HR function in multicultural environments (MNC), Indian Corporates & Startups. Proven expertise in growing organizations through organic growth models as well as M & A including North American environment.