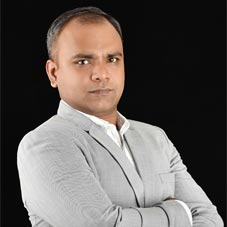 Group Cyber ID is a professional and visionary Cyber Crime, Cyber Security and Digital Forensic Solution Centre offering a wide range of business process management, quality management, cyber armour, auditing and assessment services. The company assists businesses and organisations to determine, compose, define and manage their cyber security efficiently in a skilled manner thereby enabling them to respond to every incident or emergency to prevent crisis.
Group Cyber ID is headed by Santosh KS who is an exemplary business professional who strives for consistent improvement. He has got over two decades of industry expertise and business acumen and this coupled with his passion to develop a unique business entity has been a cornerstone behind the growth of Group Cyber ID.
In an exclusive interview with CEO INSIGHTS, Santosh talks in detail about his professional journey and how he has been able to make a name for himself in the industry.
Give us a brief detail about your education and professional background prior to establishing Group Cyber ID?
I have got 23 years of experience in handling Cyber Security, Forensics, Data Centres, Project Consultancy and Technology Solutions for large enterprise customers, and I am also a seasoned senior management professional.
My professional career started back in 1997 with Nirmal Infotech, as the head of IBM Sales and Service. I then moved on to work with Dell, in 2004 and later in 2005, I joined Space Matrix, which was a turning point in my career. After nearly a decade with Space Matrix, in 2014, I decided to consult independently for Cyber Crime & Investigation, Bangalore.
Throughout the span of my career, I have attained many milestones including the opportunity that I got to head the IT department for an MNC and worked in IT design and providing solutions for quite a few Fortune 500 Clients.
Globally, I have managed all IT related issues and setting up of new centres with world-class Infrastructure. I have designed and implemented network cabling as per certification standard for different clients and have provided vendor management as well as consultancy services for clients.
I have also designed and implemented Government and Private Forensic Labs, Homeland Security Solutions, Government Projects Consultancy, Data Centres and Network Designs. I have also provided Technical Support and Covert Surveillance Support for Bangalore Police in tracking numerous cases and provided forensic services to Central Agencies in crime detection.
People usually equate entrepreneurship with ideas. But, for many others, the real entrepreneurship happens internally - with the process of stepping up, having courage and doing things out of your comfort zone
What motivated you to be an entrepreneur?
People usually equate entrepreneurship with ideas. But, for many others, the real entrepreneurship happens internally – with the process of stepping up, having courage and doing things out of your comfort zone. I started entrepreneurship because being an entrepreneur enables you to do things differently. I believe that different people have different skills and sometimes they just need the right exposure to realize their potential.
That's what I like to offer and keeping this idea in mind, I have also started a venture capital firm called Squad Minds. Squad Minds enables ideas metamorphose into solid
businesses. It builds freelancers or someone with a solid skill set and business sense into entrepreneurs. Using this as a platform, many have been able to give life to their business ideas.

Apart from this, I have also recently funded two other ventures – a creative studio, Geekonomy Technology and a restaurant, Namma Adda and I still continue to be a mentor for both. Helping fellow entrepreneurs gives me great joy and in the process of mentoring other businesses, I am also learning about new things, so I see this as a win-win situation for me.

Are there any inspirational figures that you look up to? Also, do you take part in any mentorship activities?
I have been blessed to have so many good mentors throughout my academic and professional journey and if I have to point out one that has always been an inspiration to me, then it will be Anurag Srivastava, who was a former boss of mine and as of now, he is the co-founder of Jungle Ventures.

I have always wanted to give back to community and I regularly give guest lectures in various colleges on a varied range of topics such as Cyber Security as well as Women & Children Safety. Apart from that, I am also a Board of Studies member for various colleges.

How do you make sure that you make time for yourselves in your busy schedule?
Throughout my academic and professional journey, my family has always been at my corner and they have been incredibly supportive. It is true that as an entrepreneur the lines are blurred regarding when you are working and when you are not. When I am not working on building businesses, I try to do things I love other than running my company and you can see me sometimes on the racetracks, in a theatre or somewhere hooked onto a book, flipping through the pages. I also have my dog Scotch and being around him and playing with him brings me joy.

Santosh KS, Founder, Group Cyber ID
Santosh has consulted more than 200 cases using latest technology in crime detection. Additionally, he is also a Certified Hacking Forensic Investigator and a Certified Ethical Hacker.