Suresh Venkataramani: A Trail-Blazing Business Leader Shaping The Future Of Healthcare With Passion & Perseverance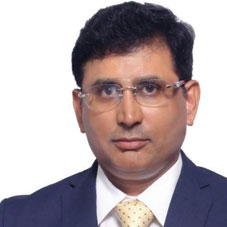 A basic pre-requisite for a successful leader is to have strong faith and belief in the product or the service her/his company offers. Suresh Venkataramani is one such pioneering leader His foresight and hard work have shaped him into one of the most prominent business leaders in the corporate realm. Suresh is the Co-Founder of Karkinos Healthcare, an innovative end-to-end technology-driven oncology-focused managed healthcare platform. The company aspires to ensure that no one is deprived of care for lack of access or affordability. Suresh's perseverance, passion, and professionalism have enabled him to accomplish his goals and be a trendsetter for others.
In an exclusive interview with CEO INSIGHTS, Suresh takes us through his professional journey and rise to corporate success.
Can you talk more about your educational and professional experience prior to Karkinos Healthcare?
I am an alumnus of The Wharton Business School, Pennsylvania, The Indian School of Business, Hyderabad and the Tata Management Training Center, Pune. Xerox was where my professional career took off. Xerox, being the global market leader in office automation and home to some of the global best HR practices, leadership development, and customer orientation, groomed me just as they groomed several other successful CEOs across industries. My stint at Xerox helped me acquire the skills and competencies required to become a successful business leader and solve problems at scale by leveraging technology.
After Xerox, I was presented with the opportunity to build one of India's leading internet companies, Naukri. The company was built block by block along with some of the best brains in the Indian internet ecosystem, and my role there kindled a deep passion within me to succeed in the internet space and prove my mettle. Naukri went on to become India's first ever internet company to be listed,the country's top job portal, and one of the most successful internet businesses in India, thanks to the efforts and dedication of a team that performed wonders.
Core principles & values that drive my approach to leadership are to follow the conscience, be human, & practice empathy
How have you been able to achieve sustained success in the industry? What is your success mantra?
The need of the hour for a business leader to succeed is deep consumer insight, the art and science of communicating with various stakeholders and a proactive approach to exceeding customer expectations. Commitment to solving problems at scale, willingness to challenge assumptions continuously, excellence in execution, empathy, authentic listening, genuine interest in developing a customer-centric approach, and a positive mental attitude to drive consistent outcomes are other skills required for a business leader to excel in their endeavors. It is essential to practice a customer first approach. Also, as the company's primary asset, employees must be valued by the leader and the organization.
My success mantra has been, gaining customer insight as the first move. The other focus areas are aligning the organization to prioritize customer's needs, maintaining a constant focus on revenue, profitability, and customer satisfaction, building a solid leadership pipeline, and frugal innovation. Success is 99 percent perspiration and one percent inspiration. Success is a long and
beautiful journey filled with experiences and new lessons.

Can you give us a brief insight into your leadership style?
Core principles and values that have driven my approach to leadership are to follow the conscience, be human, and practice empathy. I have always believed that one should pursue one's goals with a strong sense of determination. If the tides do not turn in your favor, reflect, focus on your locus of control, and return to the basics. I believe in being brutally honest and calling a spade a spade. My daily routine of prayer and meditation helps me to declutter, filter the noise, and focus on my goals. I also believe in trust, empowerment, delegation, communication, inclusive decision-making, looking at the bigger picture, and setting stretch goals.

As a pioneering business leader, what advice would you give to aspiring leaders of tomorrow?
I advise young entrepreneurs to start a business when they are prepared to marry the concept for the rest of their life. Money will follow if they work hard to solve problems at a scale. Value creation, not valuation, should be the goal for all stakeholders. The need of the hour is relentless execution and not just a path-breaking idea. Build a culture of trust, transparency performance, and empowerment. Following The Karana Suddhi (harmony of thought, word, and deed) is advisable. Effective communication is vital in developing and scaling businesses. Making mistakes is also an inevitable part of human nature, as the most significant lessons are learned at the worst times from the worst mistakes. So, do not be afraid to make mistakes but make sure that you learn from those mistakes.

Suresh Venkataramani, Co-Founder & CBO, Karkinos Healthcare
Suresh is a seasoned industry veteran who has been awarded on numerous occasions, including being awarded the Grand Slam Award National Top Performer at Xerox and Impact Business Leader at Info Edge/Naukri. He also serves as an academic advisor on the boards of a few business schools and has been a keynote speaker at numerous B-Schools and HR events in India and the GCC.