Samidha Garud: A Vanguard Of Innovation, Driving Sustainable Growth, And Orchestrating A Radiant Tomorrow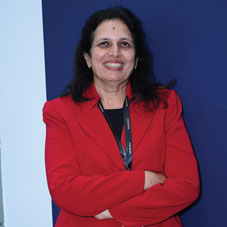 Kanerika is a leading technology solutions provider known for its data-driven software products and services that drive digital transformation for enterprises. The company's exceptional expertise in Data Integration, Analytics, AI/ML, and Cloud Management, coupled with agile methodologies, forms the cornerstone of its innovative offerings. Kanerika's commitment to quality is reflected in its impeccable track record across various industries, solidified by its ISO 27701 certification, SOC II, and GDPR compliance. Key partnerships with Microsoft, AWS, and Informatica enhance Kanerika's dedication to innovation. This synergy of technology, collaboration, and highquality standards positions Kanerika as a go-to partner for businesses aiming for growth.
At the vanguard of this impressive ensemble is Samidha Garud, a visionary leader and an enterprising entrepreneur. With a rare blend of passion, precision, and expertise, Samidha's leadership has been instrumental in shaping the company's success. Her strategic acumen and unwavering commitment to delivering high-quality solutions, combined with her deep understanding of the technology landscape, have propelled Kanerika to the forefront of the IT sector.
In an insightful dialogue with CEO Insights magazine, Samidha unfolds the compelling nuances of her entrepreneurial journey, marked as influential in the national sphere. Here's an excerpt from our intriguing conversation.
Given your more than quarter-century of experience, could you walk us through your path to success and the credo you've followed throughout your career?
Success is a long-term journey, one that's built on commitment, hard work, and resilience. Over the past 26 years, my journey has been guided by clear goals, treating failures as lessons for growth, and maintaining a resilient mindset.
What's my recipe for success? It's all about continual learning, discipline, and persistence. On top of that, fostering relationships and
seeking guidance from mentors and peers have been essential.
My personal motto is quite straight forward: "Dream, Believe, Achieve." Success is individual and it's important to enjoy the journey, not just the destination. It's key to define success on your own terms, based on your personal values, passions, and goals.
Embrace life's roller coaster journey with gratitude,determination, and a passion to make a positive impact, leaving behind a legacy of continuous learning and growth
What unique experiences were offered by The Wharton School at the University of Pennsylvania? How have these enhanced your learning beyond the academic scope?
My time at Wharton was an academic adventure layered with enriching experiences that sharpened my leadership abilities and catalyzed hands-on learning. We ventured beyond the conventional classroom, diving headfirst into a diverse array of activities from rowing to film making, to social enterprise projects, creating a treasure trove of unforgettable memories. Personalized coaching was a cornerstone in helping me refine my leadership style, amplify my strengths and address areas for improvement.
The program curated a multifaceted cohort from 19 different countries, spinning a vibrant tapestry of cultural diversity that fostered mutual learning. This academic journey not only bolstered my knowledge but also built a robust network of trusted advisors that I lean on for support. I'm immensely grateful for the wisdom filled faculty, my diverse cohort, and the extra ordinary experiences that have continually shaped my personal and professional growth.
Could you elucidate on Kanerika's standing in the industry and its future?
Kanerika is recognized worldwide as a leading IT consulting firm, renowned for its tailor-made innovative solutions and services, expressly designed to power businesses. Expertise in data integration, analytics, process automation, and cloud management has solidified Kanerika's position as a trailblazer in these arenas. Our competence doesn't stop there it extends into custom product
development, demonstrating our flexibility and versatility.

Today, Kanerika is setting its sights on new horizons, ushering in innovative products like FLIP an AI driven dataops automation tool, and an imminent Data Analytics & Visualization Tool. This pivot towards a product centric approach marks an exhilarating new phase for Kanerika, bolstering its standing in the industry.

What informs your leadership approach and what strategies do you deploy?
My leadership ethos underwent significant refinement during my time at Wharton. I learned that leadership isn't a one-size-fits-all approach; it requires flexibility to adapt to different individuals and circumstances. As an adaptive leader, my priority is to establish a clear vision and communicate it effectively to my team.

I believe in 'leading by example'. By embodying the principles of integrity, professionalism, and a robust work ethic, I aim to inspire my team to do the same. Through the 'empower-and-delegate' model, I encourage team members to take ownership of their work, fostering a sense of responsibility and commitment.

Furthermore, I place great emphasis on continual learning and personal development within our team. In doing so, I hope to foster an environment where each team member can unlock their full potential.

What future destination are you steering Kanerika towards?
Our central ambition is to broaden Kanerika's reach into new territories, solidifying our reputation as an all-encompassing data ecosystem. This mission calls for the enhancement of our capabilities in analytics, integration, and automation via our robust platform. Hand in hand with this expansion, we're striving to secure CMMI3 certification, a testament to our unshakeable commitment to quality and continual process improvement. This two-pronged approach aims to fortify our standing and expand our influence, thereby driving our trajectory forward.

Samidha Garud, CEO, Kanerika
Over the past 8 years, Samidha Garud has embarked on a fulfilling trajectory as an IT professional metamorphosing into an entrepreneur, collaborating with outstanding individuals and organizations. Fueled by a passion for continuous advancement, Samidha is resolute in making a positive imprint and anticipates many more years of growth and learning.