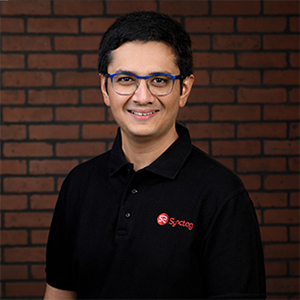 In today's tech-driven world, artificial intelligence is the new face of efficiency, productivity and profitability. With such advanced technologies spanning roots aggressively, digital marketing experts are embarking upon newer strategies that are well-scored with technological excellence and creative potential. Inspired by technological advancements transforming the facet of digital marketing internationally, Harsh Mehta (CEO & Founder) ensconced Synctag in 2013 as a leading aggregation conglomerate that integrates digital marketing aspects with technology for rendering creative yet intelligent digital marketing experience.
Passion makes you walk unconventional path and explore extraordinary opportunities; embodying similar genes of passion and perseverance, Harsh devised Synctag foreseeing time as the essence of work and technology being the binding force that offers quality output in a smart manner. In an exclusive conversation with CEO Insights, Harsh explains how Synctag uniquely carves out creative strategies by amalgamating AI with aggregation modules and leads innovation throughout.
What inspired you to establish Synctag & explore new arenas of digital marketing?
I was always good in coding since childhood. This intrigued me to go to Canada and pursue graduation from University of Victoria. Towards my third year, however, it so came to my mind that the way digital marketing and internet is growing, evolution of a lot more things is possible. As there was no set process to manage such growing network in a timely fashion, the idea of edifying Synctag as an
aggregator tool working on functional aggregation pitched my mind.

What do you consider as Synctag's unique proposition & how is it contributing to development of diverse product line?
Synctag's unique proposition is its innovativeness. Innovation is the key for developing such a vast product line, and to have those multiple plug and play modules to be a part of it. Today, we provide various modules under our product line such as mail aggregation, social media aggregation, content aggregation and media aggregation; all platforms integrate your work on single dashboard. On the services end, our team of 20 niche social media strategists uses AI to derive the brand's social media campaign, right from content development to analyzing right target audience and delivering exemplary results from the performed tasks.

"As there was no set process to manage such growing network in a timely fashion, the idea of edifying Synctag as an aggregator tool working on functional aggregation pitched my mind"

How are the aspects of artificial intelligence being infused across your services?
After bringing all the integrations, I realized that the amount of data lying with me is really huge. And I knew big data would be the way forward. Instead of going with normal route of choosing business intelligence and tools, I started building an AI-based model to be integrated with big data analytics.

Our partnership with Microsoft, IBM and Amazon allows us to leverage their AIs/APIs, exploring which we look into the data pool, understand and derive inferences from data points. This helps our clients (like Adani Group of Companies) record productive results and take decisions proactively. Additionally, my digital strategist actively deploys AI technology to derive inferences and implicate them into brand campaigns for better results.

Elucidate on your strategies that strengthens your bond with clients and in-house personnel as well.
As the clients complain of beaten out trust factor, it becomes our prime responsibility to deliver work keeping the trust intact. When a
client is giving me an order, he definitely needs to make sure that I deliver on. Our free hand commitment, wherein we prepare a blueprint of what client wants at what price and how we will deliver, plays a pivotal role in bringing clients onboard with us. Commitment and right pitch is what keeps the wheels rolling.

With flexible work culture in place, my team constantly pops up with innovative ideas. We get them implemented to motivate them and make sure that they feel responsible for what they have done. With responsibility comes innovation and this circle keeps rotating at Synctag.

How do you update yourself with latest trends & technologies?
Besides being a part of IBM shows and internal meets, my team and I do a lot of hacks. We come up with an idea, try hacking it and see if it's working. That's how we keep ourselves motivated and thinking of solving bigger problems. This drives us to the goal point, which is the final product.

What innovations are you currently investing upon to scale up Synctag's graph in future endeavours?
With staunch experts onboard, we have been able to build a browser based model, which is a complete custom browser and see Synctag evolve into browser based analytics and aggregation platform. Presently, we are investing on expanding the platform where we are able to customize user requirements and offer an automated solution driven by AI. That's the future we are endeavouring upon.

Key Management:
Harsh Mehta, CEO & Founder
An experienced technocrat, Harsh enjoys coding and constantly explores technologies for enhancing Synctag's aggregation module and digital marketing experience. He keeps his team motivated and believes that responsibility leads to innovation.

Headquarter:
Coimbatore

Offerings:
Social Aggregation, Email Aggregation, Content Aggregation, Storage Aggregation & Social Media Analytics