Tarun Kandhari: Backed By Profound Experience And Driven By The Majestic Asset Of Social Responsibility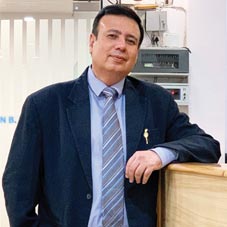 Todays' CFOs are playing a whole new game, from being the enablers of financial success to subsuming the vital role as visionaries, decision-makers, managers, and much more. With that said, every entity needs such a specialist who can bring years of experience with a wide area of expertise to the table. Fulfilling these expectations and empowering organizations with financial transformation is CA Tarun Kandhari, the Founder Partner & Chairman of a Chartered Accountant Firm and one of the pioneers in the niche of being a Virtual CFO.
Aligned to the quote, "We become truly accomplished only at something you love", today, Tarun stands as a well-known veteran because being a Chartered Accountant gives him satisfaction. He says, "It is a space to learn many things. Apart from my professional responsibility, I understand my social responsibility as well. I realize the importance of giving back and that is something I want to do and keep doing for years to come. Whenever I come across any trainee or anyone from underprivileged backgrounds having the potential to excel in life and grow, I encourage him/her to pursue further studies/stream of his/her choice and commit them any financial/professional support they need during the process. Being fascinated by the CA profession, I am happy that I was able to convince at least a few of such persons to pursue chartered accountancy. It is a wonderful feeling to see them achieve a mark and do well in their lives." Appreciating his contribution to the financial success of many businesses and his sense of commitment towards being socially responsible, CEO Insights engages an exclusive interview with CA Tarun Kandhari.
Tell us the major facts & achievement of your professional journey.
I am enjoying my professional journey with the support of a good team including chartered accountants, company secretaries, lawyers, and other professionals. I value long term relationship with the team as well as the clients, guiding and advising them in their
Accounting, Taxation, and Compliance matters besides representing various clients in their tax Assessments and Appeals. Also, I started "Virtual CFO Services" in 1992, even when most of the businesses have not heard about it. I am acting as an advisor & trustee on the board of reputed NGOs. I was part of consolidation of accounts at the time of merger of Two National Airlines, also was part of the team consolidating accounts at the time of the merger of two Nationalised banks.
Give us a brief detail about your educational and professional background.
I graduated from Agra University in commerce and completed my CA in 1991, while my father was posted there. After that, I joined a reputed CA firm in Delhi and also started my part time practice at Noida, as a Proprietor. In 1994, I left the job and shifted to the full-time practice of self under the same proprietorship concern. In the beginning, I got a few HNIs, NGOs and Corporate clients, and Bank Audits, though not much in terms of earnings but helped me from the survival point of view. Started providing "all under one roof services" i.e "Virtual CFO Services" to many such clients, which set the pace for such services and strengthened my foundation as a professional. Since it was cost-effective, clients started pouring in, and then there was no looking back.
Vast experience and able team of professionals is key to Tarun Kandhari's success in chalking-out efficient business models as Virtual CFO
After 15 years of practice as a proprietor, converted the structure of the firm to a partnership with three partners including me. Gradually, converting the basic partnership to LLP structure, growing together now we have a partnership base of fourteen Chartered Accountants with branches at Eleven Locations PAN INDIA. Recently in 2019 took membership of "Abacus Worldwide", an international association of Accountants and Lawyers, as their Independent member firm, which is the base for good international exposure for me and my team as well.
What are the key drivers that you deploy to ensure that the client's finance is used appropriately to meet its short/ long- term needs?
For any organization, finance plays an important role and balance has to be maintained between the resources and growth of the organization without compromising quality and compliance
requirements. We have regular meetings with our clients and guide them suitably by arranging/plugging the deficit (if any). Continuous and close interaction with the promoters is the key to understand the needs of the business and coming up with the best solutions in arranging the resources at low cost. Virtual CFO is the first step towards that, since the promoters can enjoy a bouquet of services at relatively low cost.

For sketching efficient business modules, the uniqueness and requirement of each enterprise is considered. We work on the best financial model and processes for them to protect their rights and promote the sustainable growth of their businesses. Regular updates from the client as well as the team help in keeping all the business and compliance aspects in control.

How has your family supported you in your career so far? Also, how do you manage to balance between your personal & professional life?
It is said that there is always a woman behind any successful man but in my case, there are three. My mother late Mrs. Mala Kandhari was instrumental in me becoming a practicing chartered accountant. It was she who inspired me to become a practicing Chartered Accountant while I was studying in 4th standard only. This later became my dream and goal in Life. After marriage, my wife Anshu became big support as she took care of all family needs and stability at home, which helped me in giving my full devotion to the profession. I would also like to give credit to my princess Tanvi who keeps inspiring me to set higher goals and is supportive by being a nondemanding child, thereby helping me achieve my goals and further growth in the profession. Spending weekends, small outings and annual vacations with the family helps me in reviving my strength and creating the right bond. Reunions with school friends and relatives at some travel destinations are also a source of energy and joy. I am also thankful to Mrs. Renu Suri though a friend in profession but just like family, now managing the profession with me and has been a true support in my professional journey and growth.

CA Tarun Kandhari, Founder Partner & Chairman, Tarun Kandhari & CO
Hobbies: Reading & Listening – especially autobiographies, spiritual and motivational
Favourite Food: Rajma Chawal
Favourite travel destinations: Alleppey (Kerala) back water house boat and Kovallam beach (Thiruvananthapuram)
Milestone
• A start-up incorporated and managed by Tarun & the team was picked up by the biggest Indian corporate investor and was listed among top 10 start-ups in India.
• Another start-up got funding from one of the biggest foreign investor.