Sunil Shah: Partner Of Sunil Sandeep & Co; Chartered Accountants: Leading SME's Transformation Beyond Finance Function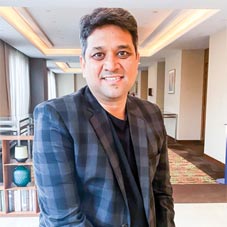 Sunil Sandeep & Co. (SSC) is Ahmedabad-based Chartered Accountant firm; founded by CA Sunil Shah in the year 2000, backed by his 22 years of diverse experience in Audit, Management Consulting, Virtual CFO, Transaction Advisory, and Fundraising.
He became a Chartered Accountant at the age of 21 by cracking CA in the first attempt with All India Merit in Intermediate. He believes in wise words of Ralph Waldo Emerson, "Do not follow where the path may lead. Go instead where there is no path and leave a trail", He took the path less travelled in CA profession. After working for initial few years in the routine area, he found that entrepreneurs face challenges in comprehensive solutions on business, financial and operational issues from strategy, management, and control matters but there is dearth of service providers. He decided to do something impactful and substantial to serve SME businesses. This thought process has channelled into the team and the spirit of the firm; in developing new value-added practices and the unstructured journey on the path of Virtual CFO began; which evolved as a major area of practice.
Besides being a CA, his experience and understanding of various businesses have made him work like management professional. He has been serving on the board / advisory board of companies across various Industries. He has been instrumental in developing professional and organizational strength over two decades. To explore his journey and gain insights on Virtual CFO services, CEO Insights engages an exclusive interview with him.
What were the initial challenges? Also, how did you manage to succeed?
My first step towards the journey was to build the mindset of working in the unchartered area with long term focus. I started exploring the team of professionals with technical and management skills having similar spirit and after years of persistence and trials; could find right professionals to support such practice.
Initial challenges were getting a client, building confidence and showing results. Key challenge was; readiness to explore; work on success fee with strong value addition and delivery. It was tough to manage the team and match the Entrepreneur`s dynamism and expectation, but all of this was highly satisfying and professionally enriching.
However, after years of conscious effort and proving our capabilities with multiple clients, the practice evolved and grew. Currently, we have a dedicated and experienced team of professionals with finance and operational strength serving various Industries. Ultimately, the experience in corporate finance, association with multiple industries and sectors helped us in developing the Virtual CFO services.
To empower SME`s reach next level by being their Coach and Guide as Virtual CFO
But, the Best is yet to come; a lot to know, learn and practice.
Why firm is focusing on servicing SMEs? Why do they need a Virtual CFO?
SMEs are highly dependent on a few people. Their decision making is more on gut /ad-hoc and has control / risk management issues. Normally they are always in crisis mode facing challenges; too much dependent on debt, fund management challenges, review of finance and accounts function, have multiple consultants but no Board level advisor. This impact the business and long term plans of SMEs. Mostly, SMEs do not need a full-time CFO, hence Virtual CFO is the best alternative and support.
Virtual CFO can act as a guide and coach to navigate SMEs to the next level. They bring in credibility and assurance; with continuous value addition. Virtual CFO helps to attract talent, supports in resolving the above issues, be an affordable alternative for SMEs, and can support in resolving major SME challenges.
What kind of support your firm provides to SMEs?
SSC considers Virtual CFO as a business function with a leadership role, which is customised as per requirement but covers the entire gamut of CFO level work, which includes:
• Strategic planning
• Preparing Business Plans
• Management & Board Reporting
• Finance & Accounts support
• Review of operational & financial MIS
• Costing and Budgeting control
• Supporting decision-making process
• Process review (SOPs)
• Equity/Debt Fundraising
• Risk Management and Control
• Cash Flow Management
• ERP support / Forex Management
• Recruitment of Key person
• Review Critical agreements
• Dealing with other consultants
• Supporting any accounting / tax / legal / commercial matter, etc
• Transaction support service, e.g.: Equity /debt fundraising, due diligence support, deal-making, commercial negotiation, PE-VC support, M&A support, change management, Resolving Family / partner issue, shareholders agreement, etc.

What are the Key Drivers to serve your clients?
• Always keeping the clients interest first
• Continuous Value addition being a key part of service.
• Dynamic capability to influence the business decisions
• Domain experts with a solution-oriented approach
• Affordable alternative to full-time CFO
• Customised scope and solution
• Team of professional with both financial and operational strength

Highlight the key milestones you have achieved so far.
To tell you about a few, I have been a guest speaker with Dun & Bradstreet on SMEs. I was fortunate to be a co-author of an e-book on Virtual CFO published by Western India Regional Council of Institute of Chartered Accountants of India. Our Partner has received the Women`s achievement award for providing Virtual CFO service from the Ahmedabad Branch of WIRC. We are uniquely positioned for providing the entire gamut of CFO level services to SMEs.

Above all, the biggest milestone for you is when you support in steering businesses to a different level; for achieving Entrepreneur`s vision.

Tell us something on your personal front. What are your pastime and interests?
I stay updated on the economy and finance; almost every day. For this, I have regular dialogues with professionals and industry circles with a cross-section of professionals from Bankers, Investment Bankers, Rating agencies Industry experts, etc. I always explore the possibility to resolve SME issues. Keep abreast about how SMEs are graduating to large companies through their success story, learning, case studies and best practices.